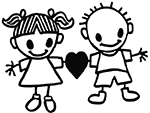 Comprising one sergeant and seven detectives, the Child Abuse Team (CAT) is the only law-enforcement team in Clackamas County dedicated solely to keeping children safe.
Specially trained CAT investigators handle cases involving all persons under the age of 18 and who are victims of criminal activity. This includes sexual abuse, physical abuse and neglect, and computer-related crimes involving children.
CAT investigations are a collaborative effort between the Clackamas County Sheriff's Office and members of the Clackamas County Multi-Disciplinary Team, which includes:
All law-enforcement agencies within Clackamas County
School districts within Clackamas County
Team members train professionals and citizens on child-abuse reporting and other issues surrounding child abuse and neglect.
Child Abuse Summit & Family Violence Conference
The Child Abuse Summit & Family Violence Conference is an annual multi-disciplinary symposium -- offering over 35 workshops presented by local and nationally recognized experts in the fields of child abuse, neglect, and domestic violence.
Professionals who work with children, families, and offenders in the areas of investigation, medical assessment, treatment, prosecution, prevention, and advocacy will find the shared information invaluable. For more information or to register, please visit ChildAbuseSummit.com
Report child abuse immediately!
Clackamas County Dispatch: 503-655-8211