Make a difference in someone's life. Become a volunteer advocate. Experiencing a crime of any kind can often turn your life upside down.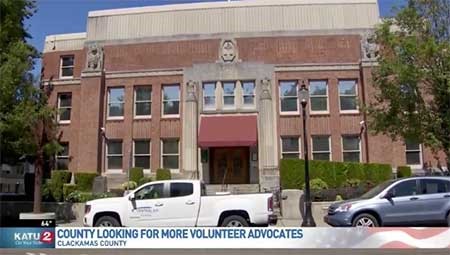 Clackamas County is working to ease that trauma with the help of new victim advocates.
More than two dozen volunteers have already stepped up to respond at a moment's notice. They do everything from answering the crisis line, providing resources and helping victims through the legal process.
"Making sure that their voice, that they have a voice in the process, that they understand what's going on—not just with their case, but with rights that they are entitled to through victims' rights," said Krysti Bellmore, an advocate supervisor.
They're looking for more people to get involved who are empathetic and want to make a difference.
The Clackamas County District Attorney's Office - Victim Assistance Program is looking for Volunteer Victim Advocates, both male and female, who are interested in working with people who are victims of crime. Becoming a Victim Advocate is a very rewarding opportunity to help people within your own community. As a Victim Advocate you will have the privilege of responding to support victims in crisis situations as well as on going advocacy throughout the criminal justice process. The criteria for becoming an advocate includes the ability to care about others, possess good listening skills, good judgement under stressful situations, be at least 18 years of age, have reliable transportation and no criminal background. Many of our volunteers work full time jobs along with their volunteer commitment.
Applications are being accepted until 5 p.m. on Sept. 3 for the Fall 2021 training session, which will be from Sept. 21 through Oct. 21, Monday/Tuesday/Thursdays from 6 p.m. to 9 p.m. All accepted applicants will receive the necessary training. For more information or to get an application, please call 503-655-8616 or email victimsassistance@clackamas.us.
The mission of the Clackamas County District Attorney's Victim Assistance Program is to involve crime victims and the community in a process that helps to diminish the devastating impact of crime.
Under Oregon Law you have certain rights as the victim in a criminal case, and it is important that you know these rights. Some rights are automatic while other rights must be requested. It is your responsibility to exercise those rights that are important to you.
The Victim Assistance Program provides support to individuals who have suffered physical, emotional, and/or financial harm as a result of the commission of crime.
If you are a victim of crime, please fill out the Victim Rights Request Form and return the form to our office 707 Main St., Suite 201, Oregon City, OR 97045. You may also fax it to 503-650-3598 or email it to victimsassistance@clackamas.us. An advocate from the District Attorney's Office will contact you to provide appropriate information or services during the process of your case. If you prefer to speak to someone before completing the form, please contact the Victim Assistance office for more information at 503-655-8616.
Protective Order
Protective orders restrict contact from people who are potentially harmful. There are different kinds of protective orders, which include stalking orders and restraining orders. If you feel that you are in a situation that may qualify for a protective order, please call Victim Assistance for more information at 503-655-8616. Forms for any of the protective orders are available at the Victim Assistance Office at 707 Main St., Suite 201, Oregon City, OR 97045. There is room to sit and fill out the paperwork and an advocate is always available to answer your questions.
Information and forms are also available on the Oregon Judicial Department's Family Law Website. Self-represented litigants should check with their local courts and facilitators to find out whether the local court will accept these forms and to verify local filing fees.
Family Abuse Prevention Act Restraining Orders
FAPA Restraining Orders provide protection from abuse by a family member, household member, former household member, or person with whom the victim has had a sexual relationship or child [ORS 107.700 to 107.735]. The abuse must have been committed within the last 180 days [ORS 107.718]. The petition must particularly describe the nature of the abuse and the dates that it occurred [ORS 107.710]. If the person applying is under 18 years old, the person they are getting the order against must be 18 years or older and be their spouse or someone with whom they have had a sexual relationship.
You can apply for a FAPA restraining order online. The online application will walk you through information needed to complete the application for a FAPA restraining order. Once you have completed the online process, the application needs to be printed out and turned into the courthouse Monday through Friday 8 to 10:30 a.m. If you have any questions, please contact Victim Assistance.
Elder/Disabled Abuse Prevention Act Restraining Orders
EPPDAPA Restraining Orders are intended to provide abuse protection for people aged 65+ or people who are vulnerable due to a disability [ORS 124.005 to 124.040]. EPPDAPA Restraining Orders address physical, verbal, financial, and sexual abuse and also neglect. The abuse must have been committed within the last 180 days [ORS 124.010].
To apply for a Restraining Order (FAPA) or Elder/Disabled Abuse Prevention Act Order (EPPDAPA) in Clackamas Co, completed forms must be submitted to the Court by 10:30 a.m. Monday-Friday. Court staff will review the forms for completeness and give you the number of the Courtroom where you need to appear at 1 p.m. that same day. At the 1 p.m. hearing the Judge will decide if the application meets the legal standards. If it does, the Judge will sign the Order. Once the order is signed, you will receive copies for yourself and copies to give to the Sheriff's office to be served on the Respondent. Once the Respondent has been served with the order, it is in effect. Any violations should be reported to 911 immediately.
Stalking Protective Orders
Stalking Protective Orders are intended to protect a person who is being stalked. Stalking is usually characterized by a pattern of intentionally, knowingly, or recklessly alarming or coercing another person, or engaging in unwanted or repeated contact [ORS 163.730 to 163.750].
To apply for a Stalking Protective Order, forms must be filled out and submitted to the Court, Monday-Friday, 9 a.m. to 12 p.m. and 1 p.m. to 4 p.m. Court staff will direct you to return the next business day at 9 a.m. for a hearing with the Judge. If the Judge feels that the situation may qualify for a permanent Stalking Order, a temporary order will be issued and another hearing will be scheduled with both parties present. You will receive copies of the paperwork for yourself and copies to give to the Sheriff's Office to serve the Respondent. Once the respondent has been served, the Stalking Protective Order is in effect. Any violations should be reported to the police by calling 911.
Victim Restitution
Restitution is reimbursement paid to the victim by the defendant for financial losses that directly result from the crime. Restitution may include property damage or loss, medical expenses or lost wages due to personal injury. Restitution can only be ordered if the defendant has been convicted. It is part of the sentence imposed upon the defendant by the Judge. The defendant has the entire period of post conviction supervision to pay the ordered restitution.
As part of the services we offer victims of crime, Victim's Assistance and the District Attorney's Office will work with you to identify and document the restitution amount to be requested. Once the charges have been filed in a case, we will request you to send a completed Victim Financial Loss Form with supporting documents to our office. The Victim's Guide to Restitution is designed to answer basic questions. For more information please contact the Victim Assistance Office at 503-655-8616.
Crime Victims' Compensation Program
If you have been a victim of crime in Oregon, you may be eligible for compensation for reasonable medical and/or counseling expenses, grief counseling, documented loss of earnings, and funeral expenses through the Oregon Department of Justice Victim Compensation Program. Additional information regarding eligibility, covered compensation losses/expenses, exclusions, and the application process can be found on the Crime Victims' Services Division website.
The Victim Assistance Office will provide you with the Application for Crime Victim Compensation - Solicitud de compensación para víctimas de crímen or you can download the application from The Crime Victims' Services Division . If you have any questions while filling out the application, please call Victim Assistance at 503-655-8616 or contact CVSD at 503-378-5348.
Resources