Main Content
Public Safety Training Center (PSTC)
Get Involved
There are a lot of ways that you can participate in making your community safer by getting involved with the Sheriff's Office.
Policies, Stats & Records
Read our Strategic Business Plan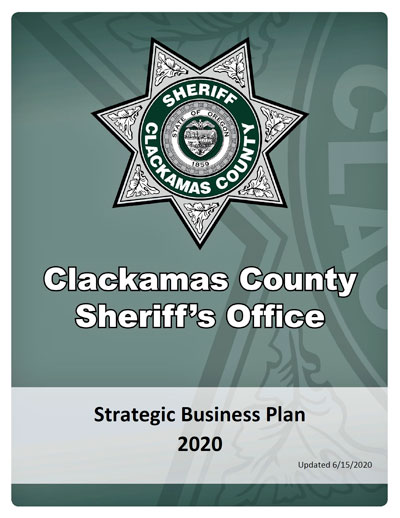 In order to help serve Clackamas County and its citizens, the Board of County Commissioners enacted Performance Clackamas in 2014. Performance Clackamas is a strategic plan that helps Clackamas County elected officials, administration, and employees to develop measurable business goals and achieve the best outcomes for its citizens. In support of Performance Clackamas, the Clackamas County Sheriff's Office has created a Strategic Business Plan, which addresses and solves issues within our jurisdiction.
Our Strategic Business Plan demonstrates our commitment to researching and defining issues within our organization, collecting data, analyzing results, and pursuing positive outcomes, all while continuing to prioritize safety and service within our community. It is a customer-focused and results-based approach directed at enhancing the service we provide. It also provides a framework for continuous improvement.

Contract Cities
Three Clackamas County cities contract with us to provide municipal police services.
Kids & Safety
We are committed to our young people and believe that by empowering kids, teaching them about safety and providing resources to learn and grown in a safe community, we can make a difference for everyone in Clackamas County.