Main Content
When the city of Damascus disincorporated on July 16, 2016, the responsibility and the funding for the area's transportation system was returned to Clackamas County.
Background
Responsibilities
Road maintenance and repairs
Long-range transportation system planning
Funding
$2.854 million in the city's road fund at the time of disincorporation
Approximately $8 million of additional state transportation funds from 2016 through 2026
The county will now…
Provide repair and maintenance services to roads within the boundaries of the former city
Work with the community to develop a transportation system plan for areas of county responsibility within the boundaries of the former city
Map of area to be included in Transportation System Plan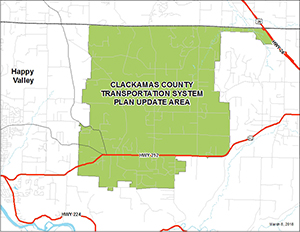 With the disincorporation of the City of Damascus in 2016, the former city area once again became part of the unincorporated area of Clackamas County. Under state law, the county must adopt a Transportation System Plan (TSP) to guide investments in the transportation system of the unincorporated areas of the county. Therefore, the county is beginning the process of developing a TSP for this area to meet the requirements of the law. Another factor in the area involved is that voluntary annexations to the City of Happy Valley that have taken place has the effect of moving those properties from county responsibility to city of Happy Valley responsibility. Happy Valley has begun its own land use and transportation planning process for the western portion of the former city of Damascus, from about 190th Ave extending west to 172nd Ave, including the Carver area. Due to this process, the county's TSP will include the area east of the Happy Valley planning area to the limits of the former city of Damascus, as shown on this map.
Open house | Reunion comunitaria
Damascus Roads: Now and in the future | Caminos De Damascus: Ahora y en el futuro
More than 100 interested residents attended an open house on March 20, 2018, to learn about plans for road maintenance and planning in Damascus. Materials used at the open house are available below.
Road maintenance
Transportation System Plan
Tell us what you think!
Stay connected through email updates
Damascus road maintenance news: Ellen Rogalin, ellenrog@clackamas.us
Participate in the Damascus Transportation System Plan (TSP) process: Steve Williams, swilliams@clackamas.us or 503-742-4696
The Clackamas County Department of Transportation and Development endeavors to make all public meetings accessible to everyone without regard to race, ethnicity, disability status or English proficiency. To request an appropriate or reasonable accommodation, please submit a request by phone or email at least 48 hours in advance of the meeting to Steve Williams at swilliams@clackamas.us or 503-742-4696.