Main Content
After nearly a year of study and public input, beginning in summer 2021, the Damascus Mobility Plan project has identified roadway improvements needed to the County transportation system to enhance safety, equity, and mobility for the traveling public in the Damascus area over the next 20 years. The project has focused primarily on passenger and freight vehicle travel. It was developed based on existing land use and zoning designations in the study area.
The draft report was presented to the Board of County Commissioners on July 27, 2022, and is moving forward to public hearings:
Aug. 22, 2022; 6:30 p.m. – Planning Commission
Sept. 28, 2022; 10 a.m. – Board of County Commissioners
Next Steps
After the Board of County Commissioners public hearing, the Board will consider approving the following amendments to the Comprehensive Plan Chapter 5 – Transportation System Plan:
Amend Tables 5-3a through 5-3d to include transportation projects identified in the Damascus Mobility Plan
Amend Map 5-11a to include transportation projects identified in the Damascus Mobility Plan
Add the Damascus Mobility Plan to Comprehensive Plan "Appendix B Summary of Supporting Documents"
Make minor amendments to Comprehensive Plan Chapter 5 to remove references to the City of Damascus, as well as more clearly define "Urban" and "Rural" in the definitions section.
Links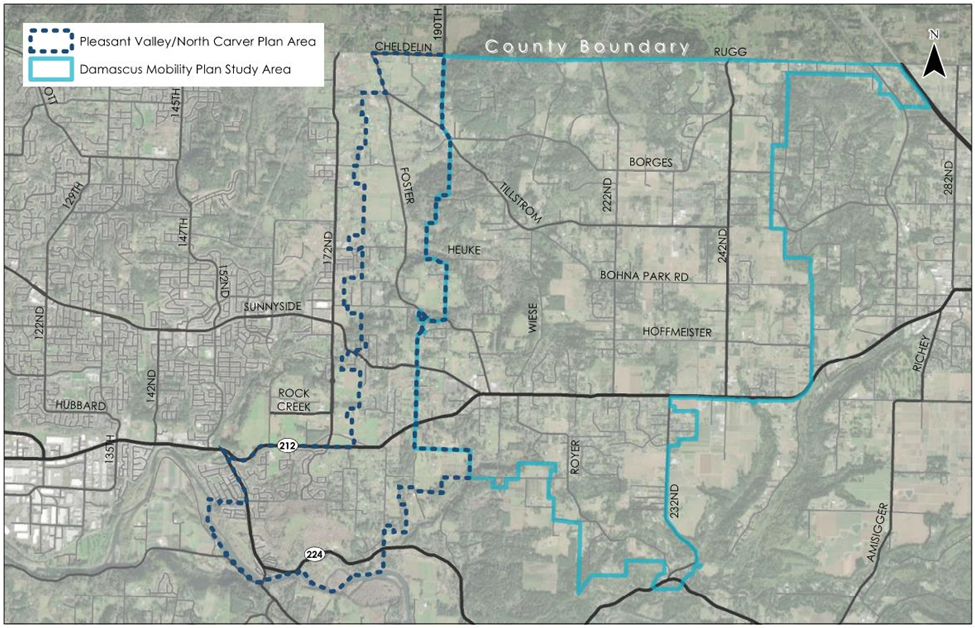 The study area includes most of the former City of Damascus planning area inside the Portland Metropolitan Urban Growth Boundary (UGB), except for:
Properties and roadways generally west of 190th Drive that are planned by the City of Happy Valley through the Pleasant Valley/North Carver (PV/NC) Comprehensive Plan.
Projects along OR 212, a state highway, that are the responsibility of the Oregon Department of Transportation (ODOT).
Project Timeline
The project is expected to take about one year to complete. Throughout that time the project team will report to and seek input from area residents, businesses and property owners through public meetings, presentations at community meetings, social media, mailings, email updates and the project website. In addition, two major open houses are planned to share information, answer questions and listen to comments and suggestions.
Major project milestones are shown below.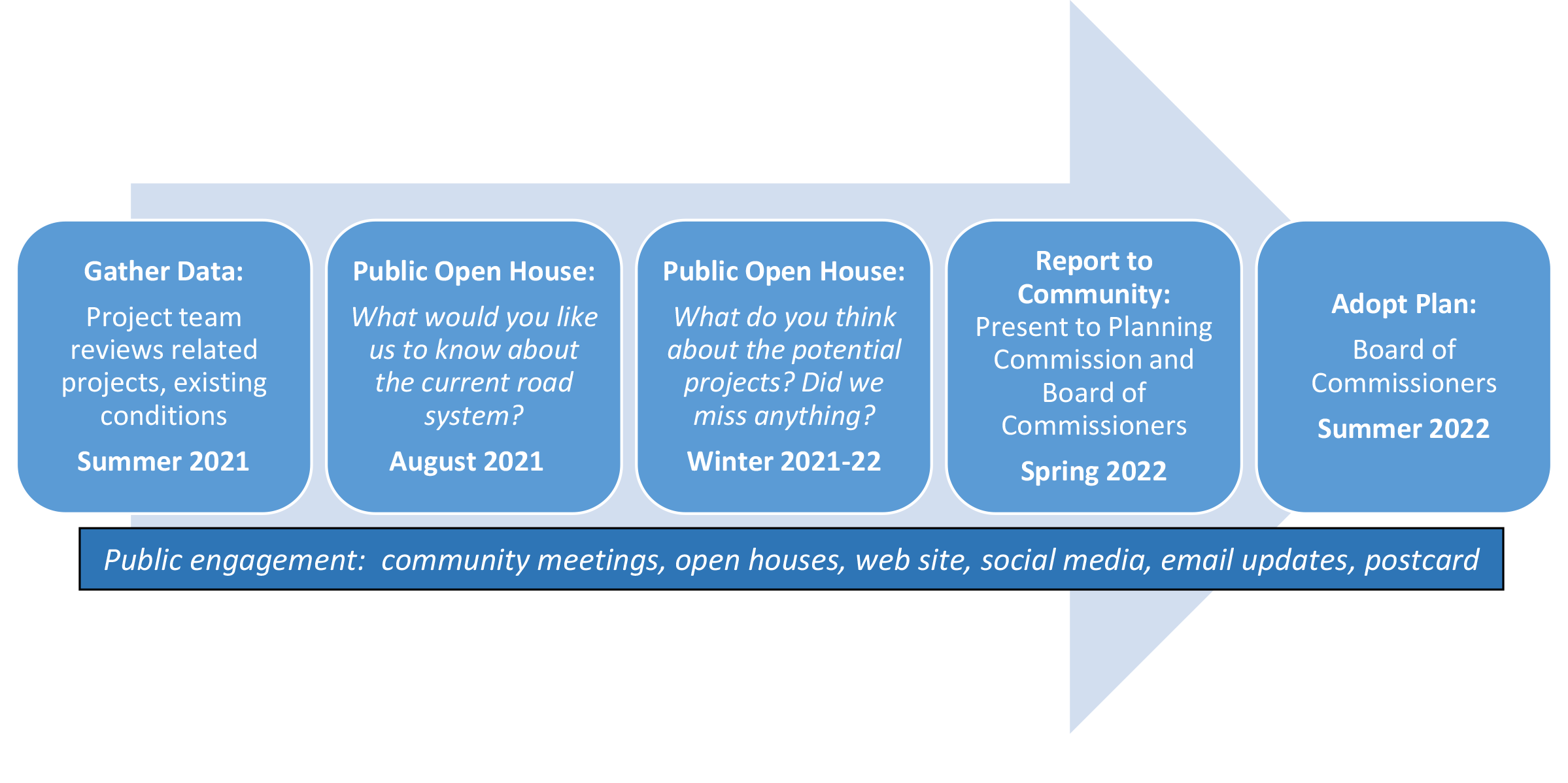 Documents and Background Information
Open House, March 9, 2022
Open House, Aug. 31, 2021
Other Projects and Plans in the Area
Listed below are other transportation plans and projects that have taken place, are underway or are planned in areas adjacent to Damascus Mobility Plan project area.
| Project/Lead | Relationship to Damascus Mobility Plan |
| --- | --- |
| Clackamas County Transportation System Plan (TSP), 2013 | Currently does not include county roadways within Damascus, but provides a framework for identifying and evaluating projects. |
| Clackamas County Active Transportation Plan (ATP), 2015 | Identifies key active transportation routes to connect destinations and communities in Clackamas County, and includes a recommendation to provide access between Happy Valley, the Clackamas Regional Center, and the Damascus Area. |
| Clackamas County Drive to Zero Transportation Safety Plan, 2019 | Clackamas County has a goal to eliminate fatal and serious injury crashes on its roads by 2035. This Plan describes the broad areas on which the county, its partner organizations, and its residents must focus to achieve this goal. These emphasis areas represent an evidence-based approach to reducing fatal and serious injury crashes. |
| Clackamas County Transit Development Plan (TDP), 2021 | Includes near-term recommendations for service on Highway 224 and medium- and long-term recommendations for service within Damascus on Sunnyside Road and Highway 212. |
| SE 172nd Avenue/190th Drive Corridor Management Plan(Clackamas County, Happy Valley, Gresham) | Provides a vision for the SE 172nd Avenue/190th Drive Corridor just west of the project study area. |
| Sunrise Project Final Environmental Impact Statement (ODOT, Clackamas County, Metro, Happy Valley) | Identifies a preferred alternative for the Sunrise Corridor between I-205 and the Rock Creek Junction. This effort informed an assessment of options for the Sunrise Corridor that was conducted as a discrete part of the Damascus Mobility Plan. |
| Damascus Transportation System Plan (unadopted) (former city of Damascus) | Developed for the City of Damascus in 2013 before it was unincorporated. Although never adopted, this plan provided a thorough analysis of roadways within the study area and a large set of projects. |
| Metro: 2018 Regional Transportation Plan (RTP) | Includes projects to support the development of the 172nd/190th Corridor as well as a project to widen the Highway 212 corridor. |
| East Metro Connections Project, 2021 (Metro) | Recommends investments in Happy Valley and on the 182nd/190th corridor north of the study area. |
| Pleasant Valley/North Carver (PV/NC) Comprehensive Plan, 2009 (Happy Valley) | The PV/NC area immediately west of the Damascus project study area will be annexed into Happy Valley in the future. The Damascus Mobility Plan will build from the street network developed in the PV/NC. |
| Clackamas to Columbia (C2C) Corridor Plan, 2020 (Gresham, Happy Valley, Clackamas County, Multnomah County) | Includes projects on the 181st/182nd/190th/172nd corridor through Gresham and Happy Valley, as well as projects to support broader connectivity in the area. Several of these projects are located partially within the Damascus Mobility Plan study area. |
| Sunrise Gateway Corridor Concept (Clackamas County, Oregon Department of Transportation, Metro, Happy Valley) | The County is working to develop the Sunrise Gateway Corridor Concept for Sunrise Phase 2, focused on potential refinements to the section of the corridor between 122nd and 172nd. |
| Bike Walk Clackamas County (Clackamas County) | The County will be starting a walk and bike plan to update active transportation elements throughout Clackamas County. Recommendations from this plan will inform the Damascus area pedestrian and bicycle network. |
| Regional Transportation System Management and Operations Strategy (Metro) | An updated strategy to bring agencies across greater Portland together to use promising technologies and improved coordination to advance a safer and more equitable, reliable, climate-friendly transportation system. |
How can I learn more and get involved?
We'll be sharing information at meetings in your community, and looking for your input during virtual open houses in August 2021 to provide your insights on the existing road system and in January-February 2022 to provide feedback on potential projects to address existing and future transportation needs.
To be placed on a list to receive project email updates, contact Community Relations Specialist Ellen Rogalin at ellenrog@clackamas.us.
Questions or ideas? Contact Project Manager Steve Williams at swilliams@clackamas.us.