Main Content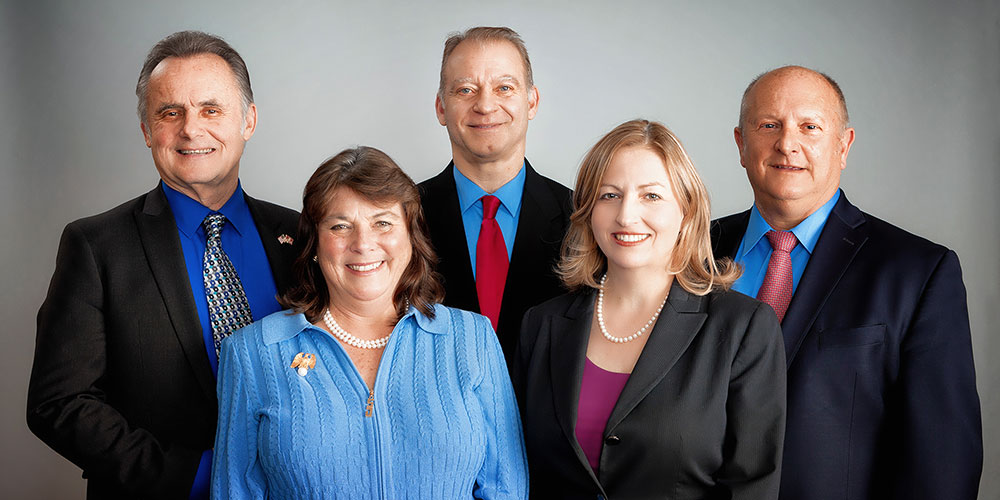 The Board of County Commissioners, or BCC, is made up of five county residents who are elected to four-year terms. Working together, the board is charged with taking action in the best interest of the county and its constituents.
Commissioners set county policies, establish departmental budgets, and have the right to send countywide measures to the ballot.
During a regular week, commissioners typically take action at Policy Sessions or the weekly Business Meeting. They also sporadically hold Land Use Hearings that effect public policy (not to be confused with meetings held by the Land Use Hearings Officer, and serve as the directors of several other separate boards for service districts.
Service District Boards
The five elected commissioners also serves as the governing body for other service districts/boards that are considered separate from the Board of County Commissioners (BCC). These other districts/boards are listed below.
The five commissioners typically meet as these boards at the regularly scheduled Business Meeting, but adjourn as the BCC and reconvene as the new board to do so. This is especially the case during Budget Hearings, and the reason why the general county budget is different than the all-purpose budget (which incorporates the service district budgets).
These other boards include:
Enhanced Law Enforcement District: Oversees the level of Sheriff's patrols in urban Clackamas County. The district serves about 85,000 residents in the unincorporated areas of Clackamas County within the Urban Growth Boundary, as well as the city of Johnson City.
Clackamas County Extension and 4-H Service District: OSU-Extension provides expertise and knowledge to live healthy lives and nurture our ecosystems.
Library Service District of Clackamas County: The permanent rate approved by voters in November 2008 is $ 0.3974 per thousand of assessed value. This district was formed to act as the fiscal agent distributing property tax revenues raised by a specific rate to local library-operating governments.
North Clackamas Parks & Recreation District: Provides parks and recreation programs, facilities and services in the north end of the county. Serves more than 122,000 residents in Happy Valley, Milwaukie and a large area of unincorporated Clackamas County.
Clackamas County Development Agency: Formed under ORS 457, the Development Agency is responsible for implementing the County's Urban Renewal program and increment financing districts:
Service District No. 5 (Street Lighting): The district contract with outside parties to design, install, maintain and operate street lights. The district extends from the north county line to the Clackamas River on the south, and from the Willamette River on the west to the Urban Growth Boundary on the east.
Water Environment Services: Provides wastewater resource recovery and watershed protection services. Serves more than 165,000 customers in Gladstone, Happy Valley, Johnson City, Milwaukie, Oregon City, West Linn and several unincorporated areas.
Housing Authority: A separate public corporation formed under ORS 456 to develop, own, & manage housing that is affordable to low income individuals. This Board includes an additional citizen member who is a public housing resident or Section 8 Program participant as required by law.
Board of Health: Per Board Order No. 2018-98, the Board of County Commissioners are the governing body over the Local Public Health Administrator and over sees the County's public health activities.
Current BCC priorities
Courthouse replacement project
Our current courthouse does not meet the demands of our growing population and is at risk during a seismic event.
Cross-laminated timber
We're leading Oregon's efforts in the growing advanced timber technology industry.
Homelessness
To address this urgent problem, we've developed the Veterans Village and the Housing Affordability and Homelessness Task Force.
I-205 bottleneck funding
We're advocating for state funding to support a third lane of capacity in each direction of I-205 from Stafford Road to OR 213.
Performance Clackamas
Our transparent, strategic plan provides measurable goals for county departments.
Small grants
Now in its 10th year, this program assists organizations that help our most vulnerable residents.
Sunrise corridor/system
Extending OR 212 from 122nd to 172nd is our top transportation priority, relieving congestion and providing access to thousands of acres of employment lands .