Our expert advisors support Clackamas County businesses to meet local requirements, reduce food waste at food businesses, and provide guidance and local recognition to be a Leader in Sustainability. We're here to help you reach your environmental and sustainability goals. Sustainable practices help reduce waste, ultimately saving you time and money, while supporting a healthy, productive workplace.
Reach Your Environmental Goals
Does your organization have other environmental goals or priorities? Our trained sustainability advisors can assist with:
Sustainable purchasing plans
Waste prevention
Education for employees
Coordinating with custodial providers and property managers
Starting an employee green team
Keeping you informed about sustainability through our quarterly newsletter
And much more!

Sustainability Benefit Businesses
Enhance brand and competitive advantage
Increase productivity and reduce costs
Attract new customers and employees
Conserve resources
Provide a healthier workspace for staff
Build stronger relationships with customers and your community
Free Tools and Resources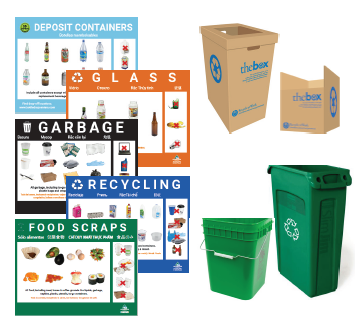 Receive internal recycling boxes, posters and decals to make it easy to recycle.
Request assistance and supplies
We know businesses are busy, and it can be confusing to find the programs that will help your business. Our advisors are a one-stop resource that help you get what you need to make your business more sustainable.
Available to all. Our services are provided at no cost to any Clackamas County business. We have advisors that speak English and Spanish, and can provide support through translation services in other languages.
Personalized consultations. Identify sustainability solutions that make sense for your workplace.
Recommendations and referrals. Take the guesswork out of operating more sustainably. We can connect you to other environmental programs.
Ongoing support. Running a sustainable business is not a one-and-done thing. It takes continuous improvement. We're here to support you along your journey.
Connect and learn. Gain insight from others that value sustainable business practices.