Purpose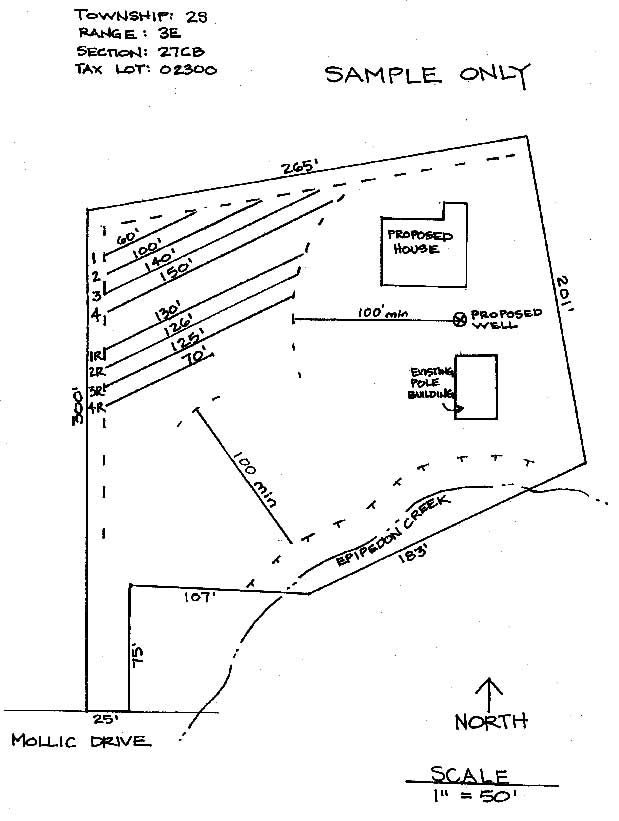 To determine if sufficient space exists on a lot with limited area for the proposed development, and ensure all septic components meet required setbacks.
Procedure
Clear tall brush in area of stakeout, approximately 10,000 sq ft (100'x100' or equivalent). Do not remove topsoil or otherwise grade the area. If the area is covered with brambles, clear a path to any features requiring a setback (ex: escarpment, stream, or well).
Use a transit or laser (not a builders level) to mark points about 25 ft apart on the leach line. Make sure the line is at the same elevation (or within the allowed trench depth variation) throughout its length. Mark the points with stakes tall enough to be visible above any remaining brush. Color-code each line using alternating colors for each leach line. Alternatively, you can spray paint or drape string between stakes of each line. Do this for both the original and replacement drainfields.
Stake the other septic components, such as the septic tank, and sand filter if required, as well as the house, accessory buildings, drive, and any other proposed development. If you do not know the actual house you can draw a general envelope of the area where the house could fit. Check with the Planning Section to ensure that all building envelopes meet their requirements for setback to the property lines.
Accurately record the elevation at the beginning and end of each leach line, as well as the line lengths and color in a chart. Draw all the septic components and other developments on an accurate, to scale plot plan and submit it to the Soils Section for review. Provide a north arrow, and roads on your lot frontage. Draw in all features that require a setback, and the distance from the feature to the closest septic component.
Sample Chart
Line #
Color
Beginning elevation
Ending elevation
Length (ft)
Original area
1
Red
0.64
0.64
58
2
White
2.87
3.00
75
3
Red
5.89
5.90
125
4
White
7.03
7.38
125
5
Red
8.90
9.02
92
Repair area
1
White
2.57
3.00
92
2
Red
5.00
5.02
112.5
3
White
6.49
6.63
112.5
4
Red
7.80
8.10
112.5
Septic tank
Orange
House
Blue
Drive
Yellow
* Check site evaluation for maximum trench depth variation