Dear #ClackCo resident/stakeholder: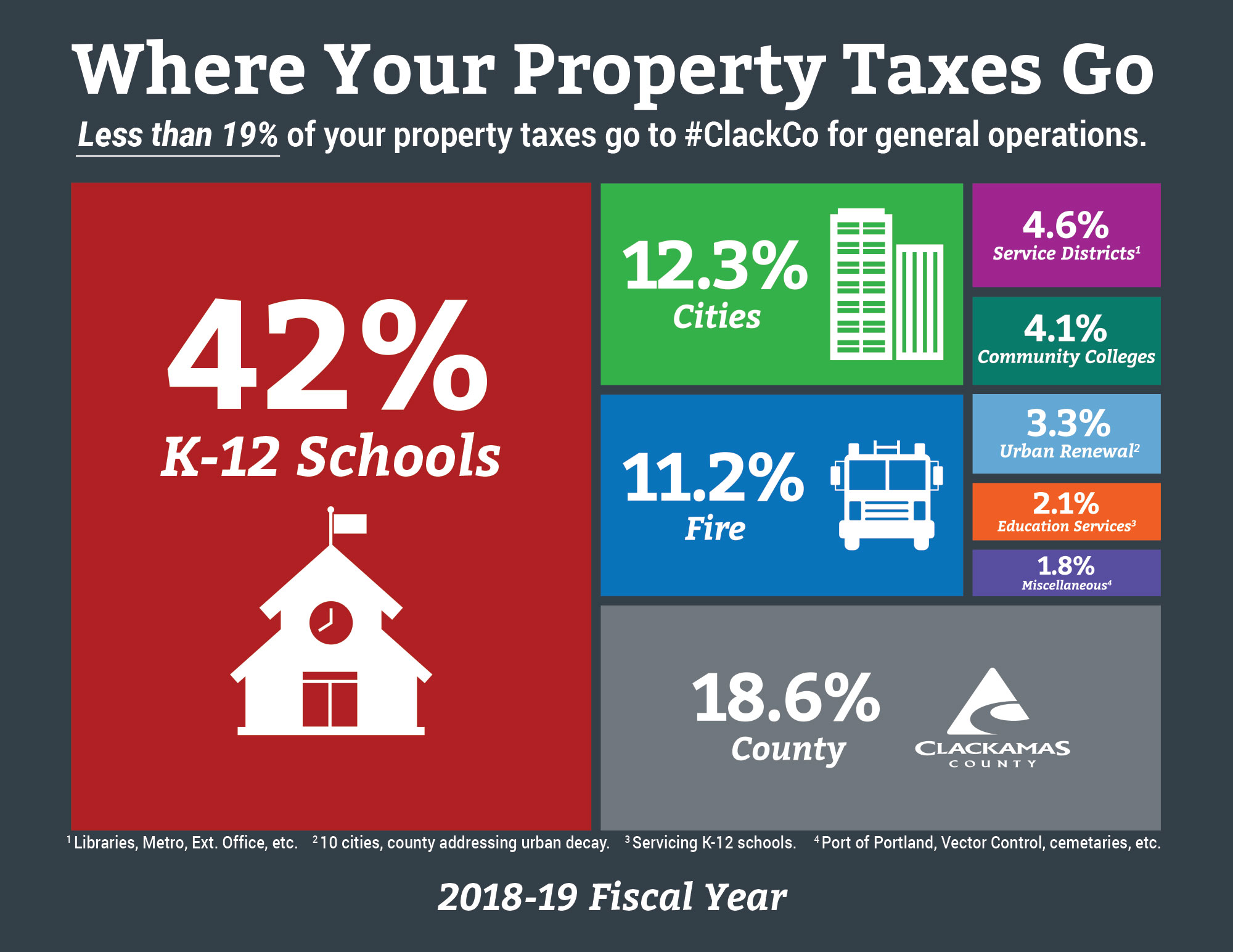 Clackamas County expenditures are outpacing our funding streams. This is due to many reasons: declining state/federal revenues, increases in the cost of living, and rising financial obligations (such as PERS obligations or implementing the Oregon Equal Pay Act, for example).
By law, the county's budget must be balanced every year. This current fiscal year's (2019-20) budget is balanced – county officials accomplished this by drawing down one-time reserves that cannot be used again.
And we receive less money from property taxes than you might think. Did you know that less than 19% of property taxes you pay goes to Clackamas County general operations?
Most of our funds are already dedicated or restricted (from federal/state sources and fees). Only about $140 million is discretionary "general fund" dollars to fund a portion of the county's services.
We are currently on an unsustainable path, so we're taking actions now to avoid a future crisis. This is an opportunity for #ClackCo to become leaner.
We've already taken several actions to rightsize our budget and ensure we live within our means, just as you do. These steps include:
County departments have cut costs by 2 to 5%.
Our adopted general budget is approximately $25 million less than previous fiscal year.
A hiring freeze is in effect. Only essential positions are being filled.
Our future sustainable budget will be lean, effective, and responsible.
Results of the services-rating survey - January 2020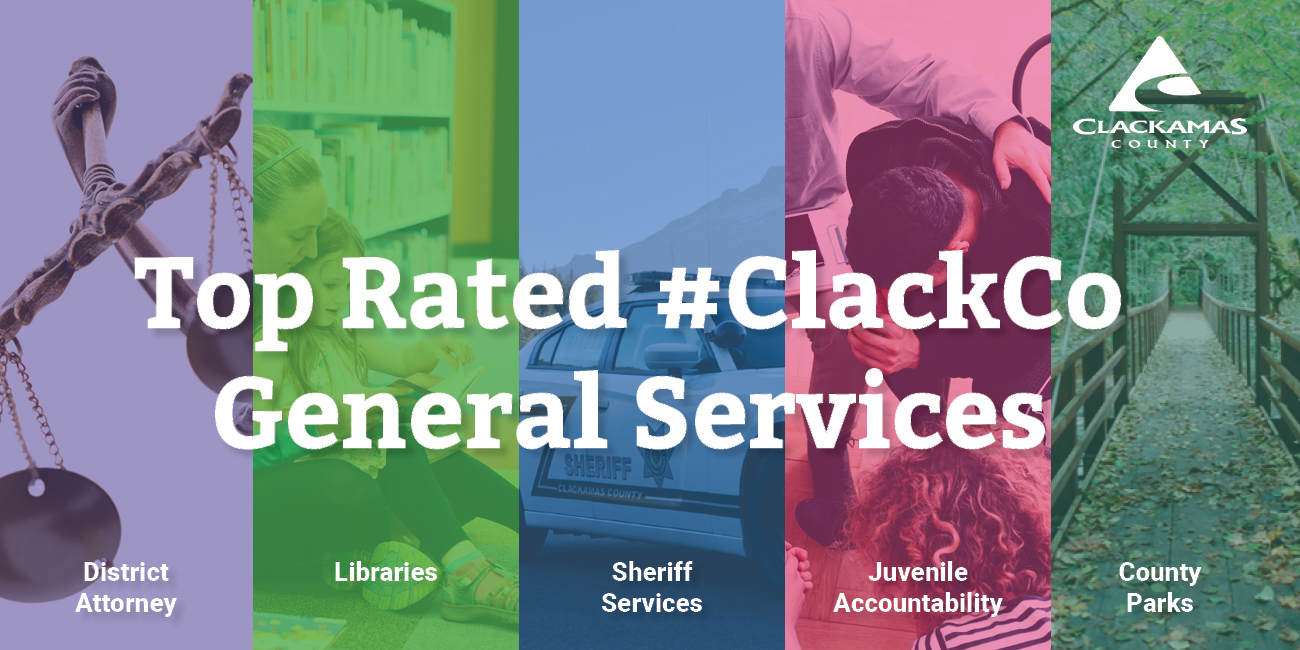 Over the last several months, the county has been gathering input about how people value county services to help shape upcoming budget conversations. The results will help inform future decisions about how to prioritize funding.
There were more than 3,000 responses to the survey – the equivalent of almost 1% of the county's total adult population.
The survey asked residents to rate the value of 40 county services that rely, in part, on the general fund, and serve external customers.
The highest-rated services included various Sheriff's Office divisions, the District Attorney, County Parks, Juvenile Offender Accountability and the Library system. We can clearly see that the community puts high value on law and justice-related services. Of the top 10 rated services, only County Parks and Library Systems were outside that category.
Services that received the lowest average rating included Conflict Resolution, Public Health Population Health Strategies, Property Valuation and the County Surveyor. Perhaps this means the county needs to do a better job making sure the public better understands these services.
Other takeaways include: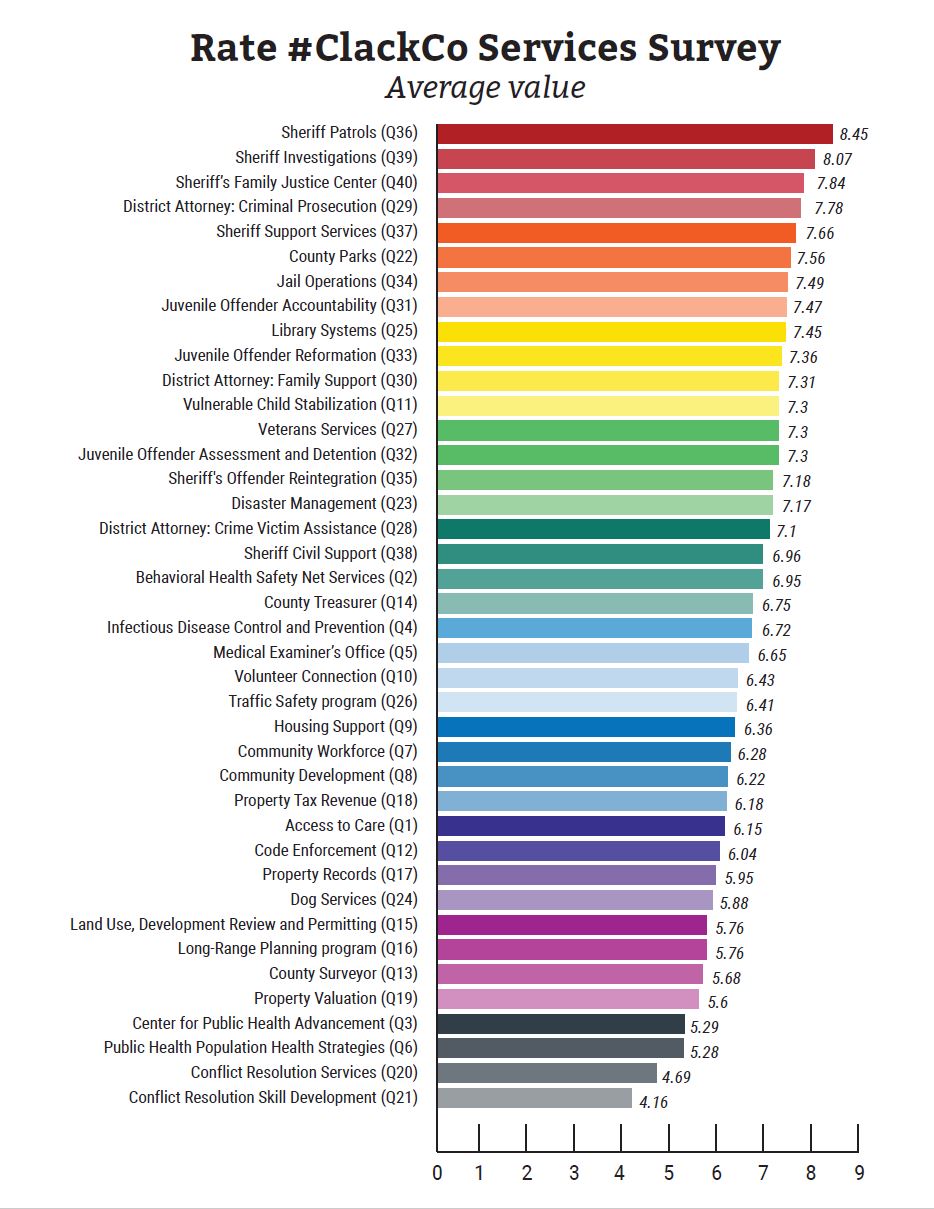 More than 1,500 respondents identified themselves as residents of cities within the county, while nearly 1,200 said they lived in unincorporated areas. City residents overwhelmingly rated almost all services higher than their unincorporated counterparts. The only exceptions to this were:

Sheriff Patrols (City residents rated 8.4; unincorporated 8.57)
Jail Operations (city residents rated 7.47; unincorporated 7.55)

We saw some passionate marks! Here are the services that had more than 30% of respondents rate them at a "10" level, meaning they find them "extremely valuable":

Sheriff Patrols (50.13% of ratings were "10")
Sheriff Investigations (37.58% of ratings were "10")
Sheriff's Family Justice Center (37.07% of ratings were "10")
Library Systems (35.55% of ratings were "10")
District Attorney: Criminal Prosecution (31.79% of ratings were "10")
Sheriff Support Services (31.28% of ratings were "10")
Vulnerable Child Stabilization (30.58% of ratings were "10")
Veterans Services (30.15% of ratings were "10")
Moving forward, the Budget Advisory Committee will review this information and use the community's values to inform future decisions.
Clackamas County wants its residents to be involved with its budget process. Please check our budget page, which will be updated with our budget schedule as soon as it is set (sometime in May).
All questions and comments about this survey should be directed to Public & Government Affairs' Dylan Blaylock at 503-742-5917 or dblaylock@clackamas.us.