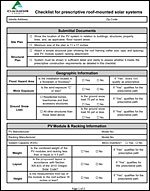 You must obtain both building and electrical permits when installing solar photovoltaic (PV) systems. Electrical permits require inspections, but do not include plan review.
For the building permit, we review construction documents and inspect the installation. This review is meant to protect life and property from hazards and to facilitate safety in emergency situations.
Building permits for PV systems are divided into two categories:
prescriptive
non-prescriptive
Use the checklist to find out what qualifies as prescriptive.
Zoning
Solar systems that qualify as an Accessory Use are allowed in all land use zones in Clackamas County when the annual power-generating capacity of the system is limited to power consumed by the property. Solar energy systems that exceed an Accessory Use are subject to land use review.
Fees
Building Permits
Prescriptive
$190.40
Non-prescriptive
Plan review required.
Varies
Electrical Permits
5 KVA or less
$144.00
5.01 to 15 KVA
$169.00
15.01 to 25 KVA
$280.00
Over 25 KVA
Plan review required.
$11.20/KVA and plan review required
All fees include State surcharge.
Permit applications
Other resources
Additional information
Prescriptive installations as defined by the Oregon Structural Specialty Code (OSSC), Section 3111 are roof installations on conventional light-frame construction (such as a wood-framed house) which comply with specific criteria and do not require an engineered design. The permit fees are flat rate and permits are typically issued 2–3 business days after submittal.
Non-prescriptive installations are those that do not qualify as prescriptive. They include ground-mounted systems, systems installed on roofs that are not conventional light-frame construction, installations in high wind or ground snow load areas and flood hazard areas, or installations where the combined weight of the equipment and racking exceeds 4.5 pounds per square foot. These types of installations require an engineered design and can take up to 4 weeks for review depending on the complexity of the project. The fees are variable based on value (excluding panel and inverter costs).
Accessory use is defined as a subordinate use — the function of which is clearly incidental to that of the main building or use on the same lot. Where solar systems exceed an accessory use, a pre-application meeting ($400) and conditional use application ($3,945) are required prior to applying for building permits. There is also a Transportation System Development Charge (TSDC) applied to these types of systems. The TSDC varies by location. For an estimate contact Lori Phillips at loriphi@clackamas.us with the site address.