Clackamas County is leading Oregon's efforts in the growing advanced timber technology (or mass timber) industry.
While we focus on multiple advanced timber technologies, one area of focus is Cross-Laminated Timber — an innovation that can spur rural economic development in an environmentally friendly manner.
What is Cross-Laminated Timber?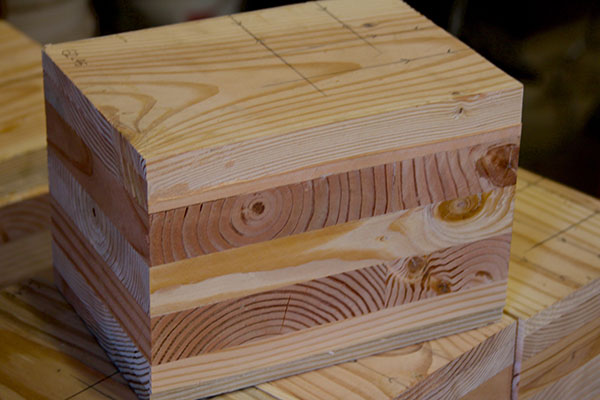 Cross-Laminated Timber, known as CLT, is an important next phase of the mass timber industry. CLT products are customized, cross-layered wood panels with enhanced strength and stability. Panels are created by gluing together layers of wood.
There are many benefits to this product. One key advantage is that the product can use small-diameter trees that don't see much demand on the open market. This makes harvesting more efficient.
Why is CLT Important?
CLT is an incredible opportunity for rural communities throughout Clackamas County and the Pacific Northwest.
According to Oregon BEST — a Portland-based economic development catalyst group sponsored by the state — CLT has the potential to create 6,100 direct and 17,300 indirect jobs in Oregon by 2031.
Countless industries and jobs will be helped by a CLT expansion. This includes loggers, architects, engineers, mill workers and construction workers. Many of these created positions will be high-wage jobs in advanced wood manufacturing that will greatly enhance our local economies.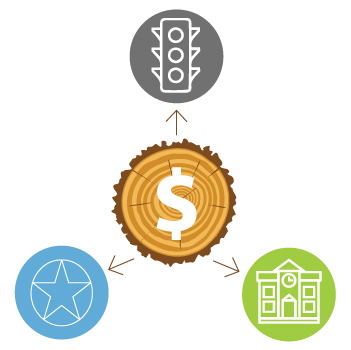 Further, CLT has a lower carbon footprint than traditional building materials like concrete or steel, and can be a key technology to help combat climate change. Trees indigenous to the Northwest are uniquely situated for CLT technology because they reach at least 95% of their carbon-capturing ability in 65–90 years. After the mature trees are harvested, new trees are planted in keeping with sustainable forestry practices.
Why is Clackamas County Particularly Interested in This?
Clackamas County is well-positioned to spur and develop CLT and other advanced timber technology opportunities. Nearly 75% of our land is forestland (52% is federal), and we already have five lumber mills that can invest in CLT-processing, which can provide a regular local supply.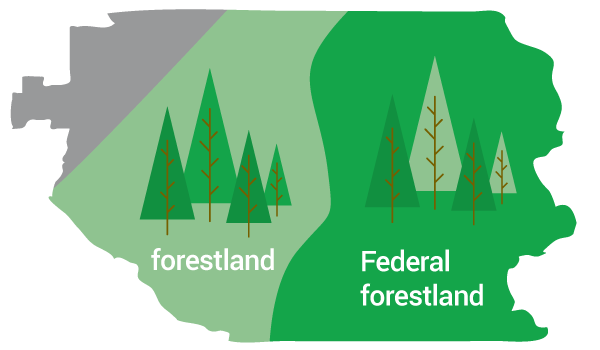 Further, we have the infrastructure. Our county has a robust timber manufacturing sector, along with extensive roadway and rail systems, and access to the Port of Portland.
Ensuring the stability of supply will assist rural local economies hurt by the loss of timber revenue. CLT will be a traded-sector product to sell around the Pacific Rim. It fits in nicely with the county's focus on improving exports.
Clackamas County believes CLT is a sustainable, environmentally friendly way to spur timber production. We believe that it is critical for the industry to be developed with the environmental community at the table.
Clackamas County's share of timber harvest revenue — as well as the shares of other Oregon counties that follow our lead — can be used to meet urgent funding needs, like roads, schools and law enforcement.
What's Clackamas County Doing to Make This Growing Industry a Reality?
Clackamas County wants to lead the growing CLT industry in Oregon by developing a supply-increasing pilot program that can spur rural economic development.
We're investing in the technology by:
Increasing supply
We're raising the amount of timber harvested in working forests on county public lands.
Providing technical expertise
Our Business Response Team can support advanced timber technology clients with staff expertise in mass timber, fire/life safety, structural engineering and more.
Encouraging investment
We're attracting mass timber investments with a market demand study, financial modeling, and local, state and federal incentives for investment in distressed communities. Specifically, we're pushing for New Market Tax Credits — federal incentives that prompt investment into distressed communities and keep jobs local.
Legislative advocacy
We're advocating for more forestland to be used specifically to provide supply for CLT.
Contact
If you are a state, federal or local elected official and want to find out more about Clackamas County and CLT, please contact Chris Lyons at 503-742-5909, or Trent Wilson at 503-655-8206.
Wood Innovation Grant
Clackamas County was recently awarded $100,000 from the U.S. Forest Service as part of the 2019 Wood Innovation Grant program. The funds are being used by #ClackCo's Economic Development Division, working with the University of Oregon School of Architecture and Oregon State University's Tallwood Design Institute, to consider how cross-laminated timber, or mass timber, could be used in the construction of a new county courthouse.
Students in the University of Oregon fall 2019 Design Studio prepared multiple courthouse designs incorporating mass timber elements. The top selected design will then undergo a Life Cycle Analysis that will include consideration of cost differences and environmental benefits of using mass timber compared with more traditional materials in the construction.