All dogs in Clackamas County are required to be licensed. All county residents must purchase dog licenses from Clackamas County Dog Services, except people who live inside the city limits of one of the following three cities: Happy Valley, Lake Oswego or Tualatin.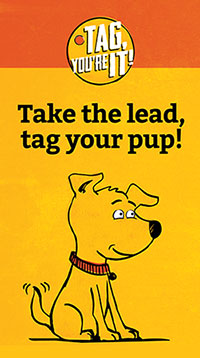 It is the law (County Code and State law) to license your dog. But dog licensing also:
gives you around-the-clock notification via telephone if you lose your licensed pet and someone finds it
tells everyone that your pet is yours and is never mistaken as a stray
helps pay for the care of homeless animals while attempts are made to find them adoptable homes
provides emergency medical care if your dog is ever found injured
helps the county protect neighborhoods from dangerous dogs and investigate dog bite incidents
funds investigations of animal cruelty, abuse, abandonment and neglect
supports efforts to find good homes for stray dogs through our active adoption process
If you own or are keeping a dog in Clackamas County, you must purchase a license:
when the dog is 6 months of age or grows its permanent canine teeth, whichever comes first
within 30 days of becoming owner or keeper
within 30 days of moving to the county
Purchasing a Clackamas County dog license
You will need:
dog information (name, age, color, breed)
your veterinarian's name
current rabies certificate with vaccination and expiration date
proof of spay or neuter (if applicable)
method of payment
Where to buy a Clackamas County license
Clackamas County Dog Services (13141 SE Hwy 212, Clackamas, OR 97015) map
office of a participating local veterinarian
License fees
| | Spayed/neutered dog | Fertile dog |
| --- | --- | --- |
| 1 year | $24 | $41 |
| 3 years | $68 | $119 |
Discounts are available when you:
provide proof of spay or neuter
purchase a multi-year year license
Low-income voucher for rabies vaccine with spay and neuter program
Residents in Clackamas County on any sort of government assistance are eligible to receive a voucher for a no-cost spay or neuter and a rabies vaccine when purchasing a one-year dog license at participating veterinary clinics. Learn about the voucher program.