Status
There are no on-site activities occurring.
Updated: April 6, 2021
Clackamas County received State Funded Local Project Program funds to replace the existing bridge on Canby Marquam Highway over Bear Creek.
The existing bridge, built in 1960, is showing signs of decay as a result of heavy truck traffic. The bridge is considered functionally obsolete (narrow) and structurally deficient, with a sufficiency rating of 27.2. The bridge is composed of undersized timber members that have shear and flexure damage, which were temporary repaired until the bridge can be replaced. The asphalt pavement wearing surface requires constant repair due to the bridge vibrating and shaking when trucks travel on the bridge.
Proposed bridge replacement description
The proposed replacement bridge will be a new precast, concrete single-span structure spanning Bear Creek on the current alignment. It is anticipated the new bridge will be approximately 83 feet long with a total width of 40 feet (two 12-foot wide lanes, two 6-foot wide shoulders, and two 2-foot wide barrier rails). The bridge is expected to be founded on 16-inch diameter steel piles approximately 50 feet deep below ground surface. The County hired a consulting engineering firm to design the new bridge improvements.
Schedule
Project design is underway and will be completed in the spring of 2021. Right of Way acquisition activities are expected to start in January of 2021 and be completed in the spring of 2021, with construction planned for the spring of 2022. The project is expected to take up to one year to complete.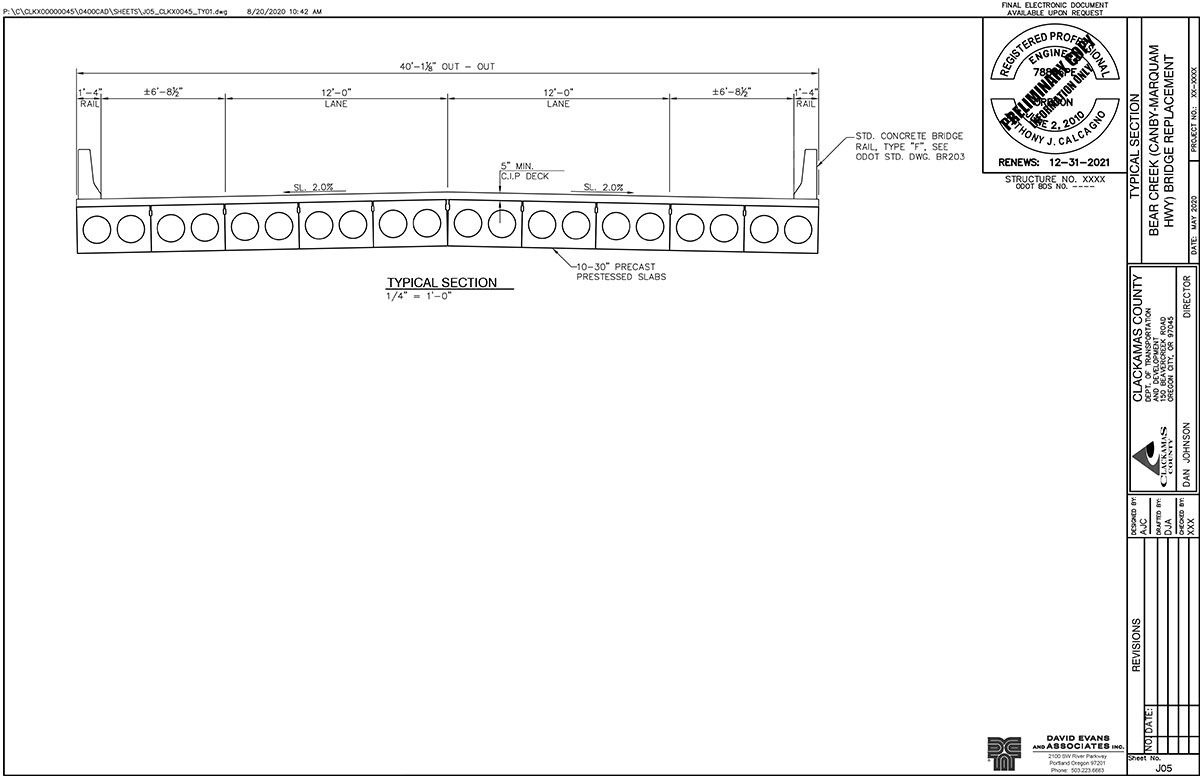 Traffic impact
A full road closure is expected during construction, estimated from May 2022 through Nov. 2022.
NW Natural will be relocating their high pressure gas line in September 2021 and the road will be closed during this work.
Engineer
Joel Tubbs, PE (David Evans & Associates)
Contractor
David Evans & Associates
Funding
Estimated total project cost: $2.3 million
Funded through State Funded Local Project Program Funds matched with County Road funds