Status
In construction
Updated: June 22, 2022
Clackamas County received State Funded Local Project Program funds to replace the existing bridge on Canby-Marquam Highway over Bear Creek.
The existing bridge, built in 1960, is showing signs of decay as a result of heavy truck traffic. The bridge is considered functionally obsolete (narrow) and structurally deficient, with a sufficiency rating of 27.2 out of 100. Temporary repairs have been made to the timber components until the bridge can be replaced. The asphalt requires constant repair due to the bridge vibrating and shaking when trucks travel on the bridge.
Proposed bridge replacement description
The proposed replacement bridge will be a new precast, concrete single-span structure spanning Bear Creek on the current alignment. It is anticipated the new bridge will be approximately 83 feet long with a total width of 40 feet (two 12-foot wide lanes, two 6-foot wide shoulders, and two 2-foot wide barrier rails). The bridge is expected to be founded on 16-inch diameter steel piles approximately 50 feet deep below ground surface. A consulting engineering firm has been hired to design the new bridge improvements.
Schedule
Project design was completed in fall 2021. Right of Way acquisition activities were completed in fall 2021. Construction is planned between May 2022 and June 2023. Construction will occur primarily between 7 a.m. and 5 p.m., Monday through Thursday.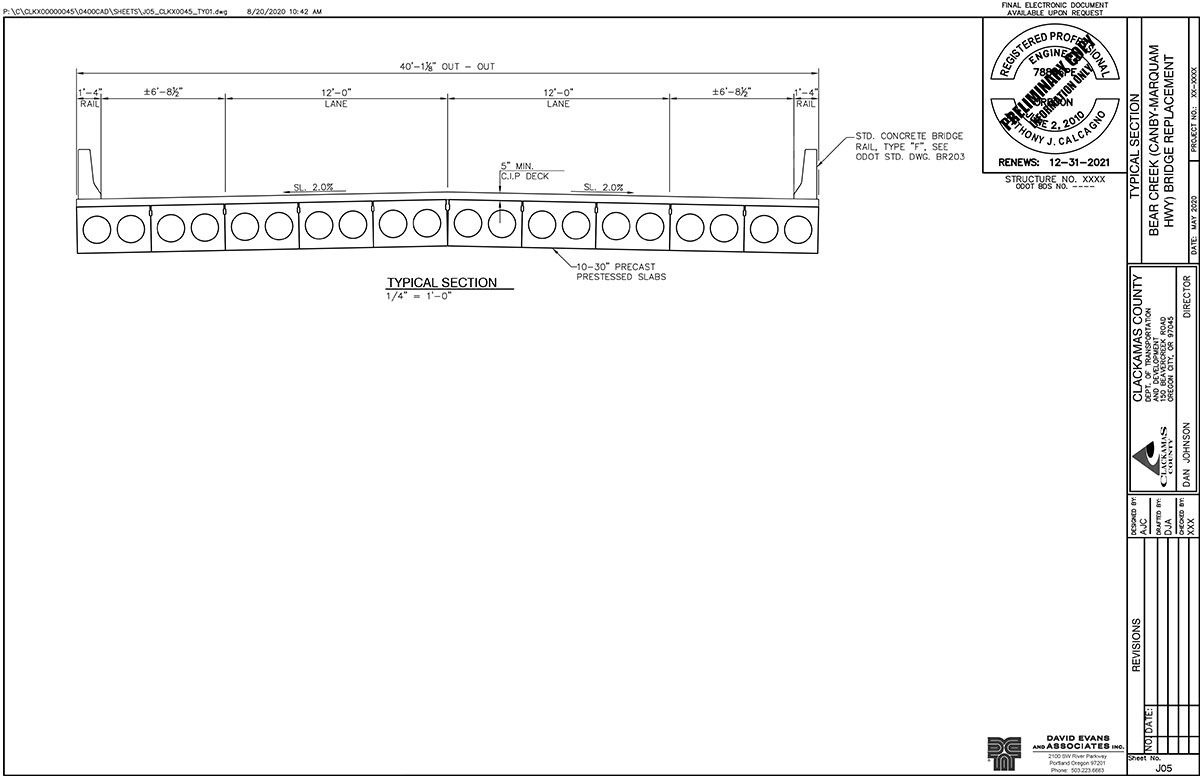 Traffic impact
A full road closure starts Monday, May 9, 2022 and continues through Nov. 18 2022. Access will remain for residents on Canby-Marquam Hwy up to the bridge site. The detour routes traffic to Barnards Road to Barlow Road to OR 211.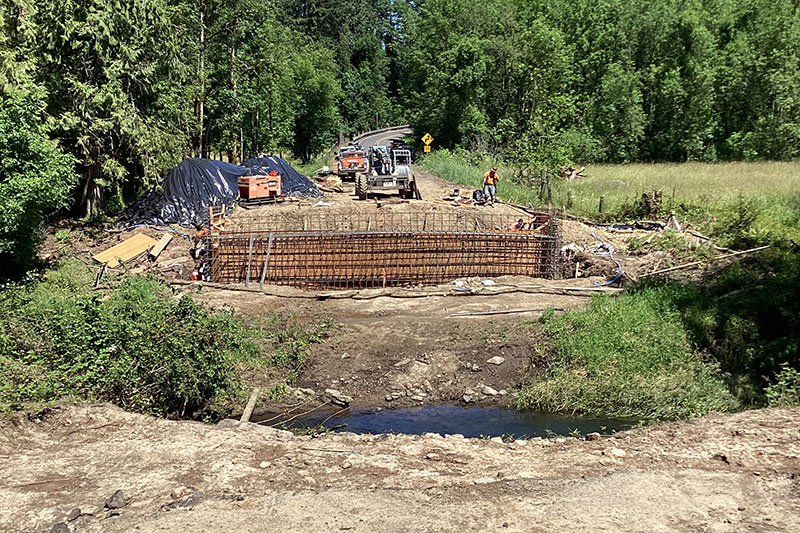 Current activities
Construction in progress.
Crews have finished constructing the underground supports (piles) that make up the bridge foundations and are working on the south end of the bridge to build the side walls and link the supports together (abutments) that help support the bridge beams and bridge deck. Future work includes building the side walls and abutments on the north side of the bridge and placing beams that will provide the main support of the bridge. Work is on schedule to reopen the road by the end of Oct.
Engineer
Joel Tubbs, PE (David Evans & Associates)
Contractor
David Evans & Associates
Funding
Estimated total project cost: $2.3 million
Funded through State Funded Local Project Program Funds matched with county road funds