Improving safety and connectivity for pedestrians, cyclists, and motorists along SE Jennings Ave.
Status: Preparing for construction
This project, along SE Jennings Ave. between Highway 99E (McLoughlin Blvd.) and SE Oatfield Road, will help connect residents to nearby businesses and transportation options, and provide safe routes for students to travel to local schools in the area by:
Constructing a 6-foot sidewalk on the north side of SE Jennings Ave.
Adding marked crosswalks, flashing beacons and radar speed feedback
Constructing 7-foot bicycle lanes on both sides of SE Jennings Ave.
Establishing 11-foot travel lanes
Moving the marked pedestrian crossing at SE Rose Lane to SE Portland Ave., and adding a Rapid Rectangular Beacon and radar speed feedback response
Updating stormwater facilities to improve stormwater management, including constructing a bioswale and detention area upstream of the Boardman Creek crossing with Jennings Ave.
Proposed design for all of SE Jennings Ave. within the project limits.

Schedule
After receiving construction proposals much higher than our engineering estimates, we intend to advertise the project for construction bids in the fall. We will update the construction schedule as we have more information.
Project planning and design: Nov. 2019 – June 2022
Right of Way Acquisition Efforts: Jan. 2021 – Sept. 2022
All right of way acquisitions are conducted as required by state and federal law. Read right of way brochure: English | Spanish.
Construction: To be determined
Project impact on traffic
Starting in March, expect single lane closures for utility relocation.
During construction, expect temporary rolling lane closures and flaggers to guide travelers. Pedestrians will have access. Expect construction between 7 a.m. and 6 p.m., Monday–Friday, and Saturdays as needed. We will send schedule details to area residents before construction begins.
Engineer/consultant
Nicholas McMurtrey, PE; Murraysmith, Inc.
Things to be aware of
This section of Jennings Ave. is being considered now because it best fit the criteria for Metro's Regional Flexible Funds Allocation funding program (a key funding source). It is the appropriate size and had already been identified as a high priority project in the Clackamas County Transportation System plan.
In 2013, Clackamas County requested funds for this project from Metro's Regional Flexible Funds Allocation (RFFA) program, a process used by Metro to distribute federal money to local projects. In November 2013, Metro notified the county that they had awarded funds for this project to begin in 2016–2018. Since the project was not fully funded, the county needed to identify additional funding sources. Once additional funding was identified and the county completed the contracting process with the Oregon Department of Transportation, we were able to begin working on the project in 2019.
Plans for work on other portions of Jennings Ave.
The Clackamas County Transportation System Plan (TSP) includes improvements of bike lanes and sidewalks for the entire length of Jennings Ave. between McLoughlin Road and Webster Road. Project priorities in the TSP were developed with input from the community and adopted by the Board of County Commissioners.
The current project between Oatfield and McLoughlin is a Tier 1 (top) priority projects
The segments between River Road and Oatfield are identified as Tier 1 (top) priority projects (Project #1068).
The segment between Oatfield Road and Webster Road is a Tier 2 (second level) priority project (Project #2021).
Projects along the other segments of Jennings, both the segment from River Road to Mcloughlin and the segment from Oatfield to Webster, will be constructed when we can get funding for them. We depend on outside funding sources for sidewalk and bike lane improvements and work diligently to match needed projects to funding from state and federal resources.

Notices will be sent to area residents and property owners at key points during the process.
Share your comments and ask questions.
Funding
Estimated project cost: $6 million
Funding sources: Oregon Department of Transportation (ODOT), Federal Highway Administration (FWHA) and Clackamas County
Other Resources
Project area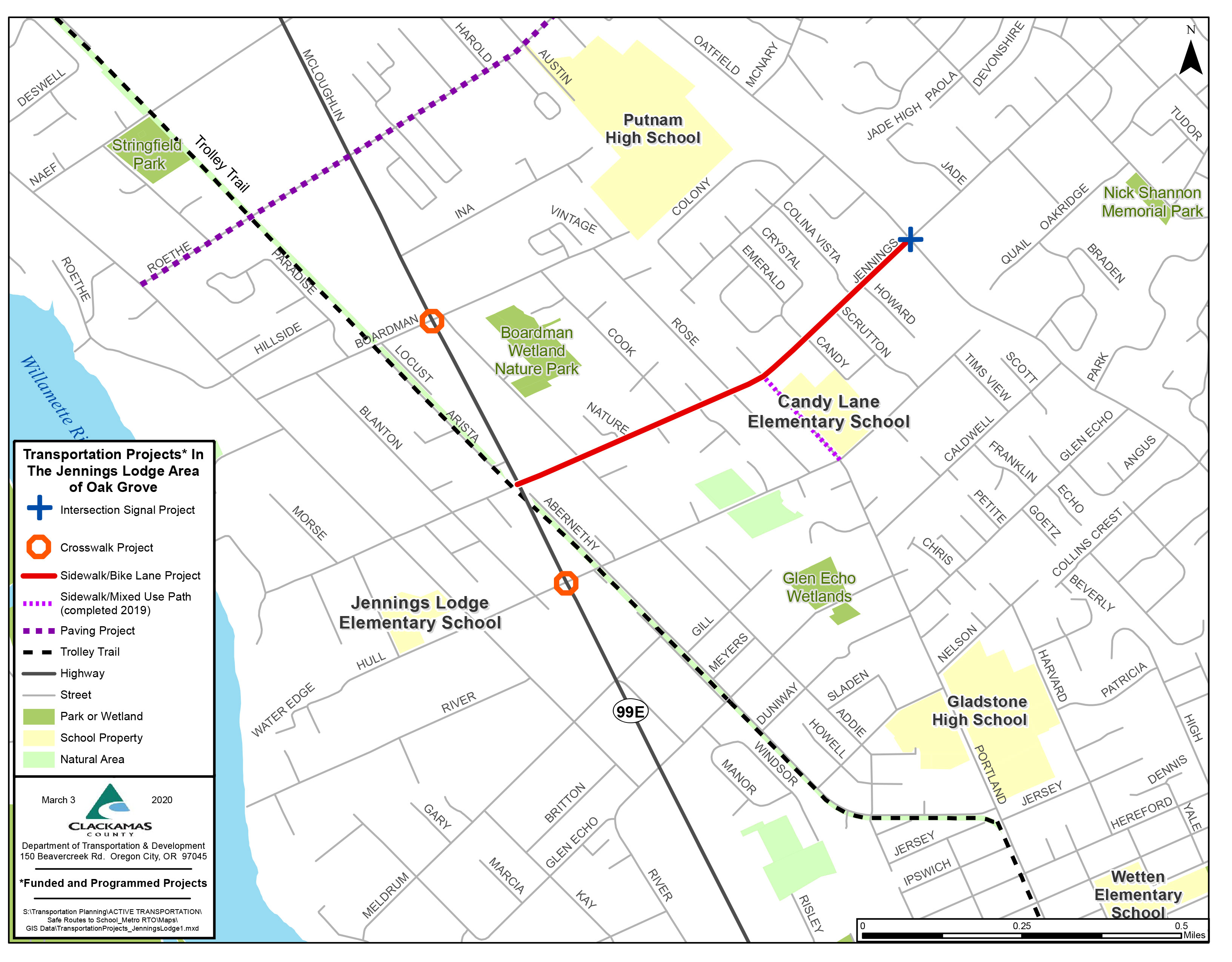 Existing conditions
There are many sections of SE Jennings Ave. without sidewalks or bike lanes. Some examples of these incomplete connections that will be completed as part of this project are shown below.
108361
The project team will review many safety tools, including speed bumps, to potentially include as part of the project. After design begins and technical data is collected, we'll have a better idea of the design features that will be included.
108361