Main Content
Last March, a single parent and young child walked into the county's Coordinated Housing Access (CHA) office looking for help less than 24 hours before going to court for a judgment on an immediate eviction notice.
CHA team members sprang into action, calling the county's Housing Mediation Program. The mediator got in touch with the property manager at Waverly Greens apartments and worked with the tenant to apply for county rent assistance, ultimately preventing the family from being evicted.
This free eviction mediation program is available through June 2023 to any county housing provider/landlord or tenant who has a housing concern. Some of the reasons for mediation may include loss of income, conflict with tenants, noise concerns, property concerns, and late payments. Recent numbers confirm that more than half of mediated cases prevent eviction.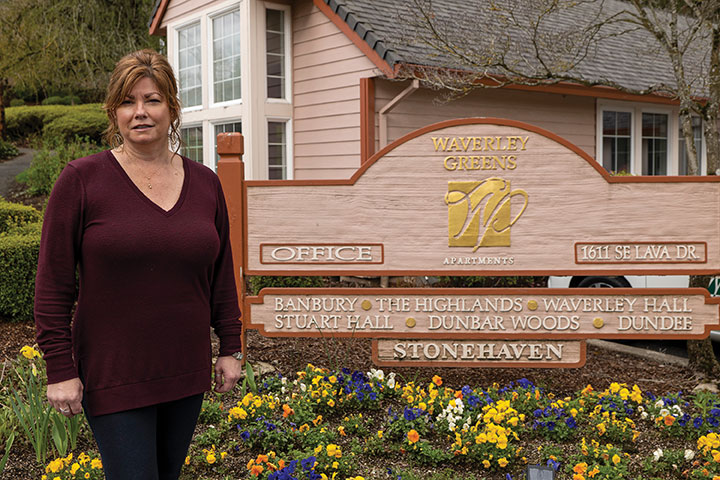 The value of the program is illustrated in a letter written by Waverley Greens Property Manager Ginger Whiting.
"I want to personally thank you for your time and efforts to support not only the tenant but us as the landlord as well. I believe this is a beneficial program and have already given out your information to some other tenants needing support."
Whiting said she is now a big believer in "Don't wait, mediate!" and sees mediation as a "golden opportunity." As a property manager, the last thing she wants to do is evict someone.
"We take great pride in offering more than an apartment to residents but rather a home in a safe, caring community — this attitude makes a difference in our staff and our care for our residents," she said. "This mediation program helps us come alongside our residents in their time of need and offers support solutions. It would always be our goal to find solutions to avoid eviction if at all possible with our residents facing financial difficulties."
Don't wait. Mediate!
Housing providers/landlords and tenants, we want to help you solve conflicts and come to an agreement with eviction prevention mediation. Services are free, fair and accessible in many languages.
Call 503-655-8850 or apply online.
The county's Housing Mediation Program offers free mediation, resources, and support services to housing providers and tenants through a grant from the University of Oregon School of Law. The goal of the program is to decrease evictions that lead to homelessness by offering housing providers/landlords and tenants the opportunity to work together on possible solutions before an eviction case is filed in court.
"Eviction can lead to poverty, homelessness, loss of employment, loss of possessions, increased health issues, and disruption of children's education — and it affects mostly low-income and underserved populations including people of color," said Clackamas County Resolution Services Manager Amy Herman, who oversees the county's Housing Mediation Program.
Mediation can address specific issues to stabilize a situation, such as developing a payment arrangement plan or a plan for gracefully moving out. It can also give renters more time to find new housing and connect them with community resources. And, mediation can help housing providers lessen or recover losses, such as overdue rent and costs associated with eviction by making connections to possible funding sources.