It's never too early to start planning waste prevention and recycling strategies for your community event. Public events and festivals often generate large amounts of waste.
Read the Recycling at Events Guide to plan waste prevention, recycling and other green practices. We also offer assistance to help you coordinate waste reduction at your event.
Free recycling containers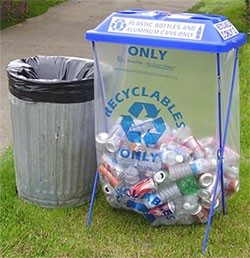 The county loans ClearStream recycling containers for collecting plastic bottles and aluminum cans at events in Clackamas County. The containers are available on a first-come basis.
Folding frames are easy to transport, set up and tear-down.
Clear bags are provided so you can encourage recycling by example, remove items that don't belong in recycling and replace the bag when full.
We can guide appropriate container set-up at the event and locate recycling drop-off centers for you to redeem bottles and cans.
Recycling tips for events
Place recycling and trash containers next to each other to prevent non-recyclable materials from being placed in recycling containers.
Put recycling stations in highly visible (e.g., a flag on a tall pole, balloons, signs, etc.) and convenient locations.
Limit the number of recycling and waste stations to allow for easy monitoring by event staff or volunteers.
Place larger recycling and waste stations in areas where high volumes of waste will be generated.
If possible, staff recycling stations at all times. If this is not possible, assign a "floater" to check each area periodically.
Communicate with vendors prior to the event about using more recyclable and reusable products to reduce waste.
Redeem bottles and cans to fund activities in your organization, or donate to a nonprofit organization.
Types of events
Athletic Events
Community Celebrations
Concerts
Fairs
Farmers' Markets
Festivals
Fun Runs
Tournaments
Contact us
We can provide assistance for your event and guide you along the way. Contact Rita Hale at rhale@clackamas.us or 503-742-4464.
Request free containers for events
We loan recycling containers for collecting plastic bottles and aluminum cans at events in Clackamas County.