Fluorescent lamps are more energy efficient and last much longer than incandescent lights, and can be recycled after they burn out. These lamps help consumers and businesses cut lighting energy use and reduce energy costs. However, as with any product that contains mercury, it is important to dispose of fluorescent lamps properly to protect public health and the environment.
The following information and resources below will help keep you, your staff and your customers safe.
Identify which lamps are fluorescent
Businesses in Oregon discard millions of lamps each year, making them the largest source of mercury in our waste stream. Fluorescent lamps include tubes, bulbs and CFL lights. Information about recycling and storing applies to all fluorescent lamp types.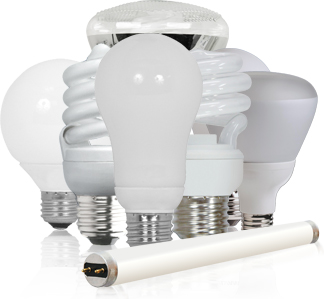 Lamps that contain mercury:
Fluorescents
U-tubes
Circular tubes
Linear tubes
UVA bulbs
Compact fluorescent lights (CFL)
High Intensity Discharge
Mercury vapor
High-pressure sodium
Metal halide lamps
Neon lighting
Create a plan to recycle fluorescent lamps
Make sure responsible staff know the regulations and good management practices. If you are unsure about what is required of you, contact the Oregon Department of Environmental Quality (DEQ) at 503-229-5913.
Store used lamps properly.

Place them in a cardboard box. For tube lights, the box the bulbs came in works well. For smaller bulbs, any box will do.
Do not put tape or rubber bands on the lamps.
Place the box in a safe, dry area where lamps won't break.
Label the box with a poster about proper fluorescent lamp handling.

Choose where your business will recycle the lamps. See list below.
Plan who will take the lamps to be recycled when the collection box fills.
Let coworkers and janitorial staff know about your lamp recycling, show them the collection area and proper handling instructions.
Where to recycle lamps
Contact your property manager. They may recycle fluorescent lamps for tenants.
Find a nearby facility that collects and recycles fluorescent lamps. See list below.
Search Metro's Find a Recycler tool or Earth911 for other options.
Drop-off locations
Pick-up services
Retail outlets
Some retail outlets accept compact fluorescent lamps (CFL) only for free recycling. Below is a brief list:
IKEA
The Home Depot
Lowes
True Value
How is a fluorescent lamp recycled?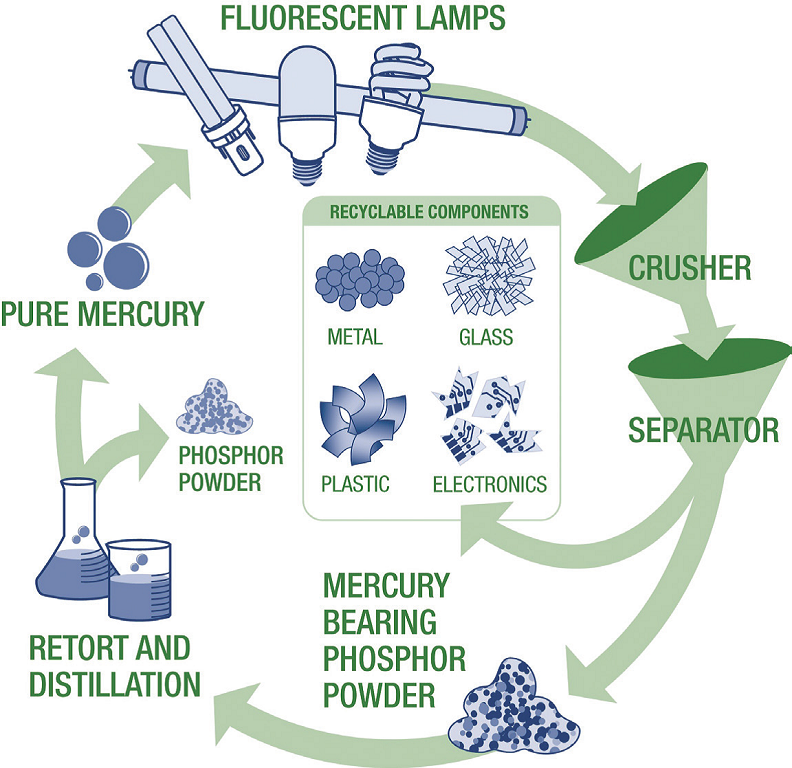 Fluorescent lamps contain glass, metal and mercury. When they are used, the mercury vaporizes and adheres to the glass. The lamp recyclers use special equipment to remove all the mercury from the glass and then recycle the metal, glass and mercury separately.
Clackamas County thanks businesses that properly dispose of these highly efficient lighting devices.
How to clean up broken lamps
Leave area for 15 minutes.
Open windows and shut off forced air.
Use damp paper towel or wet wipes to collect material (never vacuum).
Put all material in a sealed plastic bag.
Place sealed bag in trash.
The US Environmental Protection Agency (EPA) offers detailed instructions for cleaning up a broken CFL, including the differences between cleaning up hard surfaces versus carpeting or rugs.
Additional recycling resources
We offer a variety of free recycling services and resources for businesses. Email us at lis@clackamas.us or call 503-742-4458.
Have other hazardous waste?
Contact Metro's Recycling Information Hotline at 503-234-3000 for options near you.
If your business generates less than 220 pounds of hazardous waste, you can enroll in Metro's Conditionally Exempt Generator program.