On Jan. 28 the OGLO Policy Committee took the following actions:
Accepted the final report of the feasibility study
Recommended the following next steps:

Take no further action on the proposed bridge alignments given the political realities with the recent withdrawal of the City of Lake Oswego from the process and that the current landing points are not supported by the communities at this time, and
Study pedestrian/bicycle crossings of the Willamette River on public or private land north and south of the City of Lake Oswego, consistent with adopted Clackamas County Transportation System Plan Project #2022 that identifies the project area for the bridge as being Sellwood to Oregon City.
Final Report (accepted by Policy Committee Jan. 28, 2020)
Executive Summary & Report
Appendices A-D
Appendices E-G
Policy Committee Meeting #4 - Jan. 28, 2020
Press release - Jan. 28, 2020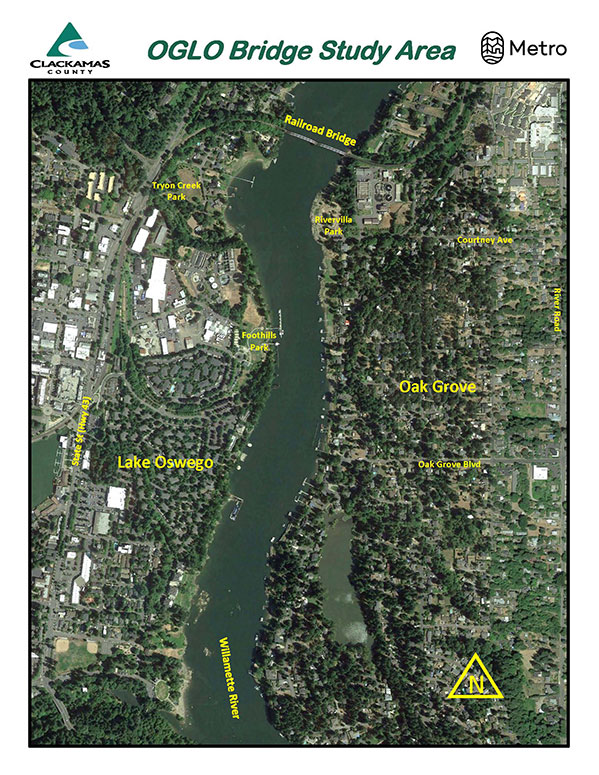 Clackamas County is leading a study to determine if it might be feasible to build a pedestrian/bicycle bridge across the Willamette River between unincorporated Oak Grove and the City of Lake Oswego. Click on map for larger view.
If you are interested in learning more about this project or being on an email list for project updates and meeting notices, please let us know.
Project Updates
On November 5, the Lake Oswego City Council approved a motion to withdraw the city from any further involvement in the Oak Grove-Lake Oswego Ped/Bike Bridge Feasibility Study
At its third meeting on Oct. 25, the Policy Committee directed project staff to do the following:
No longer consider a transit option for the bridge
Continue the project for the next 90 days, with additional public outreach to partner jurisdictions, especially Lake Oswego, and a public meeting in early-mid January
Hold another Policy Committee meeting no later than Jan. 25, 2020, to report back to the Policy Committee and to give the Policy Committee another opportunity to determine whether to move the project forward into the second phase of the analysis. (That phase would again be funded by Metro, and would be expected to take 12-18 months.)
Send information about the study to Metro by Thursday, Oct. 31, so that the project can remain in possible consideration for Metro's T2020 transportation investment measure, tentatively planned for November 2020 (with the understanding that if a decision is made for the project not to move forward, it would be withdrawn from the Metro process)
Meetings
Public Meetings
The Community Advisory Committee and Policy Committee identified evaluation criteria for possible bridge alignments and landing locations, and more than 500 people shared comments through an online survey. With that information, engineers have identified potential places where a bridge could cross the river, allow for boat clearance underneath, and begin and end on public property. Come learn about and comment on the options at an open house in Oak Grove, Lake Oswego or online. Public feedback will be taken into consideration as recommendations for the most feasible options are presented to the Milwaukie City Council, Lake Oswego City Council and Board of County Commissioners for action this fall.
Monday, Aug. 5
Lake Oswego Maintenance Center
17601 Pilkington Road, Lake Oswego
Wednesday, Aug. 7
Rose Villa Performing Arts Center
13505 SE River Road, Oak Grove
Materials for Public Meetings
Community Advisory Committee Meetings
The Community Advisory Committee is made up of 28 members of the public representing Clackamas County, including representatives from Lake Oswego, Milwaukie, and Metro to represent community interests and regional bicycle, pedestrian and environmental groups. Three meetings will be held throughout the summer.
Policy Committee Meetings
The Policy Committee (PC) was established with one elected official from each of the four jurisdictions involved with the initiation of this project:
Clackamas County: Paul Savas, County Commissioner
City of Lake Oswego: Jackie Manz, City Councilor
City of Milwaukie: Mark Gamba, Mayor
Metro: Christine Lewis, Metro Councilor
The PC will make recommendations to the partner governments at key decision points in the study after receiving information and recommendations from the Community Advisory Committee and the Technical Advisory Committee. The meetings are open to the public with an opportunity for public comment.
Resources
You May Be Interested to Know
Only for Use by Pedestrians and Bicyclists
The bridge would not be built for motorized vehicles or transit
Existing railroad Bridge is not an option
The owners of the railroad bridge (Union Pacific Railroad) would not agree to add pedestrian/bicycle facilities for safety and liability reasons. In addition, because of the elevated railroad grade, pedestrian and bicycle access to the railroad bridge would be very difficult
Focus on public property for landing locations
The initial focus of the project will be on identifying publicly owned property for where the bridge ends/begins on both the Oak Grove and Lake Oswego sides of the river. The project will reduce or eliminate use of private property to avoid impacts to neighborhoods.
Planning
Purpose
The purpose of this study is to identify answers to the following questions:
Are there "landing locations" for the bridge with no impact or limited impact on private property?
Would it be possible to connect this bridge to existing pedestrian/bicycle trails while limiting impacts on private property?
How much would it cost to construct a pedestrian/bicycle bridge in this area?
What effects on the community and the environment should be studied if the project moves forward?
If the bridge is built, which government or group of governments would own and maintain it?
Timeline
March – November 2019
Cost
The cost of the study is estimated to be $306,000. It is being paid for with a grant from the Metro Active Transportation Development Fund and in-kind contributions from Clackamas County.
Partners
Clackamas County is taking the lead on the study, but will be working with the following jurisdictions:
City of Lake Oswego
City of Milwaukie
Metro
North Clackamas Parks & Recreation District
Tasks
Analyze Alternative Bridge Locations
Identify and assess possible bridge locations, and conduct an engineering analysis of possible bridge concepts and issues that would arise in connecting the bridge to existing pedestrian and bicycle facilities.
Develop Planning Cost Estimate and Funding Plan
Estimate planning level cost to develop a bridge and long-term costs to maintain the bridge; develop a plan to identify funding sources.
Identify Required Environmental Scoping
Though the study will not include environmental assessment or data collection, there will be an environmental scoping workshop to determine environmental issues and permitting requirements that would need to be addressed. This will help potential project partners understand what would be required and how those requirements would impact project schedule and costs.
Identify Intergovernmental Partners
Clackamas County anticipates that if this bridge project does move forward, it would be advanced by a group of local and regional government partners. This task will find the most appropriate group of partners that are open to participation.
Public Involvement
The extensive public involvement process will include public meetings, a community advisory committee, website and social media, and webinar-type public meetings to reach different segments of the population. The county will also conduct an Environmental Justice/Equitable Development Analysis to identify historically marginalized communities for focused outreach and possible displacement impacts.
Possible Next Steps
The study is expected to be concluded by the end of 2019. At that time the partner governments (Clackamas County, Lake Oswego, Milwaukie, North Clackamas Parks & Recreation District, and Metro) will determine if the project is feasible and if funding is available to continue moving the project forward. If the answer to both questions is yes, then the project will move into design and environmental studies, with additional public outreach.