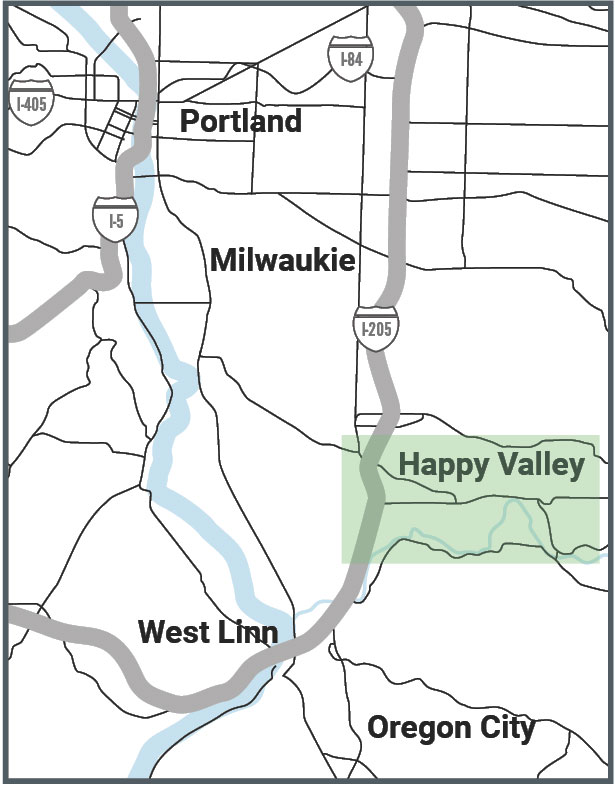 The 2021 Oregon legislature passed HB 5006, which contributes $4 million to this visioning concept. Clackamas County and our regional partner — the City of Happy Valley — will contribute another $1.5 million for this 2-year project through staff time. Read stakeholder support letter.
This equitable development plan will:
Fund a community visioning process that encompasses economic, land use, health and recreation trends to ensure the community will grow and thrive;
Develop anti-displacement strategies that respond to community and stakeholder needs so that residents and businesses may remain within the community and benefit from the developments;
Recommend a community-supported preferred transportation and development alternative, and
Result in clear actionable steps to achieve implementation.
Background
The Sunrise Corridor is one of the most essential transportation routes in the State of Oregon. It provides freight access between I-205 and U.S. 26, serving as a critical link between the Portland region and central Oregon. Not only does it serve a larger purpose connecting east and west, it's home to one of the state's busiest and most critical freight distribution centers, the Clackamas Industrial Area. The Sunrise Corridor is the gateway to the Rock Creek Employment Center, an area brought into the Urban Growth Boundary in 2002 that is expected to provide thousands of new jobs in the coming years. Currently, OR 212/224 is not capable of handling the expected increase in traffic that will result from significant housing and employment growth in the corridor.
Beyond serving as a critical link for the traded sector economy, the Sunrise Corridor provides a gateway between the vibrant Portland metropolitan area and the premier recreation resources available in the county, including the Clackamas River corridor and the Mt Hood National Forest. It is home to over 7,500 residents, 800 businesses and 14,000 employees that are reliant on a failing transportation system.
Previous plans for this corridor are outdated and don't meet the multi-modal and livability metrics we've all come to expect from our land use and transportation plans. The future of this corridor must be founded in equitable development, through meaningful partnerships with the people living and working in the area, especially people of color and other vulnerable groups. In addition, the current work underway to create a climate action plan for the county and the current housing policies will inform this plan. Together they will create the foundation for bold strategies and clear actions that will shape land use and transportation systems in this area for the next 50 years.
The future viability of this community is dependent on critical and long overdue public engagement and planning to encourage and support needed investments in the Sunrise Gateway Corridor.
Join us to advance a visioning process that ensures the communities, businesses and stakeholders dependent on this corridor can thrive!
Sign Up for Updates
Get updates and feedback opportunities about the Sunrise Corridor Community Visioning Concept.