Clackamas County is offering support and resources for small businesses that have been impacted by the COVID-19 pandemic. Learn about all the services available below, and download the COVID-19 Small Business Support Package guide to for additional resources.
Shifting Resources and OHA Hotline
Clackamas County Public Health has pivoted efforts away from individual case investigation and towards vaccinations and community support. With this change, CCPH is no longer asking for individual case reports from business that are not considered high risk.
Examples of high-risk settings that should continue to report include: long term care facilities, adult foster homes, behavioral health facilities, residential treatment facilities, homeless shelters, transitional housing, other congregate living settings, incarceration settings, emergency services, K-12 and early learning settings, agricultural/food chain settings, and any site with an active outbreak managed with Clackamas County Public Health.
CCPH is happy to continue to provide support and education to our business community.
In addition to support from the CCPH department, OHA has initiated a hotline and new Positive COVID Test website to answer COVID questions.
Phone number: 866-917-8881
Hours: 8 a.m. to 6 p.m. Monday-Friday, 10 a.m. to 4 p.m. Saturday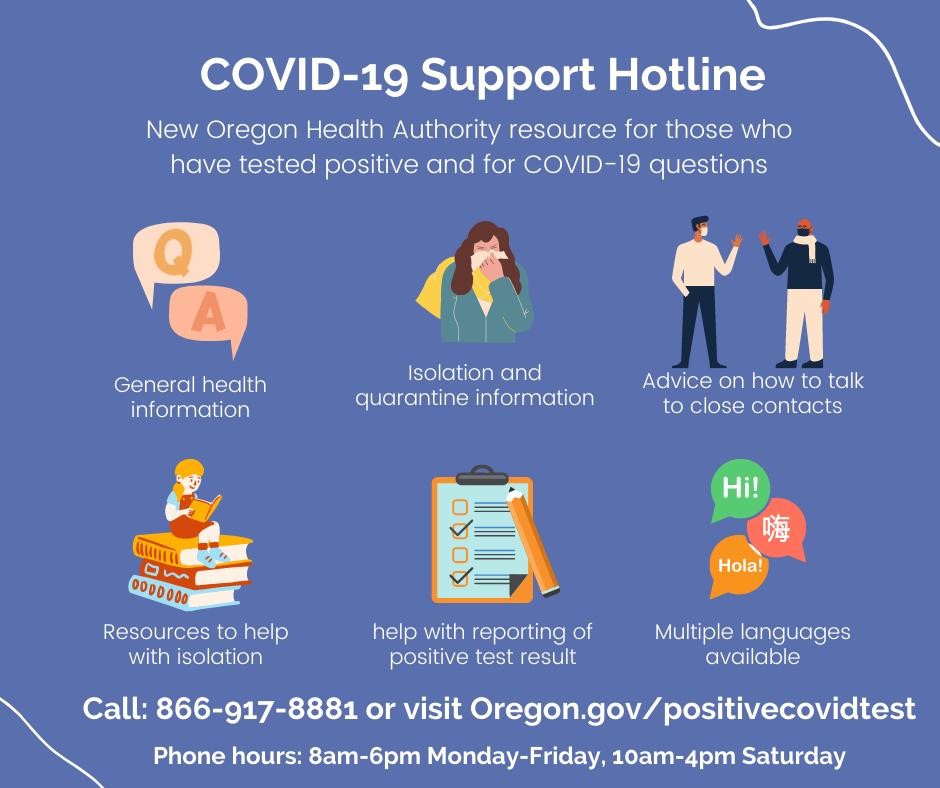 What are some ways to prevent the spread of COVID-19 and keep businesses open?
Consistent masking with high quality masks, vaccination, boosters, physical distancing, frequent handwashing, and good airflow all work together to lessen the impact of COVID-19 on our local business community.
PPE available
PPE is available for organizations working, or headquartered, in Clackamas County.
Get your employees vaccinated
On-site COVID-19 Vaccinations
Clackamas County Public Health is working with partners to offer on-site COVID-19 vaccinations to Clackamas County businesses whose employees and families are unable to attend conventional vaccination events. If you are a business in Clackamas County and would like to request an on-site COVID-19 vaccine clinic for your employees, please complete the assessment form. After completing the form, businesses will be contacted by a member of our team to discuss options for an on-site vaccine clinic. For more information, please contact EFederici@clackamas.us.
Business Recovery Centers
Clackamas County, in partnership with local Chambers of Commerce, have established six Business Recovery Centers to provide resources to help businesses recover from the COVID-19 pandemic.
These centers provide a one-stop shop for businesses. Services include:
Financial, legal, educational and technical resources
Referrals to organizations and tools
Interpreters and translation services
Frequently Asked Questions
Culturally Specific Business Support