OHA revises face covering guidance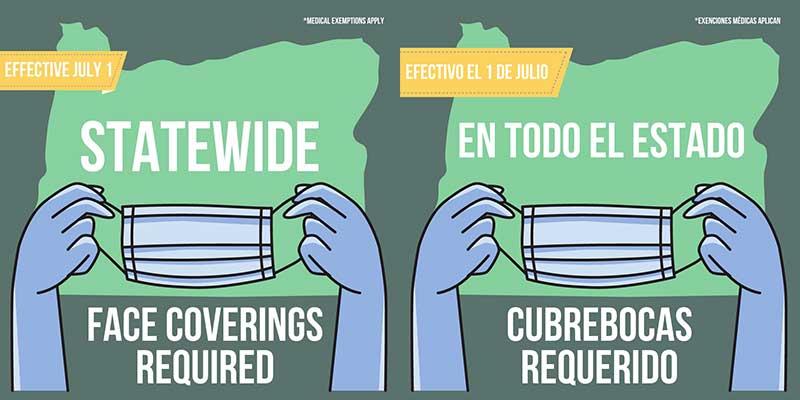 OHA has revised its guidance on face coverings to include the following new provisions:
The guidance now requires that people wear face coverings in all private and public workplaces including classrooms, offices, meeting rooms and workspaces, unless someone is alone in an office or in a private workspace.
The revised guidance also requires that people wear face coverings in outdoor and indoor markets, street fairs, private career schools and public and private colleges and universities.
Finally, the revised guidance also recommends wearing a face covering instead of a face shield, except in limited situations when a face shield is appropriate such as when communicating with someone who is deaf or hearing impaired and needs to read lips.
People with a disability or medical condition may request accommodation from the business if they cannot wear a mask, face shield or face covering.
Be Aware
The general public should not be using N-95 respirators and medical masks. Those should be reserved for healthcare providers who are on the front lines working to protect us all. It is critically important that our healthcare workers have the equipment they need to do their jobs.
If you have any medical-grade PPE to donate, we will gladly take them and distribute them.
A face covering does not replace the stay home order. People must limit contact with people outside their immediate households. It does not replace the need for frequent handwashing. It is still important to avoid touching the face, and stay away from people who are ill.
Why Wear a Face Covering?
Wearing a fabric mask when you are ill may help prevent the spread of infection to others. When worn properly, the face covering can help block infectious droplets from spreading when someone with the infection coughs, sneezes and, to a lesser degree, speaks.
If you need hands-on health care and you are coughing, expect to be asked to put on a mask immediately and limit the number of people with you to no more than two adults who are well.
If you are sick and coming to seek healthcare, wear a mask if you have one at home.
How to Wear a Face Covering
To be effective, a face covering needs to be worn properly so as not to contaminate the hands or face.
Fabric masks should be changed when moist and washed with warm water and detergent after each use. Masks do not work well if they are soiled or damaged.
Masks might be itchy. Be careful when adjusting it and avoid reaching under it to touch your nose or mouth. The virus can spread by unwashed hands.
How to Make a Mask or Face Covering
Simple cloth face coverings can help people who may have the virus and do not know it from transmitting it to others. Cloth face coverings made from household items or common materials at low cost can be used as an additional public health measure. Bandanas, scarves and ski masks can be used. Patterns to sew your own masks can be found online.
The CDC has tutorials on how to make a mask out of various materials, like a T-shirt.