Quarantine Paused
Effective March 12, 2022, quarantine has been paused for the general population, including K-12 and childcare settings. This means that quarantine is no longer recommended within the general population for exposure to someone who has COVID-19, regardless of vaccination status. Quarantine will still be required in high-risk settings, including health care settings, jails and prisons, and shelters.
Isolation guidelines for people who have tested positive for COVID-19 or who have symptoms will remain the same. Individuals with COVID-19 should still isolate from others for five days from onset of symptoms or a positive test. If you need resources to isolate at home, there is help available at this page.
What to do if you've tested positive for, or are showing symptoms of, COVID-19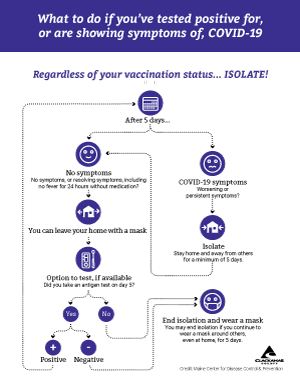 Frequently Asked Questions
Isolation Preparedness
Do you have an isolation plan if you or someone in your household becomes sick? Isolation can be daunting for someone who's just tested positive for COVID-19; planning ahead may help reduce the anxiety of this stressful situation.
If someone is ill or told to isolate themselves, the first step is to move them away from the other members of your household. A spare bedroom with an attached bathroom is the best option, but if this is not a possibility, any bedroom will work. During isolation, the isolated individual should not be permitted to leave their room and no one else should enter their room.
You may find the following items helpful if someone in your home is in isolation:
Detergent
Paper towels
Cleaning supplies
Face masks
Gloves
Hand sanitizer
Cough drops
Acetaminophen
Thermometer
Toiletries
Feminine hygiene products (if needed)
Personal medications
A logbook for symptoms
Designate one family member to care for the sick person. Anybody entering or leaving the sick person's room should wear a mask.
Remember, the infected person should have no visitors.
Continue good hygiene practices such as:
Wash your hands often for at least 20 seconds
Avoid touching your face
Disinfect high-touch items such as doorknobs, phones, game controllers, etc.
Avoid sharing personal items such as bedding, towels or dishes
Open windows to increase ventilation
CDC guidelines: When You Can be Around Others After You Had or Likely Had COVID-19
What is the difference between quarantine and isolation?
Isolation separates sick people with a contagious disease from people who are not sick.
Quarantine separates and restricts the movement of people who were exposed to a contagious disease to see if they become sick.
Identifying Close Contacts
A close contact is anyone who was within 6 feet of a confirmed or presumptive COVID-19 case for 15 or more minutes in a 24-hour period during the case's infectious period. The 15 minutes are cumulative, and do not have to be consecutive. Anyone who may have had direct contact with infectious secretions (e.g., being coughed on) of a confirmed of presumptive COVID-19 case is also considered a close contact. Members of the general public do not need to quarantine if they were within close contact of someone who was in close contact to a COVID-19 case.