On May 18, the Oregon Health Authority announced that it would be following CDC guidance in loosening mask requirements for those who are fully vaccinated against COVID-19. Businesses, employers and faith institutions now have the option to adjust their masking guidance to allow fully vaccinated individuals to no longer wear a mask in their establishments if they have a policy in place to check the vaccination status of all individuals before they enter their establishments.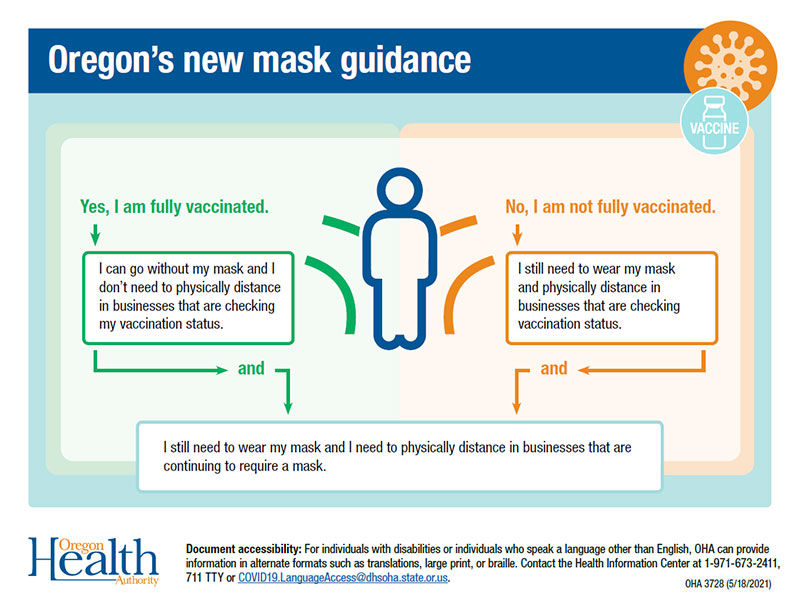 Masks should still be worn around people who are unable to get the COVID-19 vaccines: children and people with conditions that result in the vaccinations not being effective.
Masks are still required in child care and school settings, health care facilities, shelters and transitional housing, correctional facilities and close-living workplaces like fire stations.
People with a disability or medical condition may request accommodation from the business if they cannot wear a mask, face shield or face covering.
Why Wear a Mask?
Wearing a mask when you are ill may help prevent the spread of infection to others. When worn properly, the face covering can help block infectious droplets from spreading when someone with the infection coughs, sneezes and, to a lesser degree, speaks.
If you need hands-on health care and you are coughing, expect to be asked to put on a mask immediately and limit the number of people with you to no more than two adults who are well.
If you are sick and seeking health care, wear a mask if you have one at home.
How to Wear a Face Covering
To be effective, a mask needs to be worn properly so as not to contaminate the hands or face.
Fabric masks should be changed when moist and washed with warm water and detergent after each use. Masks do not work well if they are soiled or damaged.
Masks might be itchy. Be careful when adjusting it and avoid reaching under it to touch your nose or mouth. The virus can spread by unwashed hands.