Thank you for your patience as the state deals with a low supply of vaccines and evolving information about who gets them. The Oregon Health Authority is the main source for information on the vaccine.
When can I get the vaccine?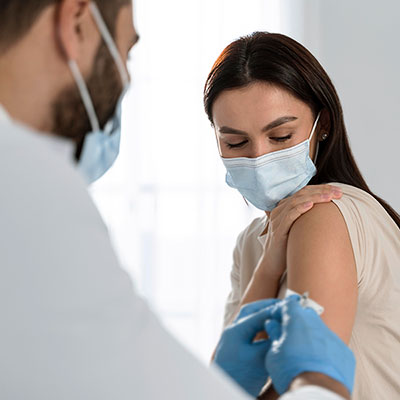 The answer is a bit tricky because there isn't enough vaccine to go around at this point, so even if you're eligible to get one now the supply is very low and it could take a while. It is unlikely that the general public will have access to the vaccine for several months because there just isn't enough supply of vaccine yet.
Everyone who wants to be will eventually get vaccinated. It will likely take longer than we all want. We understand your frustration but ask for your continued patience.
The good news is that we are making progress and more than 300,000 doses have been administered in Oregon.
COVID-19 vaccines will be given in phases. Current phases prioritize health care workers and teachers/educators. This prioritization is determined by Gov. Kate Brown and the Oregon Health Authority.
We urge everyone to monitor the Oregon Health Authority COVID information website to keep updated of the evolving plans to vaccinate everyone who wants to be vaccinated.

When I'm eligible, how do I get the vaccine?
Once there's enough vaccine available, many people in the Portland metro area (including Clackamas County residents) will receive their vaccinations at large events, such as the one at the Oregon Convention Center established by the area's health systems. Others will be vaccinated at by-appointment-only community events, including local clinics, drive-thru events, or pharmacies. If you're in one of the prioritized groups, check the OHA website for vaccine clinics in the area or check with your employer.
Even though you're eligible, there may not be enough vaccine to go around.
Currently there is no waiting list available, but the state is working on a centralized system, and we will let you know when it is available from the state.
While a regional COVID-19 Phase 1A vaccination sign up survey rolled out earlier in the month, the lack of vaccines means it may be months before everyone on that list can get the vaccine.
There is currently no way to walk up and get a vaccine.
Scheduling an appointment
People in Phase 1A and educators in Multnomah, Washington and Clackamas Counties will have a single path forward: a new eligibility and scheduling tool on the Oregon Health Authority website.
People in Phase 1A who already have an appointment to be vaccinated don't need to do anything but show up for the scheduled appointment. However, those who filled out the previous survey and have not heard back should go to the new eligibility tool to schedule an appointment.
The state has told us that the scheduling system can only handle 1000 visitors at a time. If you experience a website error, please continue to keep trying.
If there are no available appointments, please try again next week. The state has allocated limited doses of the vaccine to the area. When those appointments fill up, the system does not allow for more appointments to be scheduled.
How do I get my second dose?
The agency that provided your first dose will communicate with you about how to get your second dose.
What is the county's role in vaccines?
The county's role is to fill in the gaps and connect patients with special circumstances to resources. Clackamas County has only received a small amount of vaccine for people who meet eligibility requirements.
Largely, our job is to plan and work with vaccine providers to ensure equitable access to vaccine when it is available from the state. Other groups to be vaccinated beyond Phase 1a and Phase 1b will be determined by OHA in coordination with the Vaccine Advisory Committee.
Teachers and Educators
People who work in childcare centers, early learning and K–12 education in our region will be eligible as a group starting Monday, Jan. 25. The school districts and employers will reach out about how to get the vaccine. However, there is limited vaccine supply and it may take a while for everyone to get one.
Seniors
Oregon seniors will become eligible for the vaccine on a rolling schedule as it becomes available. We will share information about planning and scheduling for seniors to be vaccinated as it becomes available.
| Your age | Eligibility date |
| --- | --- |
| 80+ | Feb. 7 |
| 75+ | Feb. 14 |
| 70+ | Feb. 21 |
| 65+ | Feb. 28 |
What's the hold up?
The Metro area is getting shipments of vaccines each week — fewer vaccines than we've been promised — and we often don't know how many we'll get. The majority of those vaccines are going to the region's large hospital systems, including Kaiser Permanente, Legacy Health, Oregon Health & Science University and Providence Health & Services. The hospitals are planning large-scale vaccine clinics at sites in the Tri-County area, including the Oregon Convention Center. We will share information about those clinics as it becomes available.
Why did I get referred to the county if you don't have the vaccine?
This situation is complicated and constantly changing. Our public health staff are working with our partners to make plans to distribute the vaccine for eligible groups when it becomes available from the state. We know how frustrating this is for everyone and we thank you for your continued patience.