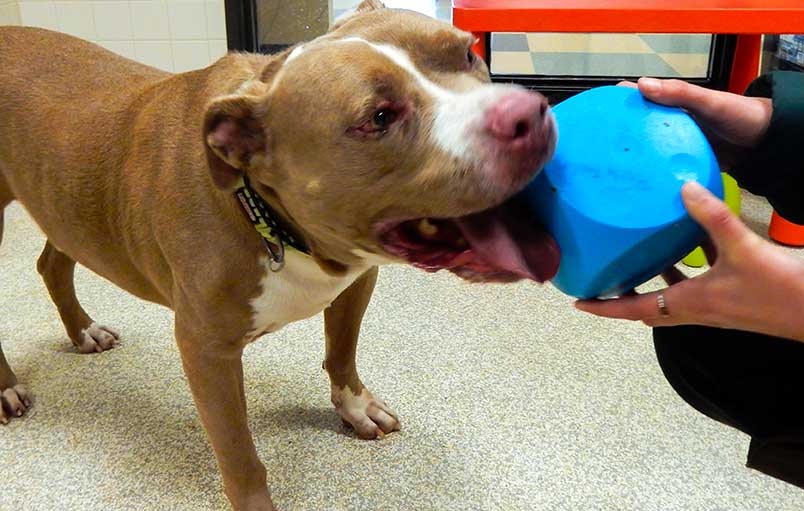 Thank you for considering ways to help our shelter! While we accept many types of donations, the items listed below would benefit our dogs the most. Our focus is on enrichment and the best toys are the ones that can keep a dog's mind busy. Also, as you can imagine, treats and medical supply donations are always needed.
Donations can be dropped off at the shelter Monday–Saturday from 8:30 a.m. to 5 p.m. No appointment is needed. However, if you would like to visit the dogs when you drop off your donation, consider stopping by during adoption viewing hours Tuesday-Saturday from 11:30 a.m. to 4:30 p.m. Thank you!
Enrichment
Boomer Balls
Busy Buddy Jack Dog Toy - large
Hueter Toledo Virtually Indestructible Ball - any size
dogPACER LF 3.1 Treadmill (please, no treadmills designed for people)
Kongs - medium and large, black or red
Hard rubber chew toys
Nylabones
eGGE dog toy
Buster Cubes
Thunder shirts
Food and treats
High quality training treats

Sojos Freeze-Dried Dog Treats
Carnivore Crunch Treats
Northwest Naturals Raw Rewards
Happy Howie's Meat Rolls
Bully Sticks

High quality canned (ground or paste, please, not chunky) and dry dog food.

Canidae
Castor & Pollux
Eukanuba
Iams
Innova
Kirkland
Natural Balance
Nutro
Wellness
Science Diet
Supplies
Extra-small dog collars
E-Z UP canopies
Original Dawn dish soap
Zip ties
Carabineers
Nylon rope, medium weight
Bungee cords
Duct tape
Brown roll gauze, 2 inches or 4 inches wide
Disinfecting wipes
Distilled water
Other ways you can help our shelter dogs
Volunteer
There are many ways you can volunteer your time to support the shelter, including working with the dogs or helping with office tasks.
Donate
By donating funds, you can:

help reduce pet over-population by supporting our spay and neuter program for pets of low-income residents,
provide enrichment and training for our shelter guests to help them find new forever homes, and
help make sure we are able to provide emergency veterinary care when needed.

Adopt
Come meet our adoptable dogs! Adoption hours are Tuesday through Saturday, 11:30 a.m. to 4:30 p.m.
Attend our annual fundraiser: Putt for Mutts
Save the date for a fun night of putt-putt golf, silent auction, dinner and drinks, and celebrating dogs!