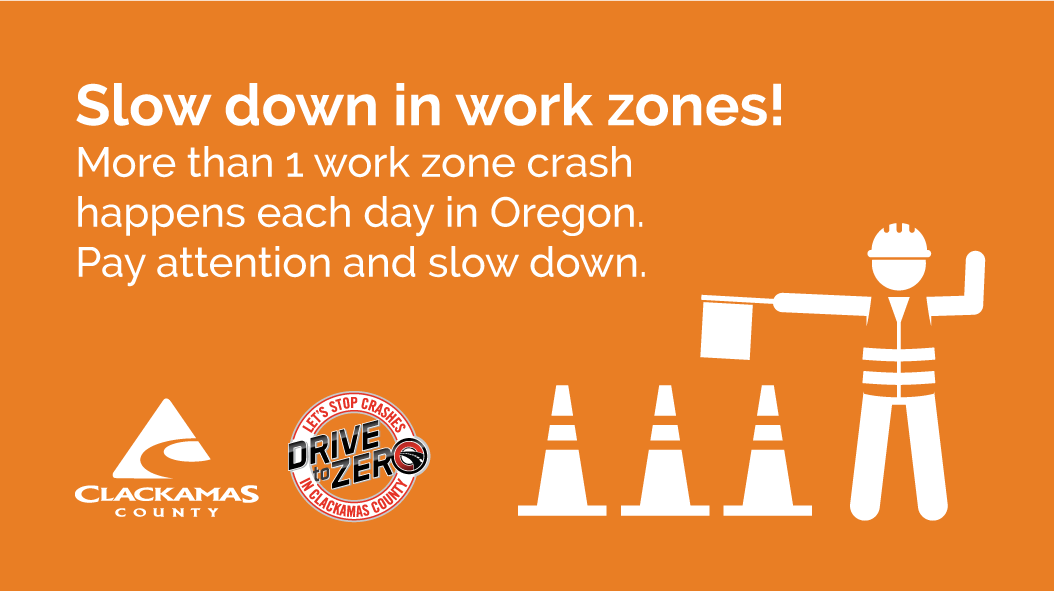 We all deserve to be safe at our place of work. We need your help to keep workers safe in their place of work — road construction zones.
Orange is your clue to slow down and look for workers!
When you see orange signs, barrels or cones, slow down and watch for workers. Fines double in a work zone with or without workers present.
One traffic death is too many
Drive to Zero focuses on reducing injuries and fatalities on our roadways. Our goal is to reduce fatal and serious injury crashes by half by 2022.
Work zone facts
An average of more than 1 crash occurs in an Oregon road work zone every day
In 2015, there were 544 work zone crashes in Oregon
In work zone crashes throughout the U.S. within the past 5 years, more than:

4,400 persons died (85% of these was the driver or passenger)
200,000 persons were injured

Drivers are the most frequent fatality in work zone crashes
Rear-end crashes are the most common type of work zone crash
Work zone safety tips
Inattentive drivers are the most common cause of work zone crashes. Please follow the tips below as you travel through work zones:
Keep your headlights on
Pay attention to the road
Merge into the proper lane
Don't tailgate
Obey the posted speed limit
Change lanes safely
Follow instructions from flaggers
Expect the unexpected
Be patient