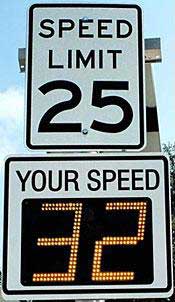 Recently, Clackamas County has begun an exciting new portable radar sign program. These signs are an effective traffic calming device that can be used on any county road in Clackamas County with a posted speed limit. Because many roadways in Clackamas County do not qualify for traffic calming such as speed bumps because of their high speed or volume of traffic, these signs offer an important alternative for residents challenged with speeding issues on their roadway.
The signs dynamically display the approaching speed of a vehicle to remind drivers of the legal speed limit to both improve safety and livability of county roadways. The signs do not take photos for the purpose of administering speeding tickets, which is illegal on roads in Oregon counties outside the cities. The signs have the capability to collect traffic speed data allowing us to study the effectiveness of the sign and forward speed information to law enforcement officials.
The signs are being rotated from location to location on a monthly basis and can be requested by filling out our online Traffic Concern Form.
Three of our four signs were purchased by the Clackamas County Safe Communities Program, a cooperative program with the Clackamas County Sheriffs Office and Department of Transportation and Development and is grant funded through the Transportation Safety Division of ODOT. The program is administered through a cooperative arrangement among the Clackamas County Traffic Safety Commission, Clackamas County Safe Communities, Clackamas County Traffic Engineering and Clackamas County Roads.