Poster art contest, Molalla students K-8
Students from elementary and middle schools in the Molalla community submitted original artwork highlighting the benefits of walking, biking and rolling to school. For more information, contact Clackamas County Safe Routes to School Coordinator Nicole Perry at 503-936-6879 or nicoleperry@thestreettrust.org.
K-2nd Grades
3rd – 5th Grades
6th-8th Grades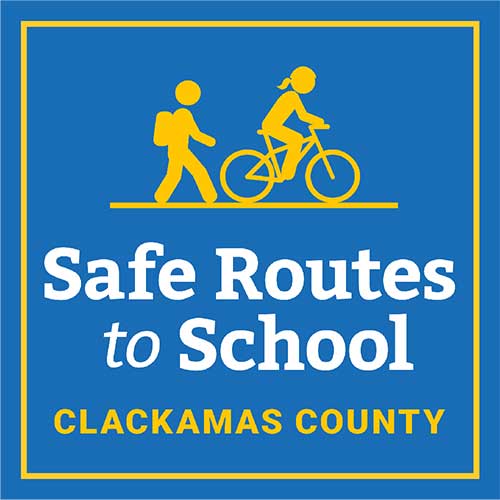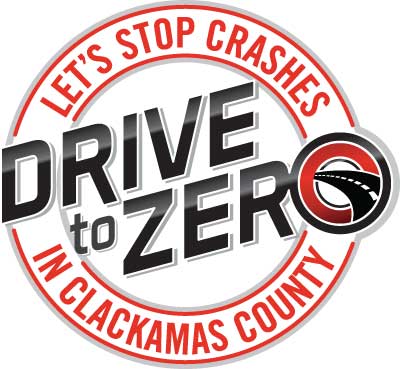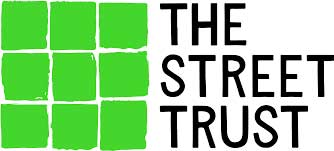 The Clackamas County Safe Routes to School (SRTS) program helps create safe walking and bicycling conditions for K-12 students. The program is funded by a grant from the Oregon Department of Transportation (ODOT).
During the first year of the grant (school year 2016-17), we began working with elementary schools and middle schools in the North Clackamas and Estacada school districts to organize special events aimed at encouraging parents and children to walk, bike, or skate to school.
We also worked with schools to create SRTS action plans. Completing an action plan helps identify infrastructure improvements to strategically plan for and apply for grant funding. Four action plans will be completed for each year of the 3-year grant.
Other SRTS program activities include:
Implement SRTS outreach and engagement activities at four schools per year. We will engage with school staff and parent teacher organizations to develop and implement events at area schools.
Develop curriculum to educate students on the importance of safety and skills when biking and walking.
Work with school districts to conduct Walk + Roll to School days.
Develop materials, including a project flyer, website, and SRTS handbook to market and promote SRTS programs and activities.
Get involved!
To learn more about how you can support SRTS at your school, contact:
Action Plans
Resources
What is Safe Routes to School (SRTS)?
SRTS is a state-sponsored program to promote walking, biking, and skating to school for elementary and middle school students. SRTS works with communities and schools to build a comprehensive program using the "6 Es":
Equity
Ensuring that all residents have access to and can take advantage of the resources provided through the program, including low-income and multi-cultural communities
Education
Community members can learn how to get safely to school, transportation options available, how to be safe walking, biking, and driving on our the roads.

Oregon SRTS provides classes and train-the-trainer programs. See the Oregon-based service providers.
Oregon SRTS also provides materials, handouts, and theme ideas for monthly Walk + Bike events as well as back-to-school messages.
Portland-based non-profit The Street Trust developed SRTS curriculum, which includes a flexible in-class and on-bike curriculum and pedestrian safety lesson plans.
The Safe Routes to School National Partnership maintains a reading list of children's books that promote walking and bicycling for teachers and families to reference.

Engineering
Some of the concerns that come to light through the evaluation process (see below) are related to the design of streets and intersections, as well as the lack of sidewalks or crosswalks in certain areas. Engineering addresses the physical environment around schools to create safe and accessible places for walking and biking.
Encouragement
Ongoing special events and programs encourage parents and children to walk, bike, or skate to school. Some of the current programs include Walk to School Day and Bike to School Day. Encouragement activities that Clackamas schools already participate in include:
Enforcement
Safer traffic conditions help parents feel comfortable about their children walking and biking to school. Enforcement can work to ensure traffic laws are obeyed around schools using various methods, including enforcing traffic violations, enforcing speed limits and yielding to pedestrians in crosswalks.
Evaluation
In order to implement and build upon a SRTS program, data collection using various methods, such as parent surveys, student in-class tallies and other effective strategies, is important. Click on the school name to see baseline data for Bilquist Elementary, Oak Grove Elementary, Clackamas River Elementary, and Estacada Middle. Evaluation resources include:
Benefits

Healthy Living
Walking, biking, and skating are great ways to get more physical activity.

Better Educational Achievement
Students who are active in the morning arrive at school focused and ready to learn.

Cleaner Air and Water
Walking, biking, and skating are sustainable modes of transportation that don't produce air pollution.

Less Traffic
More students walking, biking and skating to school means less congestion around schools, which is safer and healthier for everyone.

Increased Social Interactions
Walking, biking, and skating get families outside and talking with their neighbors.

Cost-Effective
Walking, biking, and skating are inexpensive ways to get around and require little upfront or maintenance costs.
Resources
Clackamas County SRTS program brochure
A program overview, SRTS background info, and how to sign up to volunteer.
Clackamas County SRTS tip sheet
Information about how to be safe walking, biking, and driving in school areas
National Center for Safe Routes to School
This is a great resource for training opportunities and program materials. It also houses tools for collecting data and can generate automatic reports.
Safe Routes to School National Partnership
This group offers expertise, a national support network, and know-how to help make communities and schools safer, healthier, and more active.
Oregon Safe Routes to School
Information about different programs, resources, events, and funding opportunities.
OR SRTS network
Individuals and organizations working on SRTS in Oregon can join this network to work with like-minded individuals to share information and shape Oregon SRTS policy and programming.
Safe Routes to School Regional Framework
This Metro Regional Government framework for regional SRTS provides an assessment of existing initiatives and recommended actions to make walking and biking to school easier across the Portland metropolitan area.
The Street Trust
An advocacy organization that promotes healthy and thriving communities where it is safe and easy for people to bike, walk and ride public transit. Their website includes information about walk and bike events, curriculum, rules of the road, and safe streets advocacy opportunities.
Oregon Crossing Guard and Safety Patrol Program Information
Oregon Department of Education site includes trainings for traffic patrols and crossing guards.
Clackamas County School Districts
Clackamas County SRTS Success Stories
Oak Grove Elementary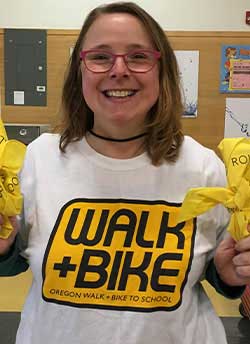 For Walk + Bike to School Day, Clackamas SRTS handed out dozens of surprise prize packs to students who walked or bike to school, including bike care packages for students who rode to school.
Linwood Elementary and Sojourner Elementary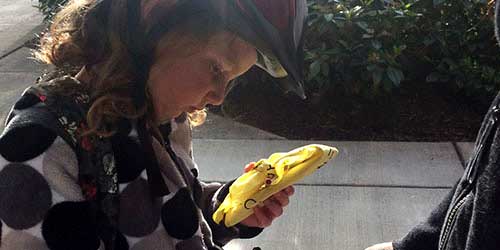 Students at both schools participated in the Walk + Bike Month Challenge by tracking when they walked and biked to school, attended sports practice or dance class, played outside, or walked with a parent. Schools and families worked together to address safety concerns. The two school communities enjoyed the health and wellness benefits that accompany increased physical activity.
Bilquist Elementary
Bilquist has been participating in Walk + Bike Days for several years. Each fall the school organizes community meet-up spots for students to convene with school staff and parent leaders to make their way to school on foot. Bus riders earn a prize by taking a lap around the building after getting off the bus.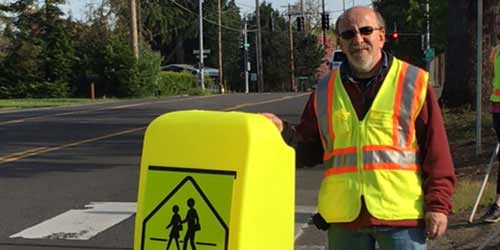 Clackamas River Elementary
This May, Clackamas River Elementary celebrated Walk + Bike Month with an informal Walk + Bike Day event and several surprise bike package giveaways. School administrators, the PTA and school crossing guards played important roles in organizing the events. The crossing guards promoted the events by handing out walk and bike pencils and stickers, and encouraging students to participate when they saw them each morning.
Rowe Middle School
Rowe Middle School developed a SRTS Action Plan in collaboration with the City of Milwaukie. This plan was used to successfully apply for project funding to build sidewalks and associated infrastructure. The project is now complete and Rowe students can more safely walk to school.