Clackamas County Coalition to Prevent Suicide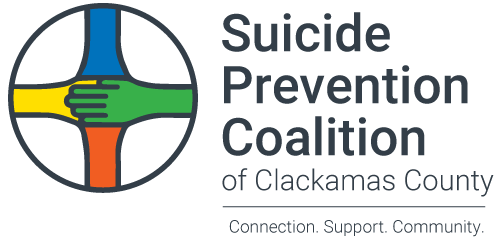 We are pleased to announce the release of Clackamas County's first ever Suicide Prevention Strategic Plan . The plan would not exist were it not for over 200 people from our community who participated in listening sessions, the 80 people who completed surveys and the 25 key individuals who were interviewed between 2018-2020. We engaged the voices of individuals from communities who are at higher statistical risk for suicide, suicide loss and attempt survivors, individuals who live with thoughts of suicide and suicide prevention advocates and champions.
The plan is organized around four key priority areas with each having an associated Action Team (committee). These teams will advance the work of the strategic directions in that priority area of the strategic plan. Joining an Action Team is one of your best ways to have a voice and get involved in moving suicide prevention efforts forward in our community.
Youth and Young Adults (focus is on 24 and younger)
Youth and young adults and the agencies and individuals who care for and support them will be provided with skills and resources and will understand their role in suicide prevention.
Healthcare
Promote suicide prevention as a core component of healthcare services and implement best or promising practices for identifying and supporting individuals at risk for suicide.
Community
Develop, implement, and support programs and education that promote wellness, safe messaging and prevent suicide within our community.
Means Safety (reducing access to lethal means)
In collaboration with the firearm community, law enforcement agencies, community-based organizations, academic environments, healthcare providers and suicide prevention training partners, promote means safety as part of a comprehensive approach to suicide prevention.
Clackamas County Coalition to Prevent Suicide meetings will occur virtually every quarter. These meetings will include a report out on the work occurring in the Action Teams and will usually include a presentation or educational opportunity specific to the field of suicide prevention. Coalition and Action Team meetings are open to all!