Public Health works to prevent and reduce tobacco use, promote communities, reduce the influence of tobacco product marketing and encourage tobacco users to quit.
Ways to Get Help to Quit Smoking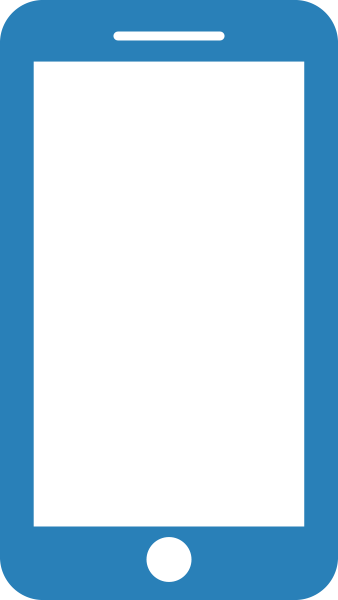 On the phone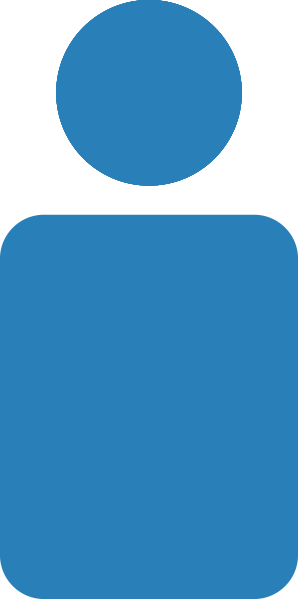 In person

Online

Text
E-cigarettes and Vaping
E-cigarettes and e-liquid are unregulated products containing unknown chemicals and unknown amounts of nicotine, the addictive chemical that makes quitting very difficult.
Vaping Resources
Signs Youth Are Vaping
Symptoms: Coughing, trouble breathing, chest pain, nausea, vomiting, abdominal pain or fever after vaping could be serious. Seek medical attention right away.
Equipment: Devices that look like flash drives, pods that contain e-juice (the flavored fluid that is used inside vaping devices), e-juice bottles or product packaging.
Purchases: Online, packages in the mail, store purchases.
Scent: Faint odor of flavoring (e.g., cotton candy, berry, mint, crème brûlée.).
Increased thirst or nose bleeds: Some of the chemicals used in e-juices dry out the mouth and nasal passages. As a result, some kids drink more liquids or seem more prone to nose bleeds.
Vaping lingo: text messages include "atty" for an atomizer, "VG" for vegetable glycerin found in e-juice, or "sauce" referring to e-juice.
Social media: Pictures or videos on Instagram, YouTube or Twitter accounts.
Preventing Youth Tobacco Use
Big Tobacco knows that the younger someone starts to use tobacco, the harder it will be to quit. Nearly 90 percent of people who smoke start before they turn 18. Targeting young people is an effective strategy, since teenagers' brains are still developing and vulnerable to the highly addictive nicotine present in all tobacco products.
What you need to know
The legal age of sales of tobacco products including e-cigarettes in Oregon has been raised from 18 to 21 years old.
We partner with community members of all ages to work on countering tobacco marketing and reducing tobacco use among youth. Contact us for information on getting involved!
Selling Tobacco
We know that about 70 percent of teens shop in convenience stores at least once a week. Billboards and TV advertising may be a thing of the past, Big Tobacco shifted their advertising from Billboards and TV to corner stores and groceries, where they spend one million dollars per hour, nationwide15 on advertising. Learn more about industry tactics at Smokefree Oregon .
Of the 237 tobacco retailers we talked to in Clackamas County in 2018, we found that 97% of them sold flavored tobacco products. Also last year, nearly one in four retailers sold tobacco or vaping products to people under 21 years. Results of 2018 Enforcement Inspections
Indoor Clean Air Act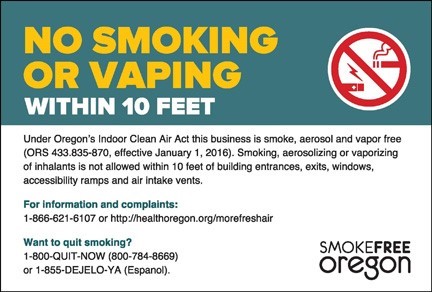 The Oregon Indoor Clean Air Act (ICAA), also known as the Smokefree Workplace Law, is designed to protect nearly all Oregonians from secondhand smoke.
The law prohibits smoking and vaping indoors as well as within 10 feet of all entrances/exits, windows and air intake vents.
Vaping includes e-cigarettes, vape pens, e-hookah and other devices used to deliver nicotine, cannabinoids and other substances in the form of a vapor or aerosol.
If your business needs new decals that include the 2016 vaping restriction, you may contact us or print your own signs.
To File a Complaint
If you observe or note a possible violation of the law, you can report it to the Oregon Public Health Division for investigation and further action. Report online or call 1-866-621-6107.
Tobacco-free Environment
Reasons to Create a Tobacco-free Workplace
Creating a tobacco-free campus policy is the best way to invest in the health of your employees and help improve your bottom line. There are multiple benefits to a tobacco-free campus policy:
Reduce health-related costs—The Centers for Disease Control and Prevention puts a $3,383 annual price tag on each employee who smokes: $1,760 in lost productivity and $1,623 in excess medical expenditures.
Reduce cleaning and maintenance costs - matches and cigarette butts are eliminated in and around your facilities.
Lower your risk for fires and Reduce fire insurance premiums—Tobacco-free businesses have negotiated for lower fire and property insurance premiums.
Increase productivity and morale — Absenteeism is lower due to the reduction in smoking-related illnesses
Resources for Health-Care Providers
Under the Affordable Care Act, health care providers are now reimbursed for implementing system changes to reduce tobacco use, improve services and patient health, and reduce costs. Best practices call for screening and documenting patients' tobacco use, advising patients who use tobacco to quit, and providing options for evidence based treatments.
The resources below can help you establish a clinical workflow to systematically address tobacco use. Jamie Zentner, Tobacco Prevention Coordinator, by email at jzentner@clackamas.us or call us at 503-742-5939.
Tobacco-free parks and Outdoor Areas
Tobacco-free parks are becoming the norm everywhere. Estacada, Happy Valley, Lake Oswego, Oregon City, West Linn, and Wilsonville have tobacco-free parks for visitors to enjoy.
Did you know? The Clackamas County Fair and Event Center is 100% tobacco-free!