Classroom presentations and educational resources
All presentations are delivered by a licensed teacher and can be customized to specific units To schedule, contact Laurel Bates at lbates@clackamas.us
Composting with worms
Grades K-5
Students explore composting with worms and the entire worm bin ecosystem.
Students will engage in hands-on experiments and observation as they determine which environment is ideal for worms.
Presentation aligns best with 4th grade standards.
Option: Set up a classroom worm bin during this lesson! Supplies will be provided.
Preventing food waste
Grades 6-12
Approximately 40% of the food that is grown in the United States is thrown away, and much of that waste is preventable.
In this engaging multimedia presentation, students will explore the causes and consequences of food waste and problem-solve solutions to make a difference.
Where is away?
Grades 2-5
Students follow the journey of trash from our homes and schools to the landfill. Emphasis on reduction, reuse, recycling and steps toward sustainability.
Garbage and energy audits:
Garbage audit: Grades 4-12
Students examine the contents of the garbage and recycling bins in each classroom to determine which items are commonly misplaced in each bin. After the audit, students provide suggestions to specific classrooms to improve their garbage and recycling system.
Cafeteria audit:
Grades 4-12
This activity provides an opportunity for every student in the school to participate! Instead of throwing all trash into one trash can at the end of lunch, each student sorts their own lunch trash into designated categories (Food, Liquid, Recyclables, and Trash) to learn about what is being thrown away.
After lunch, a smaller group of students collect weight and volume measurements of each category, which can be shared with the whole school.
Energy audit:
Grades 4-12
Activity is led as an after school program
Students explore their school after it closes for the day to determine how much energy is being wasted due to computers, monitors, copy machines and other equipment being left on at night and during weekends.
By the end of the audit, students know how much energy and money are being wasted and the environmental impacts of this wasted energy.
* All audits provide graphing and charting opportunities.
Educational resources
Saving Little Pieces of our Earth video
13-minute video that tells the story of what happens at a recycling sorting center. Available on DVD and online.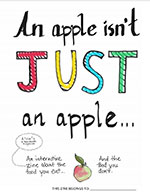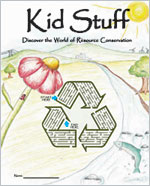 Kid Stuff
16-page booklet with waste reduction and resource conservation information and activities. Contact us for copies.
Grades 4-7