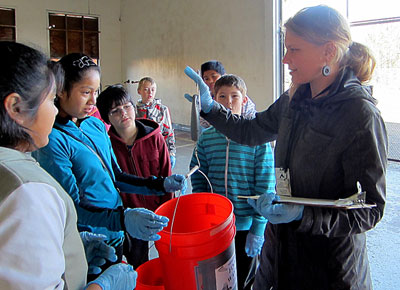 Presentations
Preventing Food Waste
Explore the causes and consequences of food waste in this engaging, multimedia presentation. Could be combined with a cafeteria waste audit.
Grades 3-5; 6-12
Lifecycle of Ketchup
In this interactive, role-playing activity, students will learn about all of the jobs, resources, and inputs that go into making something as simple as ketchup and other products. Students will also examine the importance of preventing wasted food.
Grades 2-5
Lifecycle of a pencil
Did you know that the materials used to create a single pencil come from all of the world? During classroom waste audits, we discover that schools are throwing away approximately 60 pencils per day. During this lesson ,students will learn about how valuable a pencil is, and will explore ways to keep those pencils in use. We will provide you with eraser toppers and pencil boxes to help reduce wasted pencils.
Grades 2-5
Be an Eco Hero at school
See real examples of ways schools across Oregon (and beyond) are reducing their environmental impact. This presentation sparks ideas and inspires students to make a plan for action at school.
Intended audience: Leadership classes, student council, or green team
Different presentations geared toward grades 4-5, 6-8 and 9-12
Where is away?
Students follow the journey of our trash from our homes and schools to the landfill. Emphasis on reduction, reuse, recycling, and steps toward sustainability.
Grades 2-5
Composting with worms
Students explore composting with worms and the entire worm bin eco system. Option: Set up your class's worm bin during this lesson! We will bring all of the materials needed (including worms!) if you select this option.
Grades K-5
Garbage audit
Students sort, measure, and weigh a day's worth of garbage to discover what and how much is thrown away each day at school. Using information from the audit, students identify materials to recycle and reduce from the waste stream. This interactive presentation provides a great opportunity for charting and graphing.
Grades 4-12
Also available as a kit to borrow.
Energy audit
Students explore their school after it closes for the day to determine how much energy is being wasted due to computers, monitors, copy machines and other equipment that are left on at night and on weekends. By the end of the energy audit, students will know how much energy and money are being wasted and resulting environmental impacts.
Grades 4-12
Taught as an after-school program
Papermaking and recycling
Students learn about paper recycling through a hands-on recycled art project.
Grades K-8
Also available as a kit to borrow
Educational resources
Saving Little Pieces of our Earth video
13-minute video that tells the story of what happens at a recycling sorting center. Available on DVD and online.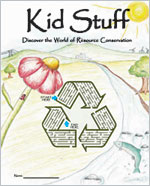 Kid Stuff
16-page booklet with waste reduction and resource conservation information and activities. Contact us for copies.
Grades 4-7