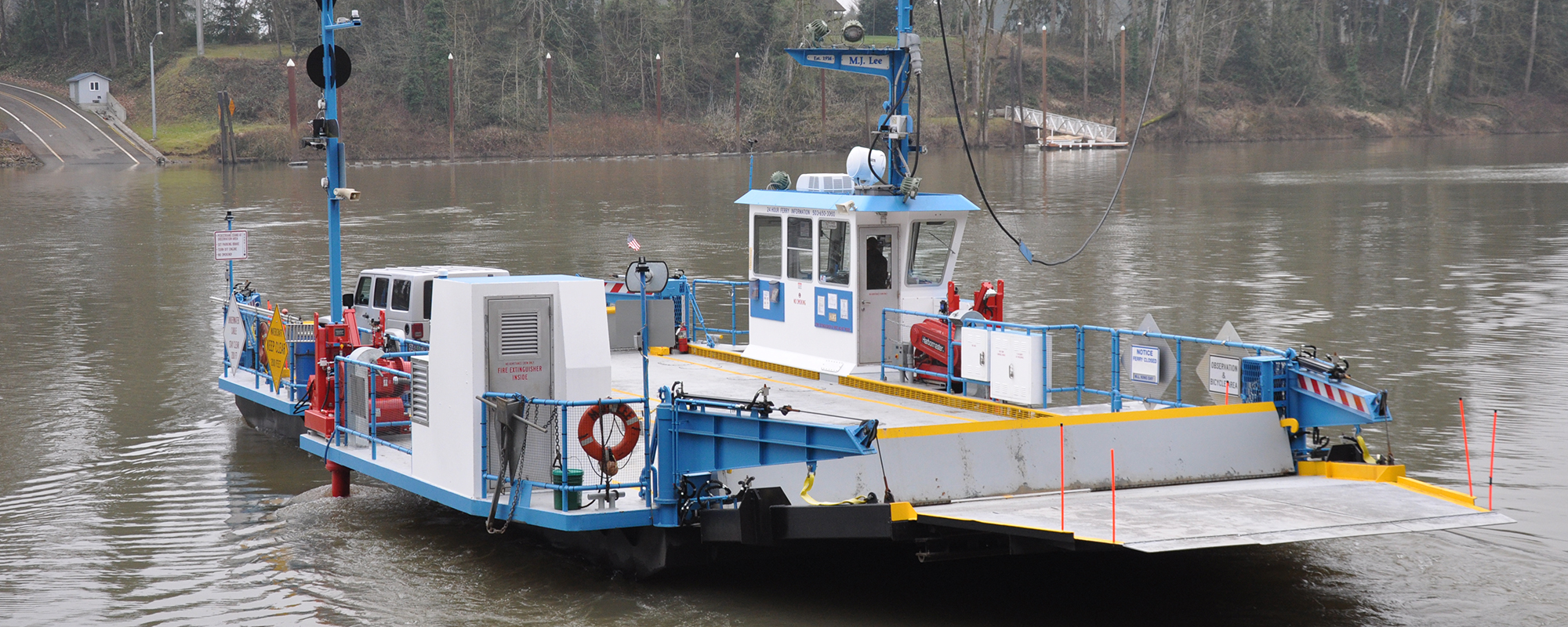 Canby Ferry Alternatives Feasibility Study
The Board of County Commissioners received the final report of the Canby Ferry Alternatives Feasibility Study on March 12, 2019. The Board also asked staff to continue to work on reducing ferry costs and increasing revenue and report back in six months.

The ferry is running on its normal schedule.
The ferry will close on Tuesday, Jan. 1 from 9 a.m. to 3 p.m. for maintenance
Canby Ferry information line
503-650-3030
Location
Canby: 4119 N. Locust St.
Wilsonville area: off Mountain Road & N. Locust St.
Schedule impact: The ferry will be open with reduced hours Saturday, Aug. 24 and Sunday, Aug. 25 from 7:30 a.m. to 5 p.m.
Subscribe To Canby Ferry Updates
Fares
Motorcycles, bicycles, pedestrians
$3
Cars and pickups
(Up to 22 feet long)
5
Vehicles with trailers
(Over 22 feet long)
10
Vehicle using entire lane
15
Vehicle using entire ferry
30
Punch card (20 crossings)
(Save $1 per crossing)
80
All fares are one-way. No debit or credit cards are accepted at the ferry; only cash or checks. Punch cards may be purchased online using a debit or credit card.
Hours
Open daily except on 6 holidays* and when the river level is at 70 feet or higher**
| | |
| --- | --- |
| Daylight Savings Time hours (March 9 - Nov. 3) | 6:30 a.m. to 8:30 p.m. |
| Winter hours (Nov. 4 - March 8)*** | 6:30 a.m. to 7 p.m. |
*New Year's Day, Martin Luther King Day, Presidents Day, Veterans Day, Thanksgiving Day and Christmas Day
**The height of the river is determined by information on a county gauge that is read by county ferry operators and sent to the National Weather Service (NWS).
***Operating hours are shortened for the safety of the traveling public, our ferry workers and the ferry itself. While we operate the ferry after dark during parts of the year, we want to limit operating in darkness during the inclement weather season when the river runs high with stronger currents and more debris.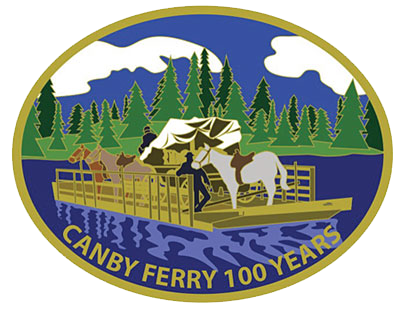 Ferry Technical Specifications and History
37851
The M/V MJ Lee II is a steel-hulled, double-ended, passenger/car ferry. The principal characteristics of the vessel are as follows:
Length overall: 84 feet (including ramps)
Length at waterline: 53 feet, 2 inches
Beam overall: 36 feet
Depth of hull (molded): 4 feet, 9 inches
Draft: 3.11 feet (design waterline, shell bottom, approx.)
Displacement: 90.5 long tons (design waterline)
Gross tonnage: 54 GRT
Propulsion: Two 75 HP electric gear set Harbormaster Z-drives
Service speed: 6.4 mph
Passenger capacity: 43 (including crew)
Vehicle capacity: 6 autos or 25 tons
Transportation Wt: 160,000 lbs (80 short tons)
The first M.J. Lee carried passengers and vehicles for 43 years, from 1953 to 1996.
The M.J. Lee II went into service in 1997.
37851
| | |
| --- | --- |
| July 1914 | Ferry purchased in Newberg by Canby Mayor W.H. Bair and by Harry B. Evans, representing the Canby Business Men's Club. It is propelled by a splashboard driven by the river current and held on course by a cable. The first ferryman is Clem Dollar who receives $10 a month from the City of Canby. |
| May 1916 | Canby City Council authorizes $250 for a new, gas-driven ferry. |
| 1917 | Second ferry is built by Frank E. Dodge, a Canby builder. The final cost is under budget at $238. The ferry was 44 feet long and 12 feet wide. |
| 1917 - 1918 | Edward Kilgallen, who lost an arm in childhood, succeeds Dollar as ferryman and the wages are reduced to $7.50 per month. He is found dead in the boathouse at the ferry slip in 1932. He had figured his trips across the river at 1,261, carrying 1,942 passengers. |
| 1919 - 1920 | W.B. Nolen is also paid $7.50 per month as ferryman. |
| 1921 | The third Canby Ferry goes into service, with the six-horsepower engine from the second ferry and a new propeller. It is 45 feet long and 15 feet wide. |
| 1933 | Theodore Neep serves as ferryman until 1942. He and his family live in a house on the south landing furnished by the County. |
| January 1946 | Heavy rains and a flooded river sweep the ferry from its moorings and pieces go over the Willamette Falls. |
| 1946 - 1953 | Inactive. Community members encourage the county to reinstate the ferry. |
| June 1952 | Canby Chamber and Lions Club presents the Clackamas County Court with 8,000 signatures seeking restoration of ferry service. |
| September 1952 | County Commissioners approve construction of a steel-hulled ferryboat by L.S. Baier of Milwaukie. |
| November 1952 | The fourth Canby Ferry, the M.J. Lee, launches at Baier's plant and is christened by Ora Lee Cattley, daughter of Canby's first mayor, Heman A. Lee, and granddaughter of Philander and Anna Green Lee who settled in the Canby area in 1847. The ferry is named for Millard Jerome Lee, first child born (1872) in the 1870-platted town of Canby. |
| July 3, 1953 | Ferry service restored with William H. Criteser and Bill Bruck as ferrymen. Chester Weaver named third operator. |
| 1956 - 1986 | Miller (Ace) Mays serves as ferry operator. |
| 1959 - 1979 | Victor Hodel serves as ferry operator. |
| 1960 - 1978 | Richard W. Hill serves as ferry operator. |
| 1961 | The ferry is featured on the cover of Sunset magazine. |
| 1986 | Free service ends and one-way toll of $1 is established. |
| 1989 | Ferry renovated and repainted. Coast Guard declares that vessel will not be recertified. |
| December 1995 | Ferry fails Coast Guard safety inspection and County contracts with Art Anderson Associates to replace it. |
| February 1996 | Ferry closed due to severe flooding on Willamette and remains closed during rebuilding of ferry docks. |
| June 20, 1997 | Service is restored with new six-vehicle ferry built at Diversified Marine in Portland. The ferry crew includes Joe Dietrich, John Lettenmaier, Carl Ellison, Jack Siefert, Mike Pyszka and Bret Proffitt. |
| July 4, 1997 | Clackamas County Commissioners and the Canby community celebrate the reopening. The M.J. Lee II is christened by Doris Cattley Martin, descendent of M.J. Lee. Fares increased to help cover operating costs. |
| January-July 2013 | Fares increased to help cover operating costs. Ferry taken through Willamette Falls Locks to be refitted with a new propulsion system in Portland and returned. The previously-closed Locks are re-opened under special arrangement to allow the ferry to pass through in January and July. |
| September 17, 2014 | State, regional and local officials, and the community, celebrate the Canby Ferry's 100th anniversary with speeches, ferry rides, fun facts, music and the unveiling of a commemorative plaque. Descendants of M.J. Lee attend the ceremony. |
(from information provided by Myra Weston, Canby historian)
37851