In 1986, the Tri-City wastewater treatment facility came online to replace obsolete treatment plants in Oregon City and West Linn. Today, the Tri-City facility cleans more than 11 million gallons of wastewater every day before it is released into the Willamette River. The wastewater is collected by a WES-owned-and-operated network of more than 360 miles of sewer pipes and pump stations. The Tri-City facility plays a large role in allowing WES to clean more than seven billion gallons of wastewater every year.
The Tri-City facility provides primary and secondary stages of wastewater treatment. Wastewater flows through screens that remove large objects like rags or sticks. The sewage then passes into a grit chamber, where heavier materials like rocks, silt and sand are removed.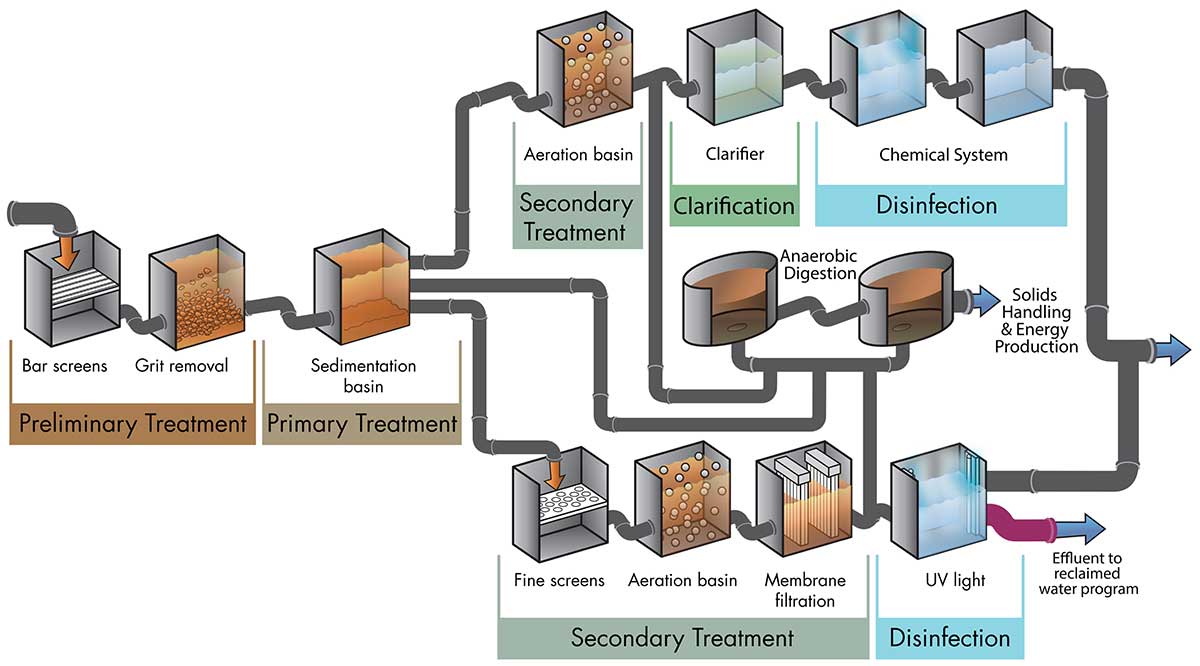 The secondary stage of treatment allows solids (a byproduct of waste) to settle before disinfection begins. Beneficial bacteria and air are pumped into an aeration basin to clean the wastewater as it flows to the secondary clarifiers. The membrane bioreactor uses fine screens, microbiology and filtration to remove environmentally-harmful materials.
Anaerobic digestion uses microorganisms to break down organic materials, which generate biogas (mostly methane and carbon dioxide) in the absence of air. The methane gas is then converted to heat and power, which provides electricity that is used at WES' Tri-City facility. The digestion process also converts waste into a natural fertilizer. Ultraviolet or chemical disinfection (we use both methods) neutralizes microorganisms, preventing them from replicating.
In 2020, the Tri-City facility received a Peak Performance Gold Standard Award from the National Association of Clean Water Agencies (NACWA) for excellence in plant operations and permit compliance.
Expanding Capacity: The Tri-City Solids Handling Project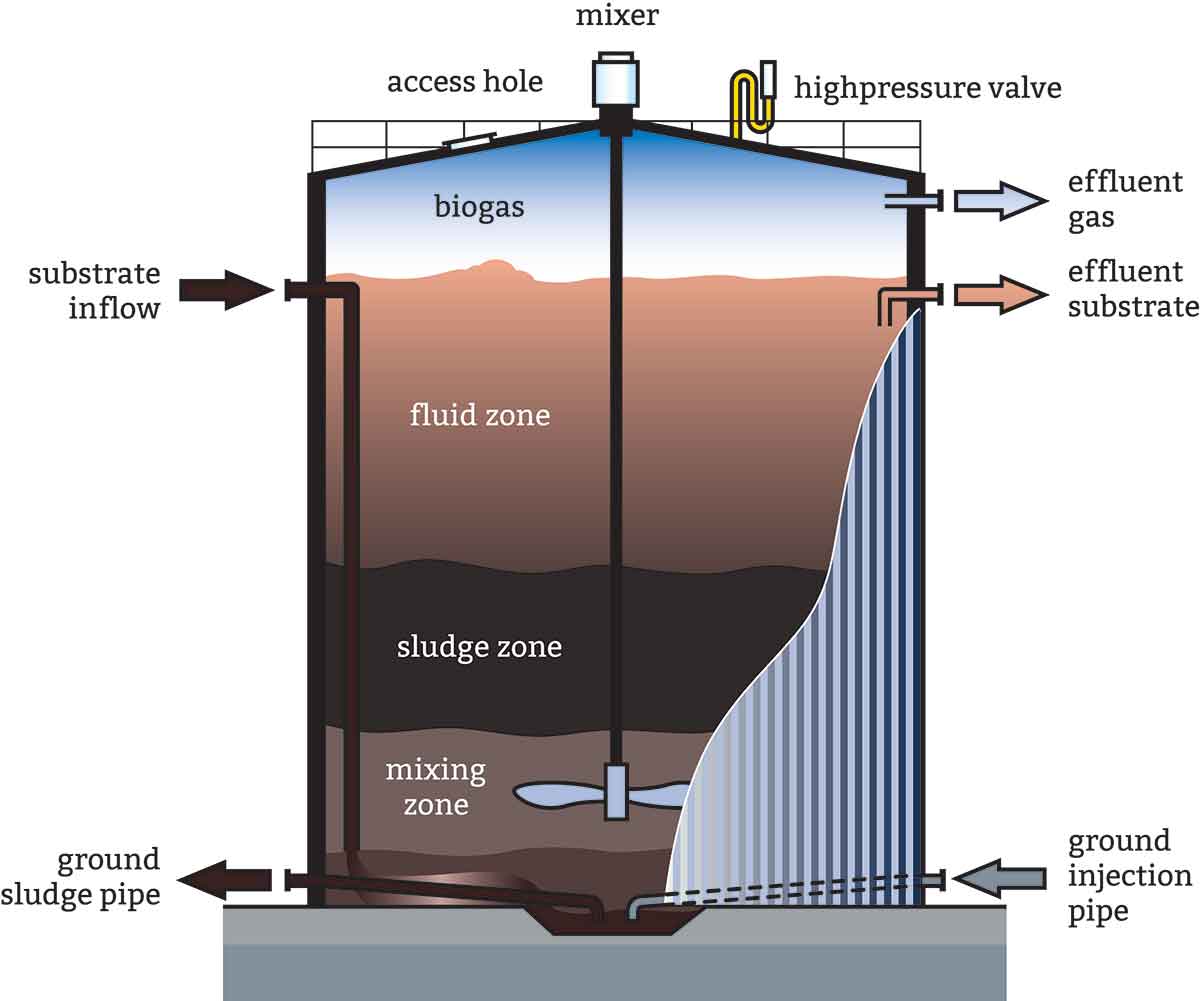 In September 2020, Clackamas Water Environment Services (WES) marked a major milestone in its Tri-City Solids Project, which provides facilities designed to ensure that the wastewater treatment needs of more than 190,000 county residents will be met for decades to come.
A new 1.3 million gallon anaerobic digester, constructed over a two-year period at WES' Tri-City Water Resource Recovery facility in Oregon City, was successfully brought online after years of planning and design.
Anaerobic digestion is similar to composting but in an oxygen-free environment. Naturally-occurring microorganisms break down organic waste and produce methane gas. The new digester expands the facility's capacity to process solids, which are a byproduct of treating wastewater from homes and businesses.
"This project is part of WES' mission to protect public health, clean rivers, and the economy," said WES Director Greg Geist. "WES is committed to creating a legacy of stewardship and a strong infrastructure that will protect and serve our communities today and well into the future."
Along with the facility's two existing digesters, the new digester will turn waste into methane gas that is converted to heat and power, which provides nearly half of the electricity used at the Tri-City facility and provides heat for the process and buildings The digester process also converts the solids into a natural soil amendment.
The new digester was needed to accommodate a population that has more than doubled over the past 30 years. In addition to protecting public health and the environment, the new digester will support future economic growth in the region.
At the official groundbreaking ceremony In September 2018, WES Leadership was joined by County Commissioners, WES Advisory Committee members, representatives from the cities of Gladstone, Happy Valley, Johnson City, Milwaukie, Oregon City, West Linn, unincorporated Clackamas County, members of the business community, contractors and other partners.
"As our region grows and redevelops while our infrastructure continues to age, we'll see the need for more projects like this one in the future," said WES Director Greg Geist. "WES is committed to using value engineering and other practices to keep costs down while ensuring the lowest-risk, state-of-the-art technology is being used."
Clackamas County Chair Jim Bernard said, "This project supports some of the county's top priorities, which include building a strong infrastructure, ensuring safe, healthy and secure communities and growing a vibrant economy. WES is a premier utility that is proactively taking steps to ensure that outstanding and affordable service will be provided to its customers for decades to come."
In 2021, many of those same partners will return to the Tri-City Water Resource Recovery Facility for a celebration ceremony when the Tri-City Solids Project is complete.
Testing Water Quality for Safety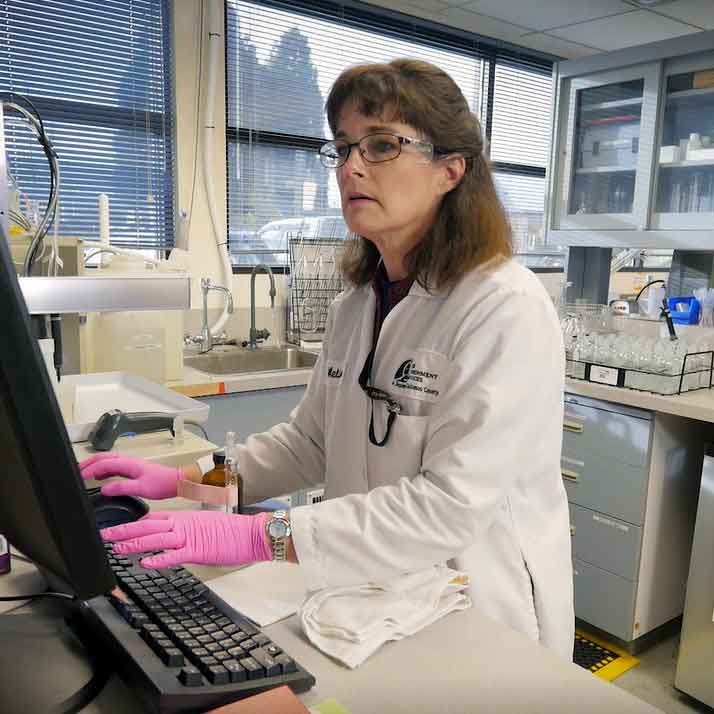 Testing water quality for safety, the Tri-City Water Quality Lab performs nearly 30,000 analyses per year, including hundreds of tests per month on samples collected from Tri-City, to check the health of water at every step of the wastewater treatment process.
The testing ensures that WES meets discharge requirements for the Willamette River and provides information to optimize operations at Tri-City. In addition, samples from the other WES facilities and surface water facilities are also analyzed.
Practicing Sustainability to Minimize Impact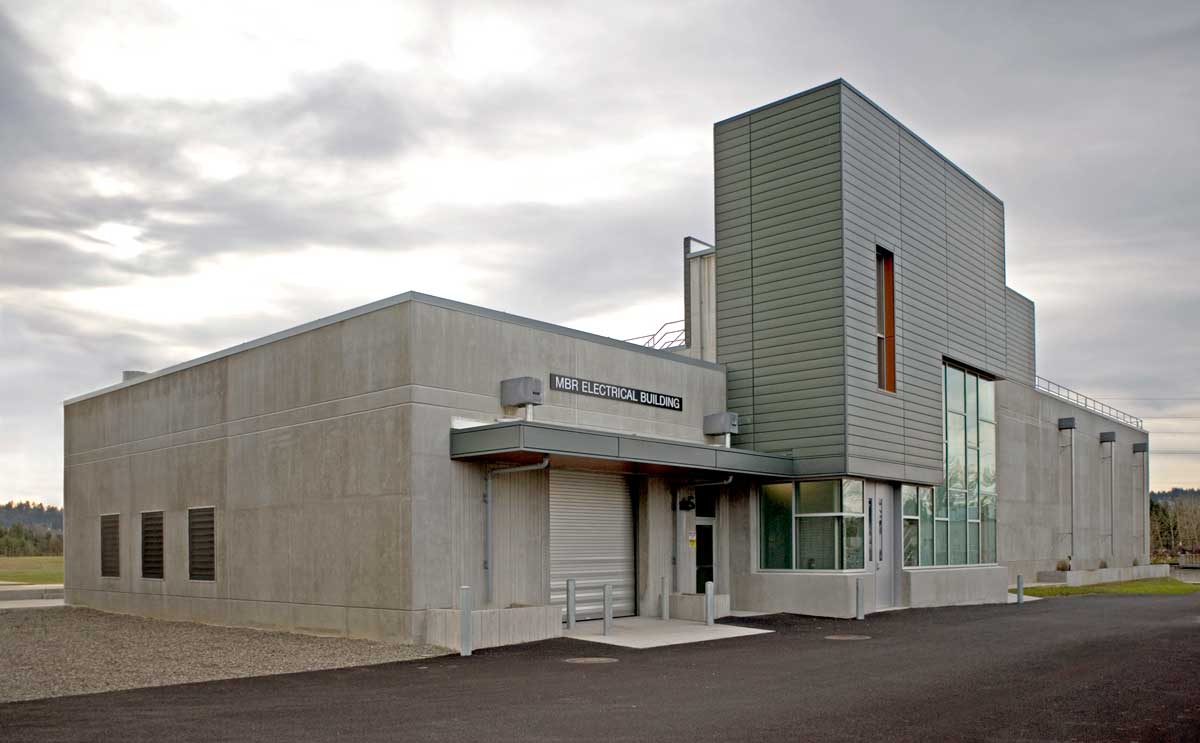 WES is committed to responsible stewardship, recovery of resources and demonstrating leadership in sustainable business practices.
WES employees are dedicated to following and promoting solid sustainability practices to reduce the environmental impacts of all our activities. WES is proud to have achieved certification in the county's Leaders in Sustainability program by conserving energy and water at our Tri-City facility and minimizing waste throughout our department.
The Membrane Bioreactor (MBR) uses hollow-fiber membranes to separate particles from water. The MBR's compact footprint requires fewer components than pressurized systems and provides simple, trouble-free operation and maintenance. The MBR saves both energy and precious water resources.
Conserving Energy, Protecting the Environment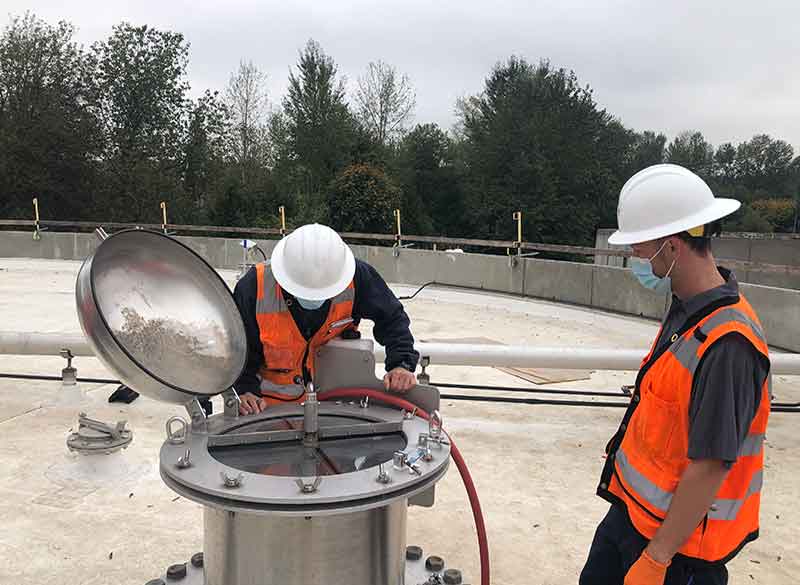 WES has saved millions of kilowatt hours at our Tri-City facility by participating in Energy Trust of Oregon's Strategic Energy Management Program, which helps organizations train their employees to identify energy-saving opportunities.
After signing up for the program, WES employees identified 104-energy saving possibilities at the Tri-City campus. Since then, WES has saved hundreds of thousands of dollars in energy costs, which benefits the environment and our customers. WES is now in the process of expanding the program's practices to more of our facilities.