Safe driving has big impacts in our communities. Each time you turn on your car, you are agreeing to abide by the rules of the road.
Posters & Coasters Contest winners announced
The Posters & Coasters Safe Driving Media Contest is offered to high school students in Clackamas County to create artwork about safe driving for a chance to win great prizes and share safe driving behavior with their local community. The next contest will open in the spring of 2020.
Nearly 100 high school students entered this year with artwork focusing on a variety of topics including cell phone use, impaired driving and speed. The posters will be displayed throughout the county. The contest is sponsored by the county's Drive to Zero program and State Farm Insurance.
Questions? Contact Drive to Zero staff at 503-742-4661 or drivetozero@clackamas.us.
2018 winners
1st Place
Kara Atiyeh, junior
Sandy High School
"Don't Let it Take Over"
2nd Place
Caroline Yackel, sophomore
Lake Oswego High School
"Their Lives"
3rd Place
Anna Persell, junior
Sandy High School
"What You Can't See"
Honorable Mention
HongSheng Chen
Lake Oswego High School
"Lipstick Skeleton"
Honorable Mention
Beth Doolan
Lake Oswego High School
"Time's Up"
Honorable Mention
Liam Kengla
Lake Oswego High School
"Normal Speed"
Honorable Mention
Emmalina Laurence
Clackamas High School
"Don't Be a Dummy – Keep Them Safe"
Honorable Mention
Maddie Manske
Lake Oswego High School
"Your Future Matters"
Honorable Mention
Zachary Olson
Lake Oswego High School
"Don't Play With Your Life"
Honorable Mention
Caroline Scharff
Rex Putnam High School
"Your Phone is Not a Passenger – Put It Away"
Honorable Mention
Gretchen Storey
Lake Oswego High School
"Don't Be a News Story"
Honorable Mention
Ari Vest
Lake Oswego High School
"Eyes Off the Clouds"
Safety Street at the County Fair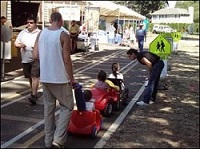 Our Drive to Zero Traffic Safety Commission, Clackamas County Sheriff's Office, Clackamas 9-1-1 and Disaster Preparedness provide safety education each year at the Clackamas County Fair. Our transportation safety booth provides education related to traffic safety and we distribute traffic safety-related items such as safety reflectors. In addition, Safety Street provides children with the opportunity to practice being safe in cars with crossing signs, speed limits and traffic to pay attention to while driving.
School presentations
We offer transportation safety presentations to schools and drivers education classes to illustrate traffic safety and the responsibility we all have to each other. Presentations cover safe driving topics including seat belt use, distracted driving, speed, impairment and general driving tips.
To request a presentation at your school, contact drivetozero@clackamas.us.
Request a neighborhood sign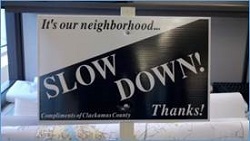 We offer Slow Down, This is Our Neighborhood signs to the public to remind drivers to be responsible and courteous. The signs can be easily staked in your yard near the roadway.
Signs are free, but we may have to limit the number for individuals and neighborhoods. To request a sign for your yard, contact drivetozero@clackamas.us.
Take the safe driver pledge
We are all in this together. One crash prevented can save lives. Drive to Zero asks you to take the safety pledge.