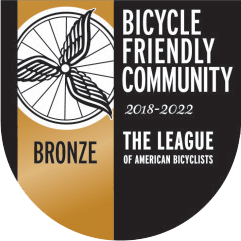 The county strives to create a complete transportation network where walking and biking are safe, convenient and comfortable ways of moving around the county. We prepare plans and implement projects that support bicycling and walking as viable forms of transportation.
Clackamas County is the only county in the state recognized by the League of American Bicyclists Bike Friendly Communities Program. You can find details about the County's Bronze Award here.
Bike repair station and custom bike racks installed on Trolley Trail in downtown Oak Grove
The repair station includes all the tools necessary to perform basic bike repairs and maintenance. Screwdrivers, Allen wrenches and box wrenches are provided so that cyclists can change a flat tire, adjust brakes and put air in tires.
Plans Incorporating Bicycle and Pedestrian Elements
The ATP identifies key active transportation routes that connect destinations and communities in both rural and urban portions of Clackamas County.
Bicycle Master Plan
The Bicycle Master Plan is a wide-ranging assessment of bicycle transportation in Clackamas County and offers recommendations for establishing a county-wide bicycle network. 
Pedestrian Master Plan
The Pedestrian Master Plan is designed to enhance the pedestrian network within the county to promote waking as a safe, reasonable mode of transportation.
The TSP provides policies, guidelines and projects to meet transportation needs for residents, businesses and visitors in unincorporated Clackamas County for 20 years.
Clackamas County is assisting the City of Gladstone in studying the feasibility and location of constructing a bridge in the abandoned Trolley Trail Bridge crossing of the Clackamas River. 
The Rhododendron Main Street redevelopment plan is an opportunity to address housing and multi-modal transportation connection needs along Hwy 26 in Rhododendron.
The goal of the Walk Bike Clackamas Plan is to create a comprehensive, long-term vision to improve opportunities for people walking and biking as they travel and enjoy recreational areas of the county.
Resources for Walking and Biking in Clackamas County
To report debris or a problem with a bike lane, call 503-557-6391 between 8 a.m. and 5:30 p.m. or use the online reporting system here.
The Pedestrian and Bikeway Advisory Committee generally meets the first Tuesday of every month, and the public is welcome to attend. Check website for periodic schedule changes and meeting cancellations.
Clackamas County Tourism has information about recreational biking.
Metro's Bike There! Map is a great resource for riding around Clackamas County and the region.
Completed Bicycle and Pedestrian Projects