Goal: By 2023, a Climate Action Plan is adopted for our community with specific recommendations to reach the goal of being carbon neutral by 2050.
Draft Climate Action Plan report available for public review and comment.
Share your thoughts about the draft plan to guide the county to carbon neutrality by 2050.
Climate change threatens our long-term health, prosperity and safety — in Clackamas County, in Oregon, and across the planet. Together, the Board of County Commissioners has called for action. The goal above was first approved by the Board of County Commissioners in 2019 and reaffirmed in 2021.
We've set our sights on being carbon neutral by 2050, which means reducing our greenhouse gas emissions to the point where we can capture as much as we emit. Meeting this goal gives us a chance to limit warming and avoid the worst impacts of global change. Locally, a zero-emissions way of living and doing business can help us be healthier and more economically resilient.
We know this is a big goal. It means clean energy, less waste and using less fossil fuels. To us, success starts with a plan that is meaningful, data-driven, transparent and includes the diverse members of our community.
A Timeline of Climate Action by the Board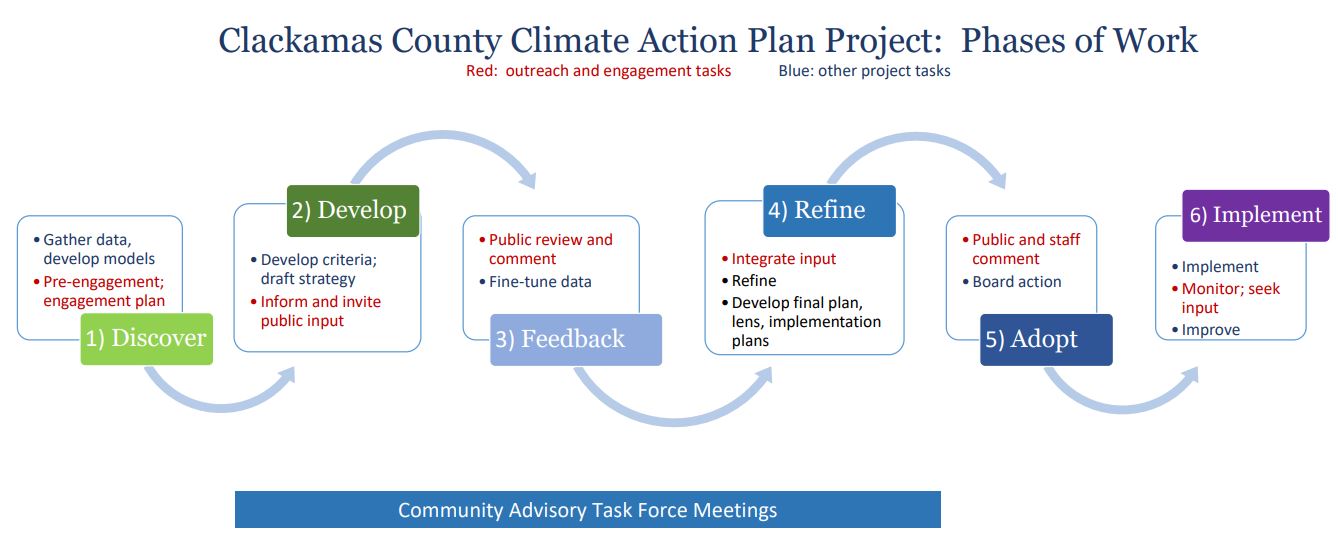 The Board of Commissioners has adopted several resolutions related to climate change in the past few years
| | |
| --- | --- |
| 2019 | Added a specific goal about climate action to the county's updated Performance Clackamas strategic plan. The goal states: By January 2022, a Climate Action Plan is adopted for our community with specific recommendations to reach the goal of being carbon neutral by 2050. |
| 2018 | Directed staff to develop an updated countywide climate action plan. |
| 2017 | Reaffirmed the county's climate goals. |
| 2008 | Adopted the U.S Cool Counties Climate Stabilization Declaration and a resolution on climate change. |
Project Resources
Countywide Actions We're Taking to Combat Climate Change
Establishment of an interdepartmental climate plan group, called the Climate Exchange and housed in the county's department of Transportation and Development.
County operations greenhouse gas inventory
First baseline community-wide greenhouse gas inventory
Identifying renewable energy procurement options for county operations
Initiating a process for a low-carbon county fleet & EV charging
Developing an update to the county's green building policy
Support for innovative mass timber construction
Offering a climate change presentation for schools
Expansion of commercial food scraps composting
Hosting Repair Fairs for people to repair their broken appliances and tools instead of throwing them out
Working with area libraries to create Libraries of Things, where community members can check out items like board games, tools and appliances instead of buying new.
Providing support for rural broadband so less populated communities can stay connected without needing to drive
What You Can Do?
Community members making climate-friendly decisions and engaging with each other are crucial to reducing the county's carbon footprint.
Join us in this important work.
Youth and Climate Change
Youth will face more impacts from climate change than any other group alive today. It is vital that climate action planning have youth at the table to plan solutions for the future of our communities.
In the fall of 2019, Rex Putnam High School students sent a letter to the Clackamas County Board of Commissioners to share their recommendations for climate action in Clackamas County.
In 2021, an enthusiastic group of 24 outstanding youth joined a Youth Advisory Task Force to inform the climate plan. They met to discuss climate issues from March 2021 to June 2022. The Youth Advisory Task Force explored the climate issues youth find most pressing.
Sign Up For Email Updates