Goal: By 2023, a Climate Action Plan is adopted for our community with specific recommendations to reach the goal of being carbon neutral by 2050.
Answers to Climate Crossword Puzzle in #MyClackCo
Climate change threatens our long-term health, prosperity and safety — in Clackamas County, in Oregon, and across the planet. Together, the Board of County Commissioners has called for action. The goal above was first approved by the Board of County Commissioners in 2019 and reaffirmed in 2021.
We've set our sights on being carbon neutral by 2050, which means reducing our greenhouse gas emissions to the point where we can capture as much as we emit. Meeting this goal gives us a chance to limit warming and avoid the worst impacts of global change. Locally, a zero-emissions way of living and doing business can help us be healthier and more economically resilient.
We know this is a big goal. It means clean energy, less waste and using less fossil fuels. To us, success starts with a plan that is meaningful, data-driven, transparent and includes the diverse members of our community.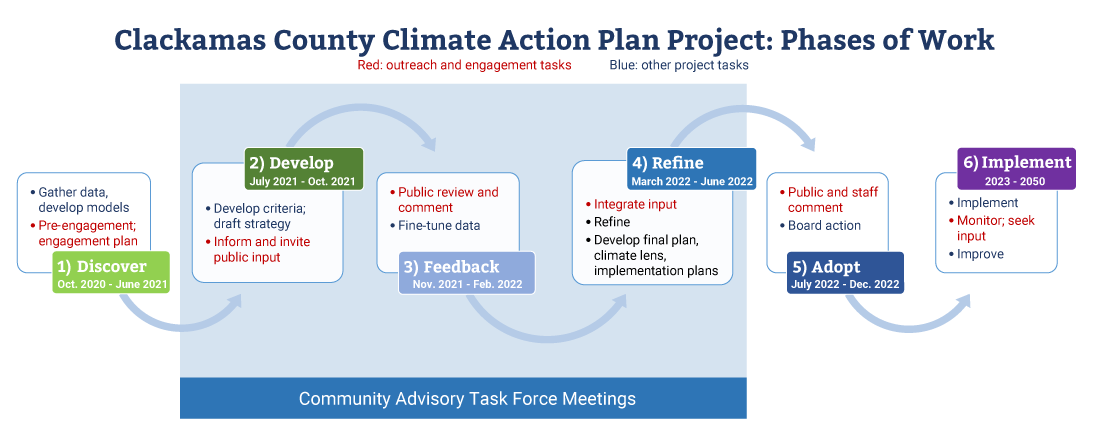 Advisory task force membership approved by Board of Commissioners
Clackamas County received 68 applications for the Climate Action Advisory Task Force (CATF). The 24 approved for the task force by the Board of County Commissioners have wide-ranging geographic representation, lived experiences, and areas of content expertise. CATF meetings will begin in summer 2021.
For those who were not chosen or did not apply, there will be many other opportunities to influence the development of the climate action plan including focus groups, surveys, and community presentations.
A timeline of climate action by the Board
The Board of Commissioners has adopted multiple resolutions related to climate change.
| | |
| --- | --- |
| 2020 | |
| 2019 | Added a specific goal about climate action to the county's updated Performance Clackamas strategic plan. The goal states: By January 2022, a Climate Action Plan is adopted for our community with specific recommendations to reach the goal of being carbon neutral by 2050. |
| 2018 | Directed staff to develop an updated countywide climate action plan. |
| 2017 | Reaffirmed the county's climate goals. |
| 2008 | Adopted the U.S Cool Counties Climate Stabilization Declaration and a resolution on climate change. |
Countywide Actions We're Taking to Combat Climate Change
County climate actions include:
Purchasing 100% renewable electricity for County operations beginning in 2019-20 fiscal year
Completed baseline analysis of greenhouse gas emissions for County operations
Establishment of an interdepartmental climate plan group, called the Climate Exchange and housed in the county's department of Transportation and Development.
Completed first baseline community-wide greenhouse gas inventory for all of Clackamas County
Moving toward having low-carbon county-owned vehicles and EV charging
Support for innovative mass timber construction such as cross-laminated timber
Offer a climate change presentation for schools
Expanded commercial food scraps composting
Host Repair Fairs for people to fix their broken appliances and tools instead of throwing them out
Worked with area libraries to create Libraries of Things, where community members can check out items like board games, tools and appliances instead of buying them new
What You Can Do
Community members making climate-friendly decisions and engaging with each other are crucial to reducing the county's carbon footprint.
Join us in this important work.
Youth and Climate Change
Youth Advisory Task Force continues to meet
An enthusiastic group of 24 outstanding youth have been meeting to discuss climate issues since early 2021. Youth will face more impacts from climate change than any other group alive today. It is vital that climate action planning have youth at the table to plan solutions for the future of our communities. The Youth Advisory Task Force is exploring the climate issues youth find most pressing.
In the fall of 2019, Rex Putnam High School students sent a letter to the Clackamas County Board of Commissioners to share their recommendations for climate action in Clackamas County.
Since then, we have been asking students in the county to share their thoughts and concerns about climate change and climate action. Please add your voice. The first 25 students to submit an entry will receive a book about climate change of their choosing.
How to participate
Please select one or more of the following questions:

What is the role of government in responding to the climate change crisis?
What types of climate action are you excited about?
Why are you concerned about climate change?
How does climate change influence your plans for your future?
In 50 years, what do you hope to look back on? What story would you like to tell about how the world responded to climate change?
Other (read a poem, show artwork, etc.)

Record a video of you sharing your thoughts
Post to Instagram with the hashtag #clackcoclimateaction and email a copy of your video to lbates@clackamas.us
Sign Up For Email Updates
Clackamas County Priorities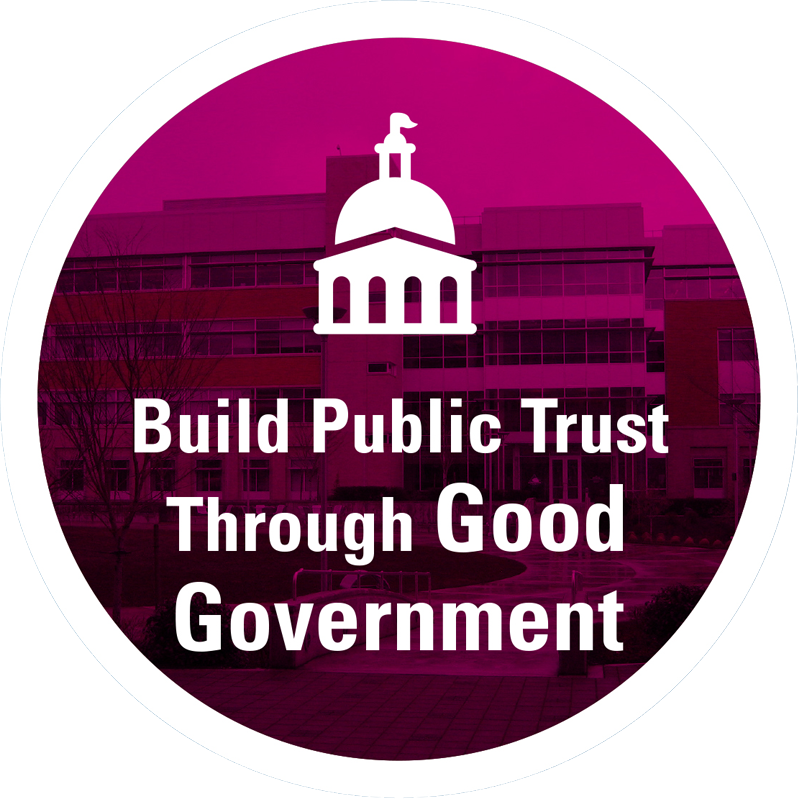 Build public trust through good government
The climate plan will, by necessity, involve virtually every department in the County. It will also directly engage the community to help address this challenge. This collaboration and problem solving are key to good governance and building trust.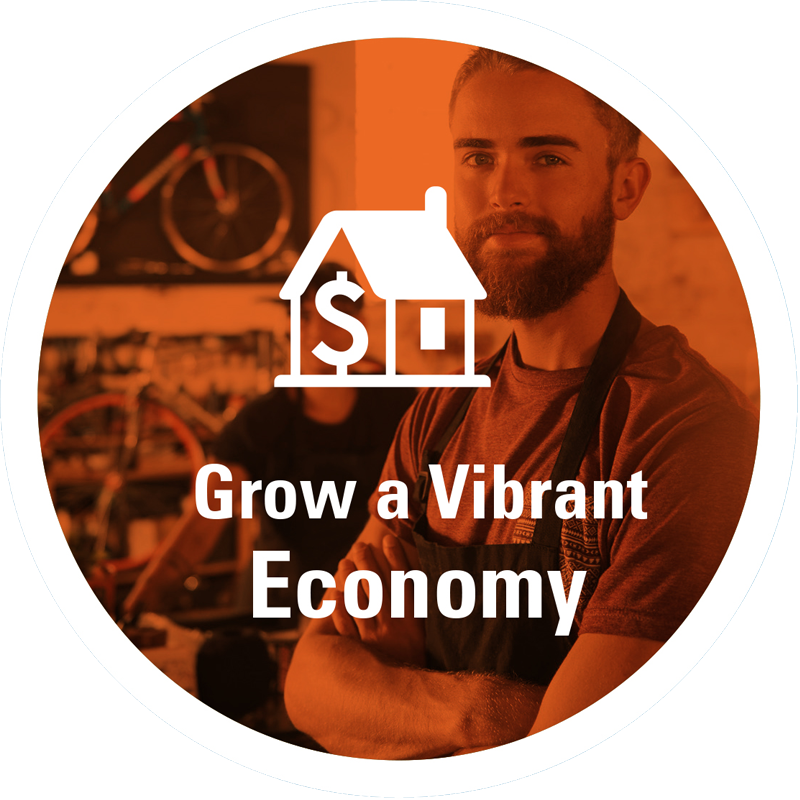 Grow a vibrant economy
Climate change will impact every sector of the economy, and is already impacting many. Wildfires, reduced snowpack, increased vulnerability to pests, and increased summer temperatures have a direct impact on a variety of businesses. Policies to reduce greenhouse gas emissions will also have impacts on businesses. In order to grow a vibrant economy, the County must look forward to both the physical and policy impacts of climate change.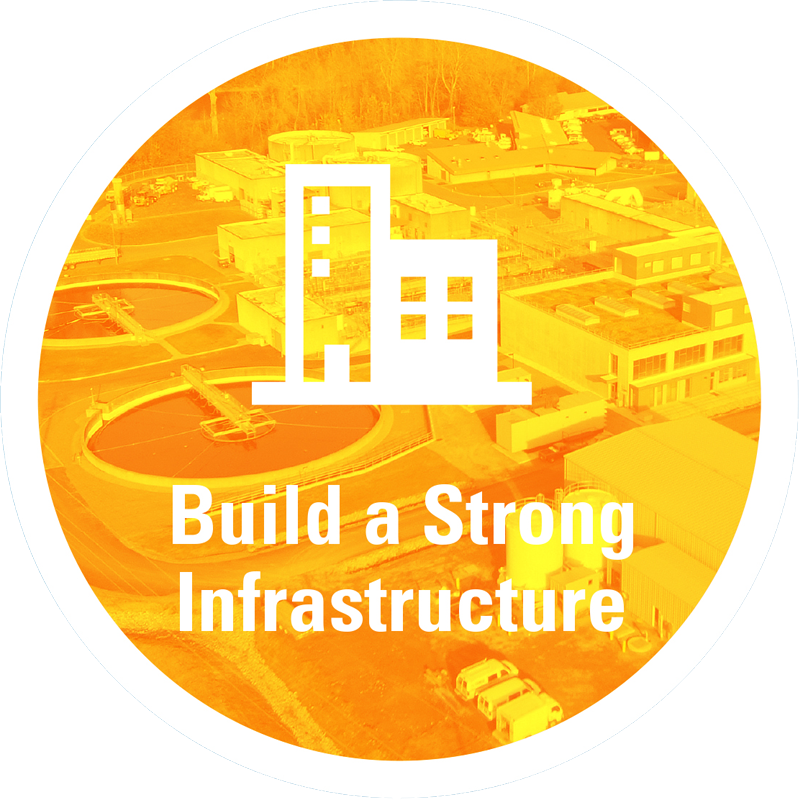 Build a strong infrastructure
Climate change makes it more important that infrastructure be energy efficient and built or retrofitted to withstand the amplified hazards and stresses of a changing climate.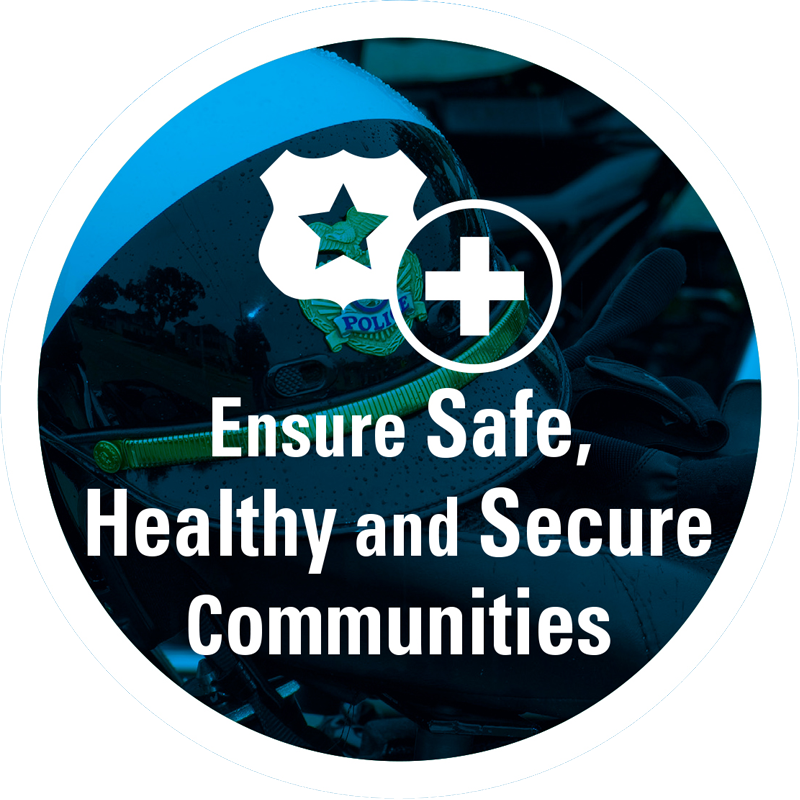 Ensure safe, healthy, and secure communities
Climate change is one of the greatest threats humans have ever faced. It impacts our health in many ways, and can undermine the safety and security of our communities.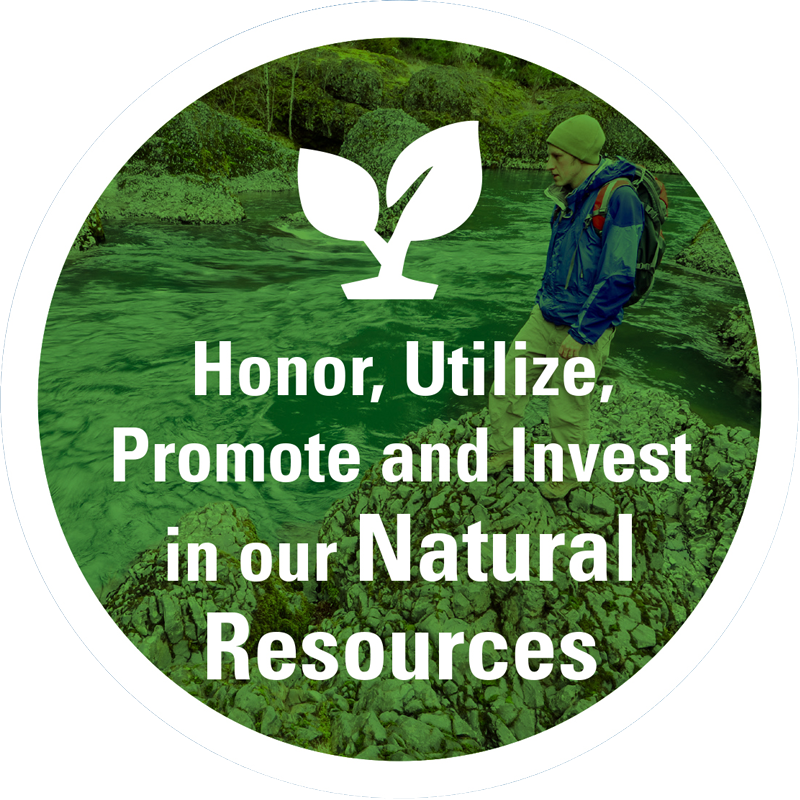 Honor, utilize, promote, and invest in our natural resources
Our natural resources are both at high risk from climate change, and provide some great opportunities for reducing greenhouse gases. By investing in our natural resources, they can be healthier and more resilient, while also protecting our community.
Answers to Climate Crossword Puzzle in Fall 2021 #MyClackCo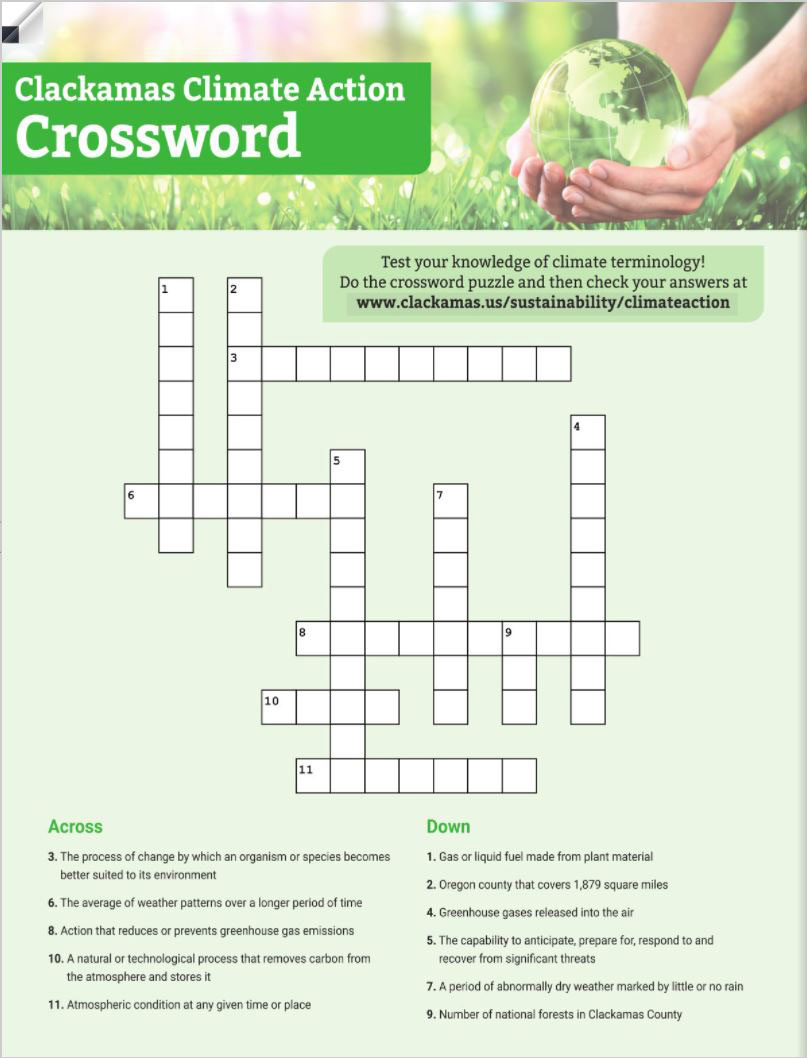 ACROSS
3. The process of change by which an organism or species becomes better suited to its environment
ADAPTATION
6. The average of weather patterns over a long period of time
CLIMATE
8. Action that reduces or prevents greenhouse gas emissions
MITIGATION
10. A natural or technological process that removes carbon from the atmosphere and stores it
SINK
11. Atmospheric condition at any given time or place
WEATHER
DOWN
1. Gas or liquid fuel made from plant materials
BIOFUELS
2. Oregon county that covers 1,879 square miles
CLACKAMAS
4. Greenhouse gases released into the air
EMISSIONS
5. The capability to anticipate, prepare for, respond to and recover from significant threats
RESILIENCE
7. A period of abnormally dry weather marked by little or no rain
DROUGHT
9. Number of national forests in Clackamas County
TWO