Main Content
Dealing with Clackamas County government might sometimes feel overwhelming to residents, businesses, and visitors. Which of the 30 or so different departments, offices, agencies, and districts is the one to turn to when you need help?
To add to the stress, the answer might be simple: More than one of them.
Don't panic, though. The good news is that county employees and partners are increasingly working together across offices to provide the services you need — and you might not even notice.
It's our One County vision. And one person's story shows how it works.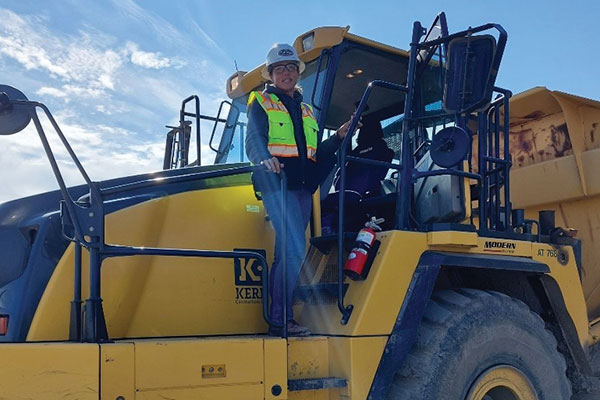 Chelsea Asselmeier had visited more than her share of Clackamas County facilities between the ages of 13 and 29, although not by choice.
"Over the last 11 years or so, I've spent hundreds of hours — weeks, months — in that Clackamas County courthouse due to addiction and criminality," she said.
Repeatedly arrested for drug possession and use, Asselmeier faced an 80-month prison sentence just before her 30th birthday. But she was offered Drug Court, a specialty court operated by the Clackamas County District Attorney's Office, as an alternative to prison.
Drug Court is designed for adult defendants whose criminal behavior is driven, at least in part, by drug abuse or addiction. The goal is to reduce drug-related crime and recidivism by providing treatment and rehabilitation to nonviolent defendants.
The court can mandate a variety treatment and recovery options, depending on the nature and severity of the defendant's abuse or addiction. For Asselmeier, the court partnered with the Clackamas Substance Abuse Program (CSAP), operated by the Clackamas County Sheriff's Office.
CSAP operates residential facilities for Drug Court's treatment programs, designed to offer offenders the necessary tools to obtain an organized and successful transition back into their community.
"I am super grateful, and I've stayed in really close contact… For almost two years after I graduated the program, I continued weekly therapy," she said. "It really helped change my thinking, long term."
One of Drug Court's graduation requirements is employment or enrollment in vocational or educational programs. To meet that need for Asselmeier, the court again partnered with another county program— the STEP Employment Program run by the Children, Family, and Community Connections (CFCC) Division.
STEP prioritizes services to formerly incarcerated persons, persons with substance use disorders, and persons in long-term recovery. Services include individual career counseling, resumé preparation, customized job development, and soft skill training.
"Career-wise, CFCC… they've helped me with so much," Asselmeier said. "Finding and advancing in jobs; they've helped pay for work boots and clothing for jobs; they've helped build resumes; they've walked me through so many different things."
CFCC connected Asselmeier to an external partner, Constructing Hope, which offers an accelerated pre-apprenticeship trades program. Over time, Asselmeier was able to advance into a heavy equipment operator position.
Now Asselmeier has been referred to another county program — but this time she's the one helping us. She's an excavator operator working on the construction of our new county courthouse.
Asselmeier's situation was admittedly complex. But no matter how big or small the need, Clackamas County's many offices strive to work together as One County to provide the services that will help more than 420,000 residents.