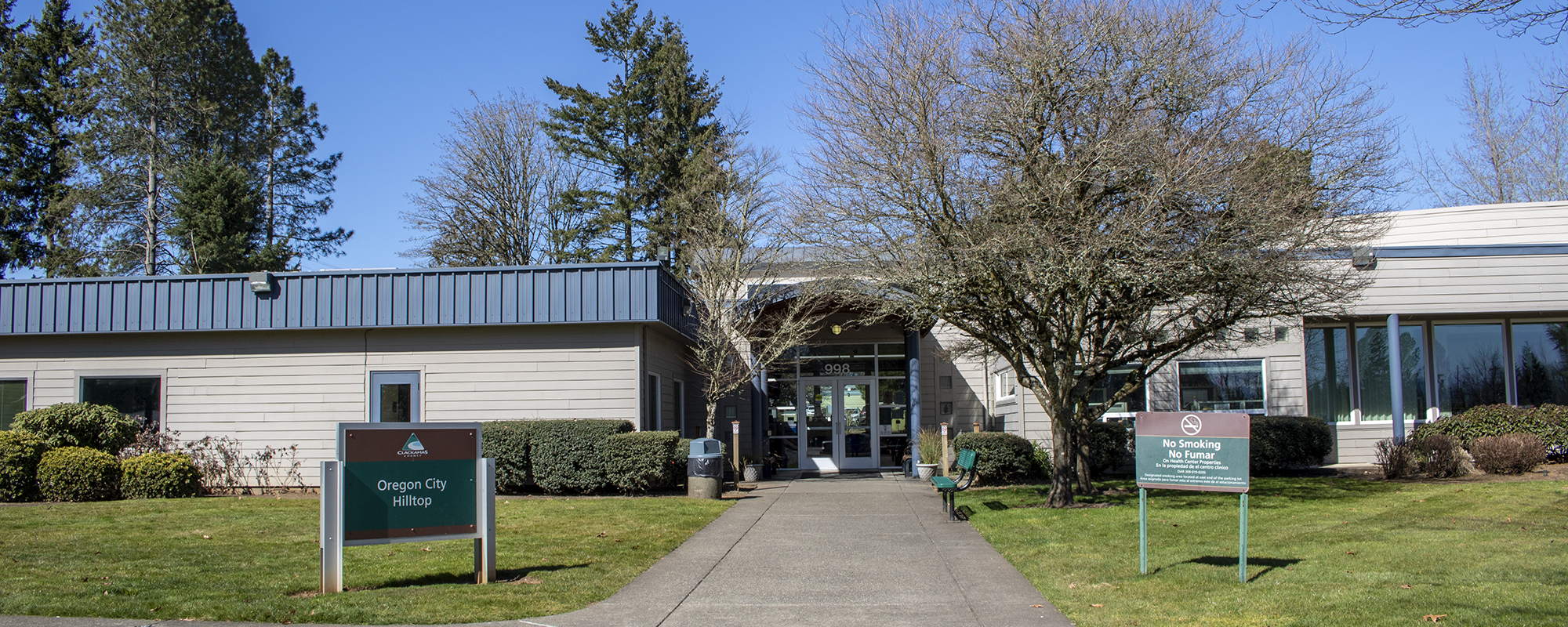 998 Library Ct., Oregon City, OR 97045 map | 503-655-8401
Call 503-655-8401 to make an appointment today!
HOURS:
Open Monday - Friday
8 a.m. to 6:30 p.m.
Assistance for Oregon Healthcare
Factsheet
Your health matters here! The Hilltop Behavioral Health Center offers a variety of outpatient counseling and treatment services for both mental health and drug and alcohol issues.
Adult Treatment Programs
The following programs are available for adults at the Hilltop Behavioral Health Center. Please click on the individual program titles to learn more.
Children, Youth, and Family Treatment Programs
The following programs are available for children, youth, and families at the Hilltop Behavioral Health Center. Please click on the individual program titles to learn more.
Parent/Family Support and Education
Supported Employment Programs
The Supported Employment Program at Clackamas County is designed to help people with mental health issues build the skills and confidence to find and keep a steady job. This program is available only to consumers enrolled in mental health services with Clackamas County. Supported Employment can provide you with the confidence and skills you need to be successful at finding and keeping the job you want.
Peer Services
Peer Support Specialists, at some time in their lives, have been or have had a family member who has been a consumer of mental health services. They have participated in specialized training to learn how to assist others who are in various stages of recovery. Peer Support Specialists offer non-judgmental support, genuine empathy, and validation of experiences having personally travelled similar roads of trauma, distress, or discomfort. They are also able to assist individuals as advocates and can help to link individuals to supports in the community.
Other On-Site Services
The following services are also offered at the Hilltop Behavioral Health Center:
Care Coordination (assisting individuals and families in accessing community resources).
Consultation (to families, schools, medical providers, law enforcement, and other community agencies).
Crisis Intervention.
Focused Individual Psychotherapy.
Group Therapy and Skill Building.
Individual Skills Training.
Medication Evaluation and Management.
OHP Application Assistors who can help you with your Oregon Health Plan application and questions.
Peer Services.
Payment
We accept many forms of insurance with mental health and substance abuse treatment coverage, including those below:
Oregon Health Plan (OHP)/Medicaid.
Medicare.
Commercial Insurance (for youth substance abuse treatment ONLY).
Uninsured - For more information about our uninsured funding program (including eligibility requirements), please contact the Clackamas Behavioral Health Division at (503) 742-5335.
For all billing questions, please call the Behavioral Health Billing Department at (503) 742-5935.
Our Providers
The Hilltop Behavioral Health Center has a professional and well-trained treatment team of therapists, mental health professionals, and mental health associates who provide care coordination, case management, and other support services. Our providers use treatment strategies based on the latest research to help individuals to be successful in reaching their treatment goals. They bring a wealth of knowledge, a variety of specialized skills, and the clinical expertise needed to provide creative, compassionate, and effective care.