Learn what materials are accepted in your recycling at home and work, and what materials to keep out.
Printable recycle guides
Live in a single family house? Use these:
Live in an apartment, condo other multifamily community? Want to recycle at work? Use these:
Recycle Together at Home, Work, or School
Paper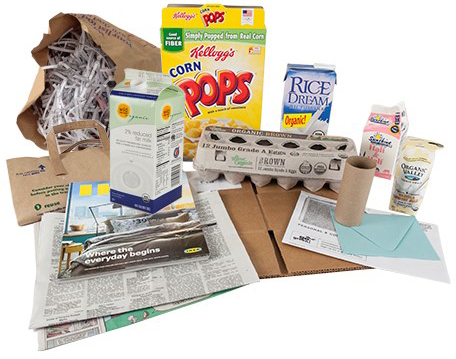 newspaper
cardboard (flattened)
magazines and phone books
mail and catalogs
scrap paper
paper bags
cartons (rinsed): milk, juice, soup
shredded paper (in paper bag)
Plastic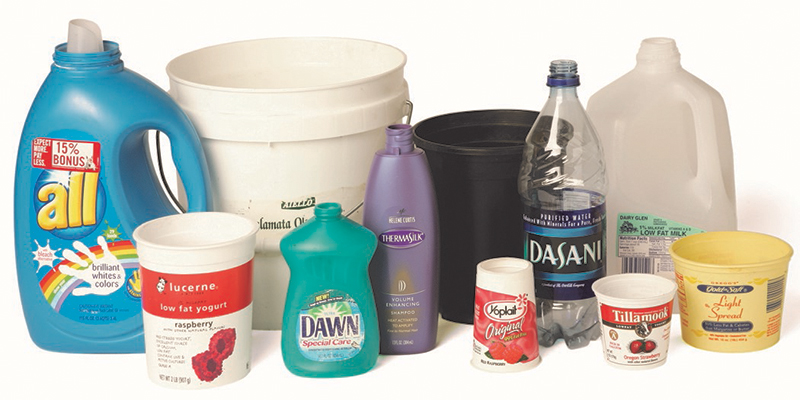 In Clackamas County and the Metro region, we recycle plastics by shape and size, not the numbers on the container.
bottles, jugs, and tubs (clean, 6 ounces or larger)
buckets (clean, 5 gallons or smaller)
rigid plant pots (clean, 4 inches across or larger)
Please empty and rinse containers.
Metal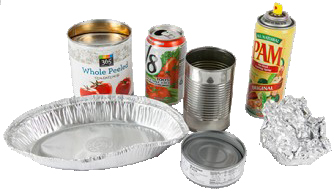 Empty and rinse containers. Do not flatten cans. Labels are okay. Tin tops are okay if crimped inside can.
aluminum, tin and steel food cans
metal paint cans (empty and dry)
aerosol cans (empty)
aluminum foil and pie plates
scrap metal (smaller than 30" and less than 30 lbs.)
Recycle in your Separate Glass-Only Container
Glass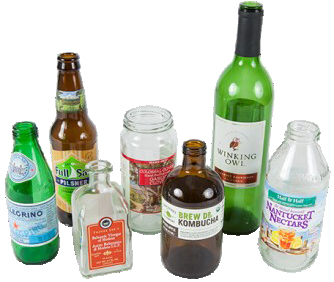 Place glass in a separate glass-only container.* Empty and rinse glass containers. Glass of all colors can be mixed together. Labels are okay to leave on, but remove caps and corks.
* If you are a customer of Bliss Sanitary Service, Inc., your glass recycling collection may vary slightly. Contact Bliss Sanitary for more information at 503-663-3417.
Set on the side
Motor Oil*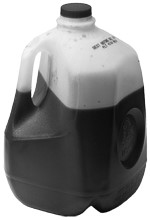 Set used motor oil next to your glass bin in a marked container with a screw-top cap. Only use containers 2 gallons or less.
* Available for single family residential customers only. Not available at apartments or businesses.
Special recycling
Some items not accepted in your recycling at home or work are accepted at recycling depots. These include:
batteries
light bulbs and florescent lamps
scrap metal larger than 30 lbs./30"
tires
Find a recycler near you. Fees may apply.
Do not Recycle These at Home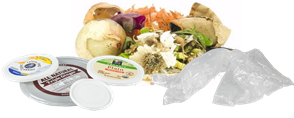 plastic bags and plastic film
These get tangled in the sorting machines, and cause hazardous conditions for workers (can be recycled at participating retailers).
plastic lids and tops
These get mistaken for paper in the sorting machines.
frozen food boxes and other waxed/plastic-injected paper products
These are infused or constructed with other materials to help it withstand temperatures or moisture that can't be separated in the recycling process.
glassware, ceramics and incandescent light bulbs
These are not food grade glass. They contaminate and ruin the recyclable materials.
to-go cups, napkins and containers including paper/plastic clamshells
These are often injected with a plastic to withstand temperatures that can't be separated in the recycling process and/or covered in food and grease.
food scraps and food-soiled materials
These contaminate and ruin the recyclable materials.
pet waste and diapers
These contaminate and ruin the recyclable materials.
non-curbside, bulky and rigid plastics
Our recycling facilities cannot process these materials.
Have a Question About Something not Seen Here?
For answers about how to recycle or properly dispose of materials not allowed in recycling at home or work, email us at wasteinfo@clackamas.us or call Metro's Recycling Information Center at 503-234-3000.