Learn what materials are accepted in your recycling at home and work, and what materials to keep out.
Printable Recycle Guides
Live in a single family house? Use these:
Live in an apartment, condo or other multifamily community? Want to recycle at work? Use these:
Recycle Together at Home, Work, or School
Paper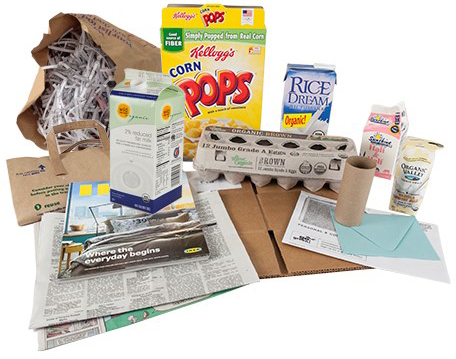 newspaper
cardboard (flattened)
magazines and phone books
mail and catalogs
scrap paper
paper bags
cartons (rinsed): milk, juice, soup
shredded paper (in paper bag)
Plastic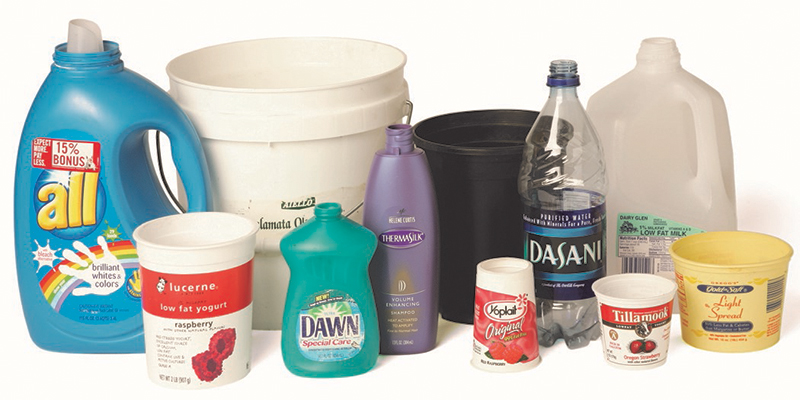 In Clackamas County and the Metro region, we recycle plastics by shape and size, not the numbers on the container.
bottles, jugs, and tubs (clean, 6 ounces or larger)
buckets (clean, 5 gallons or smaller)
rigid plant pots (clean, 4 inches across or larger)
Please empty and rinse containers.
Metal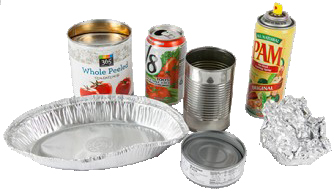 Empty and rinse containers. Do not flatten cans. Labels are okay. Tin tops are okay if crimped inside can.
aluminum, tin and steel food cans
metal paint cans (empty and dry)
aerosol cans (empty)
aluminum foil and pie plates
scrap metal (smaller than 30" and less than 30 lbs.)
Recycle in your Separate Glass-Only Container
Glass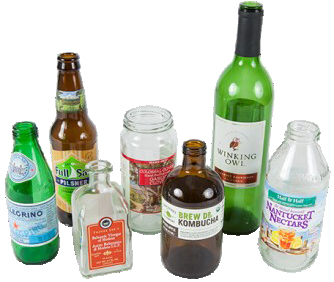 Place glass in a separate glass-only container.* Empty and rinse glass containers. Glass of all colors can be mixed together. Labels are okay to leave on, but remove caps and corks.
* If you are a customer of Bliss Sanitary Service, Inc., your glass recycling collection may vary slightly. Contact Bliss Sanitary for more information at 503-663-3417.
Set on the side
Motor Oil*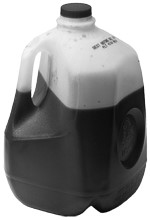 Set used motor oil next to your glass bin in a marked container with a screw-top cap. Only use containers 2 gallons or less.
* Available for single family residential customers only. Not available at apartments or businesses.
Special Recycling
Some items not accepted in your recycling at home or work are accepted at recycling depots. These include:
batteries
light bulbs and florescent lamps
scrap metal larger than 30 lbs./30"
tires
Find a recycler near you. Fees may apply.
Do not Recycle These at Home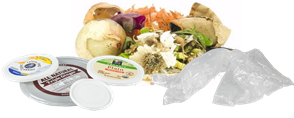 plastic bags and plastic wrap
When mixed recycling is sorted, it passes over a series of machines and belts. Thin plastics bags and plastic wrap (like the plastic packaging around paper towels) get wound up in the machinery and can cause severe, expensive damage. Put in the trash, or collect it (clean and dry) and return plastic film and wrap to local participating retailers for recycling.
plastic lids, tops, and caps
Besides being a low-grade plastic, thin lids have a way of sneaking in among paper and cardboard. When the paper and cardboard are processed for recycling, the plastic lids and tops that sneak among them have to be removed and then are thrown away. Small caps fall through the machine and end up in the garbage.
plastic produce, fruit, and pastry containers
The manufacturing process of many plastic containers make them low-grade, low value and difficult to recycle. Due to their brittle nature, they can break apart during the recycling process and sneak in with the paper and cardboard
"compostable" plastics
Compostable plastics are not plastics, and cannot be recycled into new materials. They also aren't compostable in our local compost facilities. Put these items in the trash and learn why composters serving Oregon don't want compostable packaging and serviceware.
plastic lawn chairs, kiddie pools, laundry baskets, etc. (large, bulky plastics)
Our recycling facilities cannot process these materials. These items belong in the trash.
take-out food containers, cups, utensils, straws, etc. (paper, cardboard, and plastic)
Besides being contaminated by the food that they hold, the manufacturing of many of these items make them low-grade, low value and difficult to recycle. Cardboard takeout boxes are often lined with plastic, which makes them unrecyclable. During the sorting process, some of these smaller items can sneak in among paper and cardboard and transported to paper mills where they have to be removed and thrown away.
envelopes lined with bubble wrap (paper and plastic)
Similar to plastic bags and plastic wrap, this material can get wound up in the machinery and cause severe, expensive damage. For the paper envelopes lined with bubble wrap, the mixture of paper and plastic is difficult to separate, and the item becomes waste at paper mills.
paper cups for hot drinks (clean or dirty)
Paper cups are lined with plastic to keep beverages from leaking out. This plastic is fused to the paper and the two cannot be separated for recycling.
frozen food boxes (for ice cream, microwave dinners, etc.)
Cardboard boxes destined for the freezer are infuses with plastics to help them withstand moist, cold conditions. Because of this, they cannot be pulped to make new paper products.
clothes and fabric
Textiles are many materials, often combined, which are difficult to separate and make into usable material. They also tangle around other materials and machinery used to sort recyclable materials. If in good condition, please donate; otherwise, put in the trash.
glassware, ceramics, light bulbs, etc. (glass other than bottles and jars)
These kinds of glass have different melting points than food-grade glass (bottles and jars). If mixed together during the recycling process, it can result in weak glass that can crack or explode.
StyrofoamTM
This material breaks and crumbles. It makes a mess and mixes with other recyclables, making them harder to recycle. Put in the trash, or you can collect Styrofoam™ (and other #6 plastics) and take it to Agilyx, where they recycle it into synthetic oils, chemicals, and in some cases, back into new products.)
Have a Question About Something Not Seen Here?
For answers about how to recycle or properly dispose of materials not allowed in recycling at home or work, email us at wasteinfo@clackamas.us or call Metro's Recycling Information Center at 503-234-3000.