Clackamas County, like many communities in Oregon and across the nation, is in the midst of a substance use addiction and drug overdose crisis. This crisis is driven largely by pharmaceutical and illicit opioids, such as fentanyl, alongside other substances, including alcohol, methamphetamine, benzodiazepines and more recently, a drug called xylazine.
The Clackamas County Public Health Division, in collaboration with community prevention partners, are working together to address the substance use and opioid crisis. We know this will require continue collaboration across systems and across the continuum of care – prevention, treatment and recovery. This work is focused on the following efforts highlighted in the Resolution to Support Efforts and Policies to Assist Those Dealing with Opioid Abuse and Addiction, which was adopted by the BCC in 2018 and updated in 2019:
Ensuring timely access to behavioral health interventions
Supporting safe preserving and alterative pain care
Access to medications for opioid use disorder (MOUD)
Harm reduction efforts
Supporting a focus on education and prevention of opioid misuse and abuse; and
Supporting innovative public health-public safety approaches that address the needs of our justice-involved population.
Help is Here
If you or you know someone struggling with addiction, please reach out for help:
Opioid and Fentanyl Crisis
Nationally, drug overdoses have claimed over 932,000 lives over the past 21 years, and the drug overdose crisis continues to worsen everywhere, including Clackamas County. Synthetic opioids, such as illicitly manufactured fentanyl, continue to contribute to the majority of opioid-involved overdose deaths. Fentanyl is up to 50 times stronger than heroin and up to 100 times stronger than morphine, so even small amounts of fentanyl can cause an overdose.
Many illegal drugs, including counterfeit prescription opioid pills, heroin, cocaine, methamphetamine, and ecstasy, can be mixed or laced with fentanyl with or without a person's knowledge. In addition, counterfeit pills are now being sold through illicit drug markets, and more recently on social media. Buyers or users may not even know the drug they're purchasing contains fentanyl. Learn more about the dangers of counterfeit pills.
Naloxone and Harm Reduction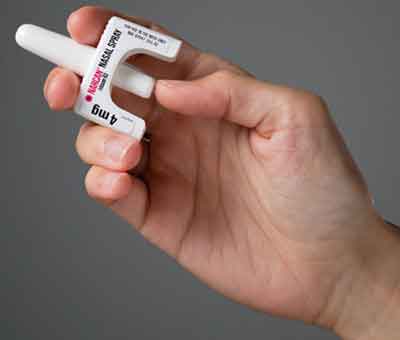 Naloxone is a lifesaving drug that can reverse the effects of an opioid overdose when administered in time. Learn more about Naloxone.
Clackamas County Public Health and Northwest Family Services partner to offer 'Not Just Naloxone' trainings to the community to provide local perspective around drug use trends and more comprehensive naloxone training.
Trainings and Resources
Where to get naloxone in Clackamas County
U.S. Food and Drug Administration approved Narcan, 4 milligram (mg) naloxone hydrochloride nasal spray in March 2023 for over-the-counter (OTC), nonprescription use without a prescription. The timeline for availability and price of this OTC product is determined by the manufacturer, however. More information is available on the FDA's website.
Prescription Drug Disposal and Storage
Sharing or saving medications is a bad idea. Over 80% of misused prescriptions are obtained from someone other than a doctor. People most commonly report they got drugs from a friend or family member. Please remember to store your medications in a safe location and dispose of them when they expire, or you are finished with the prescription.
Substance Use Treatment Services