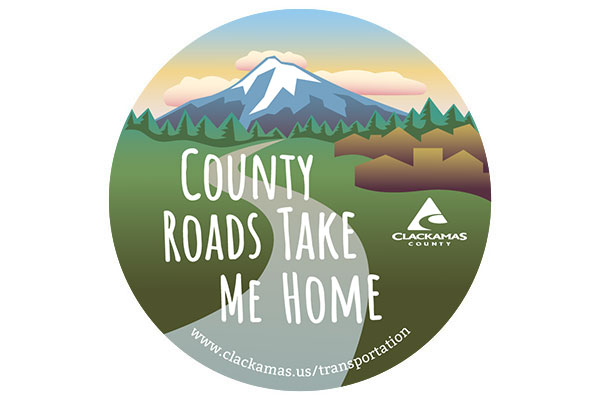 Projects funded through the new Community Road Fund will increase safety, relieve congestion and maintain local roads.
Quick Facts
What is the countywide vehicle registration fee?
The vehicle registration fee is a consistent source of local, countywide revenue that allows us to complete projects most important to our residents and businesses. Revenue from the fee funds the new Community Road Fund program.
Fees collected can only be used for road projects in Clackamas County.
Other Portland area counties have had local vehicle registration fees and other sources of local funding for roads to meet their local needs for many years.
Clackamas' vehicle registration fee is $30/year for most passenger vehicles ($2.50/month) and $15/year for motorcycles.
Funds from the vehicle registration fee are dedicated to County (50%), cities in the county (40%, distributed according to population) and strategic county-city partnership projects (10%).
Clackamas County had been the only county in the Portland metropolitan area without a local source of funds to maintain its roads and build improvements to relieve congestion and make the road system safer. Clackamas County, with the most miles of roads, had been receiving the lowest amount of funding. The numbers below reflect local roads revenue as of Jan. 1, 2021.
Multnomah
County
Washington
County
Clackamas
County
Local Gas Tax
$6.8M
1976
$2.1
1977
$0
Local Vehicle Registration Fee
$34.3M
2021
$7.8M
2018
$5.5
Local Property Tax
$0

$35M
1986
$0
Road District
$0
$3.7M
1987
$0
Annual Collections
$41.1M
$48.6M
$5.5M
Projects
The county has committed to spending the approximately $5.5 million per year of Community Road Fund revenue on three major road priorities. On Nov. 12, 2019, the Board of Commissioners approved recommendations from the Community Road Fund Advisory Committee, the Traffic Safety Commission and staff to fund the following projects over the next 5–8 years. More specific information about the exact timing of the projects will be shared as it is available.

Meetings
To help decide which road projects people believe are most needed and should be worked on first, staff held six community meetings and an online open house in July-August 2019 to gather input on road project priorities from people who live and work around the county.
Learn more about the 15-member Community Road Fund Advisory Committee.
Committee members
Bill Merchant, Chair
Glenn Koehrsen, Vice Chair
Christina Day
Richard Fiala
Warren Holzem
Roseann Johnson
Stephen Joncus
Nathan McCarty
James Prichard
April Quinn-McGinnis
Marge Stewart
Patricia Tawney
Dave Queener, Project Manager

Frequently Asked Questions